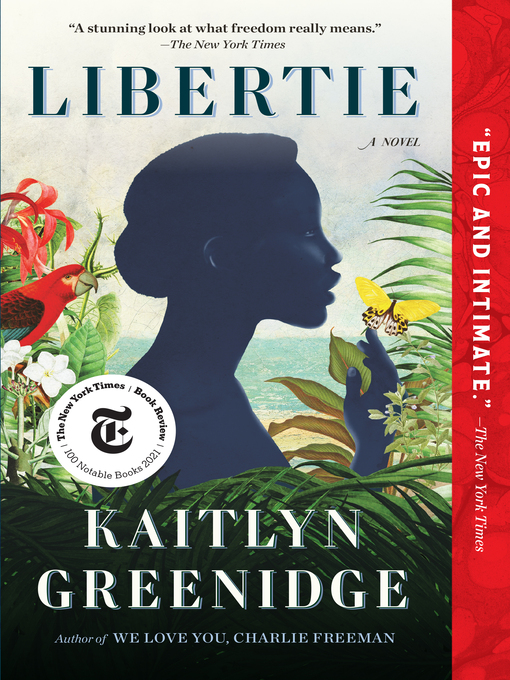 Libertie a novel
Format:

Kindle Book

2021

2021

Adobe EPUB ebook

OverDrive Read

Availability:

Unavailable

0 of 9 copies
4 people on waitlist
Summary
"Coming of age as a free-born Black girl in Reconstruction-era Brooklyn, Libertie Sampson is all too aware that her mother, a physician, has a vision for their future together: Libertie will go to medical school and practice alongside her. But Libertie feels stifled by her mother's choices and is constantly reminded that, unlike her mother, Libertie has skin that is too dark. When a young man from Haiti proposes to Libertie and promises she will be his equal on the island, she accepts, only to discover that she is still subordinate to him and all men. As she tries to parse what freedom actually means for a Black woman, Libertie struggles with where she might find it-for herself and for generations to come"--

Published Reviews
Booklist Review:
"Few novels have as strong a sense of place as this fascinating blend of magical realism and African American historical fiction by the author of We Love You, Charlie Freeman (2016). Set just before and after the Civil War, Libertie recounts the coming-of-age of the title character, a free Black girl in New York whose widowed mother is a coolly independent homeopathic doctor and community leader. Libertie grows up with a strong sense of female power, in awe of her mother's gifts but uncertain of her own path. In spite of her considerable talent, she resists following her mother into medicine; the subsequent break in their relationship and Libertie's headlong plunge into a new life in Haiti lead to heartbreak for them both. Greenidge succeeds beautifully at presenting the complexities of an intense mother-daughter bond, with its blend of unrealistic expectations, disappointments, and betrayals. At the same time, the historical context of traumatized escaped enslaved people, race riots, colorism, and conflicting visions on how to achieve Black freedom (stay in the U.S. and fight or build an all-Black civilization abroad?) weaves the story of one family into the larger tragedy of the African diaspora. Greenidge creates a richly layered tapestry of Black communal life, notably Black female life, and the inevitable contradictions and compromises of "freedom.""
From Booklist, Copyright (c) American Library Association. Used with permission.
Publisher's Weekly Review:
"Greenidge (We Love You, Charlie Freeman) delivers another genius work of radical historical fiction. Libertie Sampson, a freeborn Black girl in Reconstruction-era Brooklyn, is pushed by her mother, a doctor, to follow in her footsteps. But Libertie, whose day-to-day experience differs from her mother due to her darker skin, is more interested in music and wants to follow her own path. In her poetic narration, she gives testimony to the injustices of white supremacy she witnesses and reflects on colorism, "colorstruck" misogyny, and the potential shackles of marriage, all the while turning over the question of what freedom is. When her mother insists on treating the same white women who recoil at Libertie's dark skin, she believes her mother "gave up co-conspirators for customers." Desperate to secure a future for Libertie, her mother sends her off to Cunningham College in Ohio, but Libertie turns away from her studies after she meets fellow students Experience and Louisa: "When I sang with them, my whole history fell away. There was no past, no promised future, only the present of one sustained note." After Libertie is kicked out of Cunningham, she schemes to bring Experience and Louisa to Brooklyn and sing for the Black community. But her road gets rockier, and a marriage proposal from a Haitian man brings mixed blessings, leading her to continue reflecting on the limits of freedom for a Black woman. This pièce de résistance is so immaculately orchestrated that each character, each setting, and each sentence sings. (Mar.)"
(c) Copyright PWxyz, LLC. All rights reserved
Additional Information