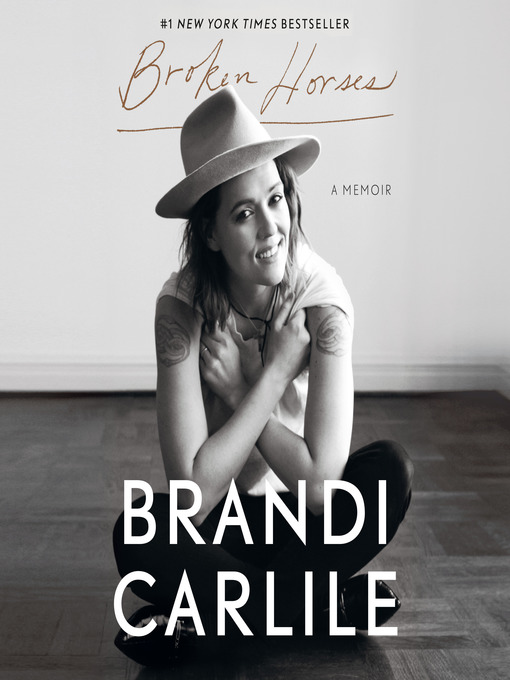 Broken horses a memoir
Format:

OverDrive MP3 Audiobook

2021

2021

OverDrive Listen

Availability:

Unavailable

0 of 7 copies
10 people on waitlist
Summary
In Broken Horses, Brandi Carlile takes readers through the events of her life that shaped her very raw art--from her start at a local singing competition where she performed Elton John's "Honky Cat" in a bedazzled white polyester suit, to her first break opening for Dave Matthews Band, to many sleepless tours over fifteen years and six studio albums, all while raising two children with her wife, Catherine Shepherd. This hard-won success led her to collaborations with personal heroes like Elton John, Dolly Parton, Mavis Staples, Pearl Jam, Tanya Tucker, and Joni Mitchell, as well as her peers in the supergroup The Highwomen, and ultimately to the Grammy stage, where she converted millions of viewers into instant fans.

Published Reviews
Booklist Review:
"It may be surprising that singer-songwriter Brandi Carlile has written a memoir on the cusp of only age 40, but she has accomplished a lot and has a lot to say. She has won numerous Grammy awards, including both Record of the Year and Song of the Year for "The Joke." The daughter of a musical mother and a father with a drinking problem, Carlile grew up poor outside of Seattle and started singing country songs when she was a child. She also survived some scary early health issues, which formed her personality in a profound way, learning, in what she calls "Poor Kid Survival 101," to "seize every opportunity." Carlile writes about her early musical influences, such as the Judds, and includes lyrics from songs that have affected her, from Dolly Parton's "Coat of Many Colors" and Elton John's "Honky Cat" to Joni Mitchell's "Blue" and Leonard Cohen's "Hallelujah." But it was the Indigo Girls, she affirms, that changed her world both musically and personally. She came out as a lesbian in 2002. Carlile's many fans will love this."
From Booklist, Copyright (c) American Library Association. Used with permission.
Publisher's Weekly Review:
"Carlile, a multiple Grammy Award--winning musician, recalls the pivotal events that shaped her music and identity in this captivating memoir. Growing up in a small town outside Seattle in the '80s, she sought the limelight early, entering singing competitions and teaching herself piano and guitar. Though her family struggled to keep food on the table, her mother's support gave her a quiet, stable confidence. "She'd helped me try to win... and she helped me truly express myself in front of my peers." After moving several times before high school, Carlile dropped out to focus on music. She's candid about her sexuality and how she reconciled her faith after being turned away by her hometown church when she came out. "There was grace in the outrage my public rejection incited in my family and in that tiny town," Carlile writes. She also offers a behind-the-scenes look at the music business, acknowledging how fortunate she was to garner respect from Joni Mitchell, Bonnie Raitt, and others she performed with. She doesn't sugarcoat the disappointments that came her way--such as being booted off a rock tour because she was a "female-fronted opener"--instead recalling them with a self-awareness that allows balance for her marriage, motherhood, and national tours. While the author's rise to fame was impressive, it is her raw emotion that resonates after the book's end. Agent: David Vigliano, AGI Vigliano Literary. (Apr.)"
(c) Copyright PWxyz, LLC. All rights reserved
Additional Information