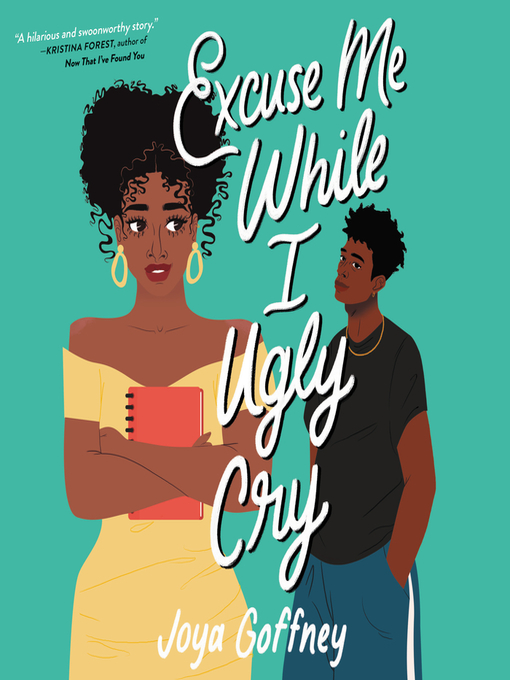 Excuse me while I ugly cry
Format:

OverDrive MP3 Audiobook

2021

2021

OverDrive Listen

Availability:

Available from OverDrive

3 of 3 copies
Summary
Excuse Me While I Ugly Cry by debut author Joya Goffney is an own voices story of an overly enthusiastic list maker who is blackmailed into completing a to-do list of all her worst fears. It's a heartfelt, tortured, contemporary YA high school romance. Fans of Jenny Han's To All the Boys I've Loved Before and Kristina Forest's I Wanna Be Where You Are will love the juicy secrets and leap-off-the-page sexual tension."A hilarious and swoonworthy story." --Kristina Forest, author of Now That I've Found You "A fun, emotionally rich romance with a sweet, imperfect character who will win your heart." --Liara Tamani, author of All the Things We Never Knew Quinn keeps lists of everything--from the days she's ugly cried, to "Things That I Would Never Admit Out Loud" and all the boys she'd like to kiss. Her lists keep her sane. By writing her fears on paper, she never has to face them in real life. That is, until her journal goes missing . . . Then an anonymous account posts one of her lists on Instagram for the whole school to see and blackmails her into facing seven of her greatest fears, or else her entire journal will go public. Quinn doesn't know who to trust. Desperate, she teams up with Carter Bennett--the last known person to have her journal--in a race against time to track down the blackmailer. Together, they journey through everything Quinn's been too afraid to face, and along the way, Quinn finds the courage to be honest, to live in the moment, and to fall in love.

Published Reviews
Booklist Review:
"High-school senior Quinn has secrets that she has never told another person. Instead, she jots them all down in a red spiral notebook, never to see the light of day. This spiral notebook is full of lists related to secrets, crushes, and dreams from her childhood until now. It isn't until an accidental notebook switch that Quinn finds herself at the mercy of a blackmailer who threatens to reveal all of her secrets to the high school. Quinn is a Black teen girl in a predominately white Texas neighborhood and school, who experiences microaggressions daily and is unsure how to navigate them. Not only that, but her parents' relationship seems to be falling apart, and her grandmother's dementia is slowly stealing away her memories. In this transformative year, Quinn doesn't expect to make waves, but a blackmailer revealing her deepest secrets forces her into the spotlight. With the help of some of her classmates, Quinn unpacks what it means to be Black and creates lasting relationships that help her flourish. Goffney's important debut novel navigates the messy feelings Black teens may experience in a supposedly post-racial world where their challenges often do not mirror the challenges their parents faced. This authentic look at the teen years will undoubtedly delight readers."
From Booklist, Copyright (c) American Library Association. Used with permission.
Additional Information