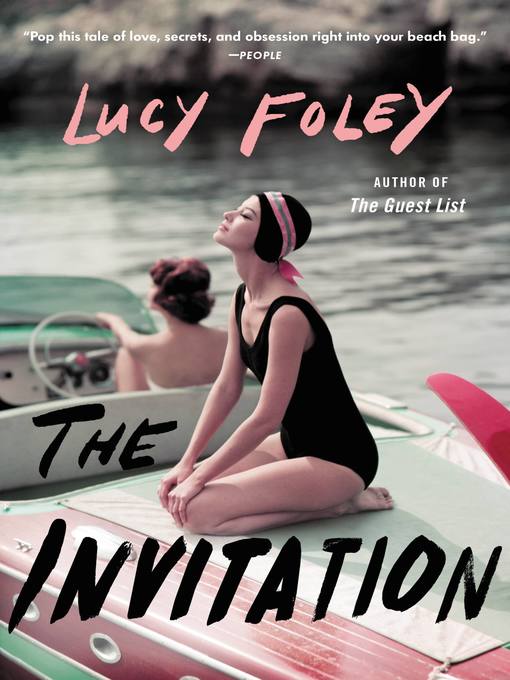 The invitation a novel
Format:

Kindle Book

2016

2016

Adobe EPUB ebook

OverDrive Read

Availability:

Unavailable

0 of 13 copies
56 people on waitlist
Summary
A sultry love story set along the Italian Riviera about a beautiful young socialite desperate to hide her past and a journalist with his own dark secrets who is determined to save her.

Contents
Intro
TITLE PAGE
WELCOME
DEDICATION
PROLOGUE
PART ONE
CHAPTER 1
CHAPTER 2
CHAPTER 3
CHAPTER 4
CHAPTER 5
CHAPTER 6
PART TWO
CHAPTER 7
CHAPTER 8
CHAPTER 9
CHAPTER 10
CHAPTER 11
CHAPTER 12
CHAPTER 13
CHAPTER 14
CHAPTER 15
CHAPTER 16
CHAPTER 17
CHAPTER 18
CHAPTER 19
CHAPTER 20
CHAPTER 21
PART THREE
CHAPTER 22
CHAPTER 23
CHAPTER 24
CHAPTER 25
CHAPTER 26
CHAPTER 27
CHAPTER 28
CHAPTER 29
CHAPTER 30
CHAPTER 31
CHAPTER 32
CHAPTER 33
PART FOUR
CHAPTER 34
CHAPTER 35
CHAPTER 36
CHAPTER 37
CHAPTER 38
CHAPTER 39
PART FIVE
CHAPTER 40
CHAPTER 41
CHAPTER 42
PART SIX
CHAPTER 43
EPILOGUE
ACKNOWLEDGMENTS
ABOUT THE AUTHOR
ALSO BY LUCY FOLEY
PRAISE FOR LUCY FOLEY'S "THE INVITATION
NEWSLETTERS
TABLE OF CONTENTS
COPYRIGHT.
Published Reviews
Booklist Review:
"When Hal, a freelance British journalist living a precarious existence in Rome, shares a night of passion with the mysterious Stella, he assumes it's a one-time adventure. Two years later, he receives an offer from his acquaintance, the Contessa, to cover the premiere of a film. Hal is to join the publicity tour on board the Contessa's yacht, in the company of the lead actors, the director, a photographer, the rich American producer, and the American's wife, who is none other than Stella. WWII has been over for several years, but Hal and Stella are both still haunted and even paralyzed by what they experienced. Stella's memories of the losses she endured during the Spanish Civil War are woven into the main narrative, as are passages from a sixteenth-century journal written by the Contessa's ancestor, on which the film is based. More stories within the story come as various characters unburden themselves to Hal. The result is a bit overladen, but the aura of Cinecittà glamor and the atmosphere-soaked voyage up Italy's Mediterranean coast make the trip worthwhile.--Quinn, Mary Ellen Copyright 2016 Booklist"
From Booklist, Copyright (c) American Library Association. Used with permission.
Publisher's Weekly Review:
"Hal Jacobs has been drifting through life since returning home from World War II. In 1953, he is eking out a living as a journalist in Italy when he is invited to join an Italian contessa on a sea voyage from Italy to Cannes to publicize her film, The Sea Captain. His job will be to write about the journey, and the pay is such that he can't refuse. The yacht's passengers are the glamorous stars of the film as well as the moneyed financiers that the contessa has assembled. When Hal sees the wife of one of the wealthy men aboard, he realizes that it's Stella Truss, with whom he had spent a night in Rome two years earlier and who has been impossible to forget. At first Hal and Stella try to ignore each other, but they are thrown together over and over: at dinner, on the dance floor, and on the moonlit deck. Before long their love affair is in full swing, fueled not only by their passion but also by their shared histories of losses and guilt. In her second novel, Foley (The Book of Lost and Found) weaves a very satisfying love story, and readers will be especially taken by the luxurious Mediterranean setting. Agent: Dorian Karchmar, WME Entertainment. (Aug.) © Copyright PWxyz, LLC. All rights reserved."
(c) Copyright PWxyz, LLC. All rights reserved
Additional Information