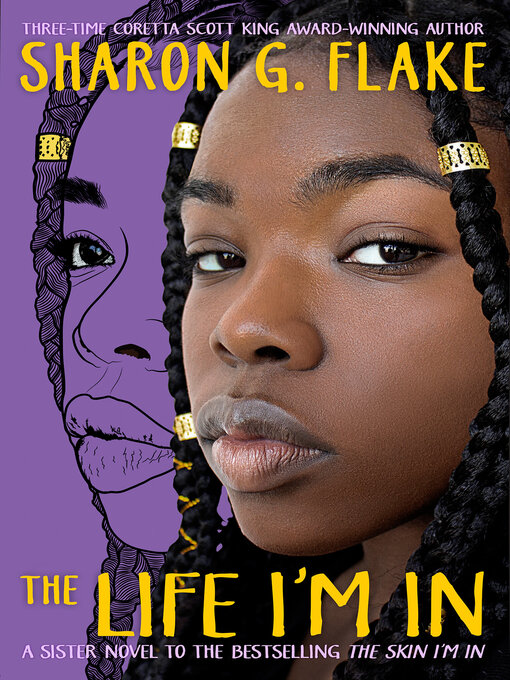 The life i'm in
Format:

Kindle Book

2021

2021

Adobe EPUB ebook

OverDrive Read

Availability:

Unavailable

0 of 1 copy
Summary
My feet are heavy as stones when I walk up the block wondering why I can't find my old self. In The Skin I'm In, readers saw into the life of Maleeka Madison, a teen who suffered from the ridicule she received because of her dark skin color. For decades fans have wanted to know the fate of the bully who made Maleeka's life miserable, Char. Now in Sharon Flake's latest and unflinching novel, The Life I'm In, we follow Charlese Jones, who, with her raw, blistering voice speaks the truths many girls face, offering insight to some of the causes and conditions that make a bully. Turned out of the only home she has known, Char boards a bus to nowhere where she is lured into the dangerous web of human trafficking. Much is revealed behind the complex system of men who take advantage of vulnerable teens in the underbelly of society. While Char might be frightened, she remains strong and determined to bring herself and her fellow victims out of the dark and back into the light, reminding us why compassion is a powerful cure to the ills of the world. Sharon Flake's bestselling, Coretta Scott King Award-winning novel The Skin I'm In was a game changer when it was first published more than twenty years ago. It redefined young adult literature by presenting characters, voices, and real-world experiences that had not been fully seen. Now Flake offers readers another timely and radical story of a girl on the brink and how her choices will lead her to either fall, or fly

Published Reviews
Booklist Review:
"It's been a little more than 20 years since the award-winning The Skin I'm In took the world of young adult literature by storm, and now Flake has returned with a much-desired sister novel. Whereas the first installment follows the life of Maleeka Madison, a 13-year-old Black girl who is bullied into setting her teacher's classroom on fire, the second, picking up right where things left off, unfolds through the perspective of Char, her bully. After Char is expelled from McClenton Middle School, Char's sister, JuJu, has no choice but to send her away to live with their grandparents in Alabama. But what was supposed to be a foolproof transition to a better life and new opportunities for 16-year-old Char quickly spirals as she is pulled into a sex-trafficking circle that all but strips her of who she knows herself to be. Not for the faint of heart, Flake's novel treats Char's experiences with vivid transparency. Char's voice is harrowing as the complexities behind her life and relationships are peeled back, exposing the pain behind her actions and a steadfast resolve to do better. Despite everything she encounters, Char is not alone, as her relationships with both Maleeka and Ms. Saunders evolve in unanticipated and heart-wrenching ways, signaling to readers that it's never too late to try and turn things around. Included is the contact information for the National Human Trafficking Hotline along with a brief discussion of Flake's journey in writing this difficult yet necessary sequel."
From Booklist, Copyright (c) American Library Association. Used with permission.
Publisher's Weekly Review:
"In this candid, riveting companion to her 1998 novel The Skin I'm In, Coretta Scott King Medalist Flake explores the psyche of Maleeka's former tormentor, 16-year-old Black orphan Charlese "Char" Jones, who, after consecutive expulsions from four schools, is kicked out by 27-year-old sister Juju. Headed to join her grandparents in Alabama, Char changes Greyhound routes, deciding instead to trail a teen mother and her baby whom she befriends. When the mother abandons her child with Char, fiercely independent Char does her best, acquiring lodging, food, and baby supplies. But when money runs out, she grows desperate--enough to fall prey to smooth-talking Anthony, a man willing to cover all expenses if she joins his prostitution ring. Now all Char wants is to return to Juju, but there's no escape. Strong first-person narration shows the deterioration of Char's attitude and self-esteem as she struggles to survive. Representing the plight of many, Char's narrative presents a cruel underbelly of society; returning readers will relish Maleeka's and Miss Saunders's reappearances, but any reader can appreciate this novel's indelible impact. Ages 14--up. (Jan.)"
(c) Copyright PWxyz, LLC. All rights reserved
Additional Information