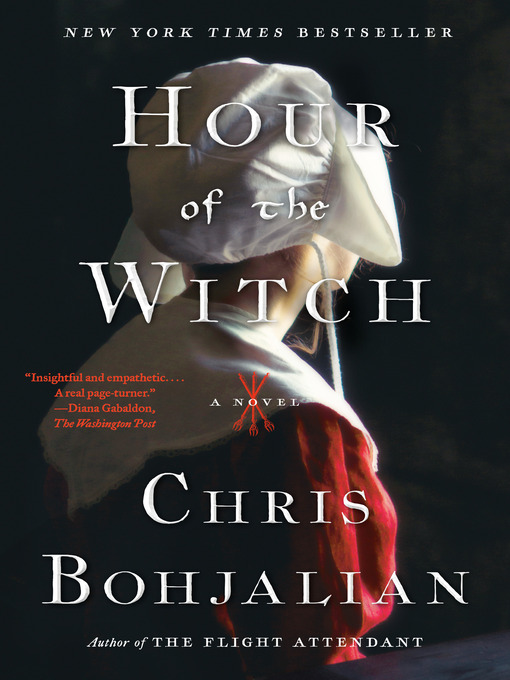 Hour of the witch
Format:

Kindle Book

2021

2021

Adobe EPUB ebook

OverDrive Read

Availability:

Unavailable

0 of 27 copies
125 people on waitlist
Summary
"From the #1 New York Times bestselling author of The Flight Attendant, the enthralling story of a young Puritan woman who marries the wrong man and soon finds herself caught up in the violence and hysteria of the Salem Witch Trials"--

Published Reviews
Booklist Review:
"Someone is out to get Mary Deerfield, and in mid-seventeenth-century Boston, that's not hard to do. It's a pious city, and in nearby towns, most notoriously Salem, compassionate, enviable women are easy targets. Twentysomething Mary fits the bill, but she also has a brute of a husband, a devious servant, and suspicious neighbors. The comely Mary, daughter of a prosperous merchant, is miller Thomas Deerfield's second wife. Twice her age, he is a bully and a drunk, physically and emotionally abusive. The berating and beatings are constants, carefully done out of sight until the violence escalates, leading Mary to petition for a rare divorce. The case fails, but Mary is determined to escape this perilous relationship. Yet before she can carry out a new plan, her actions and attitudes earn her the dreaded charge of "witch," with a sham trial and noose already prepared. Throughout Bohjalian's prolific career, he has rewarded readers with indelibly drawn female protagonists, and the formidable yet vulnerable Mary Deerfield is a worthy addition to the canon. Conjuring up specters of #MeToo recriminations and social media shaming, there are twenty-first-century parallels to Bohjalian's atmospheric Puritan milieu, and his trademark extensive research pays off in this authentic portrait of courage in the face of society's worst impulses.HIGH-DEMAND BACKSTORY: Bohjalian is a perennial favorite, and this Salem Witch Hunt drama has a special magnetism."
From Booklist, Copyright (c) American Library Association. Used with permission.
Publisher's Weekly Review:
"Mary Deerfield, the indomitable, 24-year-old protagonist of this twisty thriller set in 17th-century Boston from bestseller Bohjalian (The Red Lotus), has been married for five years to Thomas, a well-to-do widower almost twice her age, whose abusiveness has escalated with her failure to become pregnant. In bed with her brutish, frequently drunk husband, Mary fantasizes about how different life might be with someone like seductive bachelor Henry Simmons, whom she meets when he pulls her out of the way of an oxcart that threatens to run her down. Gossip soon grows about the pair, at the same time Mary discovers items buried in her garden associated with witchcraft. Then Thomas's most violent assault yet propels Mary to petition for divorce, a step she knows will bring dangerous scrutiny from a populace primed to spy the devil's hand everywhere. Chapter-prefacing snippets from testimony at Mary's future court appearances fan suspense, but also make her painful journey there seem at times excruciatingly slow. With its exploration of themes including domestic abuse, toxic masculinity, and mass hysteria, the novel feels like anything but a period piece. Bohjalian fans and newcomers alike will be satisfied. Agent: Deborah Schneider, Gelfman Schneider Literary. (May)"
(c) Copyright PWxyz, LLC. All rights reserved
Additional Information