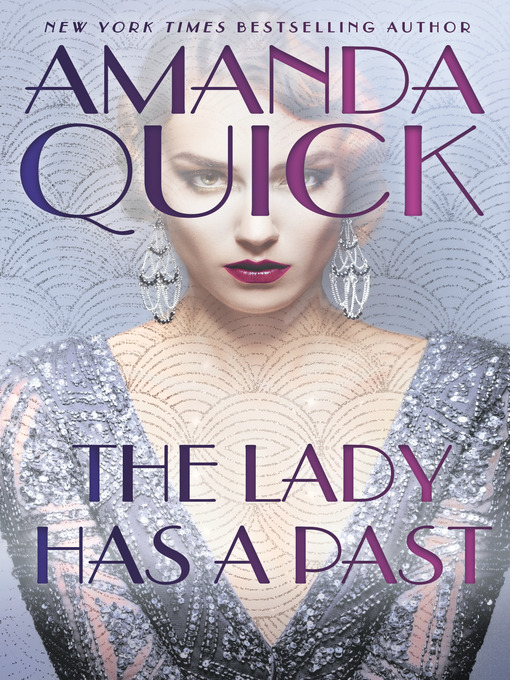 The lady has a past
Format:

Kindle Book

2021

2021

Adobe EPUB ebook

OverDrive Read

Availability:

Unavailable

0 of 13 copies
20 people on waitlist
Summary
"Beauty and glamour meet deception and revenge in this electrifying novel by New York Times bestselling author Amanda Quick. Investigative apprentice Lyra Brazier, the newest resident of Burning Cove, is unsettled when her boss suddenly goes on a health retreat at an exclusive spa and disappears without another word. Lyra knows something has happened to Raina Kirk, and she is the only one who can track her down. The health spa is known for its luxurious offerings and prestigious clientele, and the wealthy, socialite background Lyra desperately wanted to leave behind is perfect for this undercover job. The agency brings in a partner and bodyguard for her, but she doesn't get the suave, pistol-packing private eye she expected. Simon Cage is a mild-mannered antiquarian book dealer with a quiet, academic air, and Lyra can't figure out why he was chosen as her partner. But it soon becomes clear when they arrive at the spa and pose as a couple: Simon has a unique gift that allows him to detect secrets, a skill that is crucial in finding Raina. The unlikely duo falls down a rabbit hole of twisted rumors and missing socialites, discovering that the health spa is a façade for something far darker than they imagined. With a murderer in their midst, Raina isn't the only one in grave danger--Lyra is next"--

Published Reviews
Booklist Review:
"Lyra Brazier hoped to make a career as a private investigator, but she never thought she would be running Kirk Investigations after being on the payroll for less than a week. Granted, Lyra's "promotion" is just temporary while her boss, Raina Kirk, takes care of a personal matter, but Lyra still thinks it says something positive about her fledgling private investigative skill set. It is those same deductive powers that soon have Lyra wondering if Raina might be in danger. While Lyra would be more than happy to pursue her own investigation into Raina's disappearance, Luther Pell, Raina's paramour, insists that she be accompanied by Simon Cage, an antiquarian bookseller with a unique skill set of his own. Writing with a wit as dry as Death Valley and cleverly creating an exclusive Palm Springs resort patterned after Elizabeth Arden's Red Door, namely Madam Edith Guppy's violet-themed House of Beauty, Quick continues her winning string of circa 1930s Burning Cove, California books, following Close Up (2020). This ingeniously plotted, paranormal-spiced novel brilliantly showcases Quick's mastery of concentrated suspense, clever characterization, and combustible sexual chemistry."
From Booklist, Copyright (c) American Library Association. Used with permission.
Publisher's Weekly Review:
"While Quick's final Burning Cove romance (after Close Up) wraps up its central mystery a bit too neatly, devoted readers will delight in revisiting the glamorous 1930s setting and picturesque California town. Lyra Brazier leaves her life in San Francisco to join her sister, Vivian, for a fresh start in Burning Cove. Her disarming ability to get people to reveal their secrets through casual conversation lands her a job at Kirk Investigations--and comes in handy when her boss, Raina Kirk, disappears. Joining Lyra in investigating is Simon Cage, an antiquarian book dealer who works for Raina's mysterious boyfriend, Luther Pell, to solve mysteries the FBI can't crack. Upon learning that Raina was last seen at a luxury spa in the California desert, Lyra and Simon book a room, posing as man and wife in a ruse that sparks real intimacy and heat between them. Simon's paranormal ability to sense emotions in objects, meanwhile, leads the pair to realize that Raina's disappearance may be linked to a serial crime spree. The solid romantic suspense plot flies by fast as Quick leaves the final pages to check in on all the other characters readers have come to know in Burning Cove. This is a gift for series fans. Agent: Steve Axelrod, the Axelrod Agency. (May)"
(c) Copyright PWxyz, LLC. All rights reserved
Additional Information