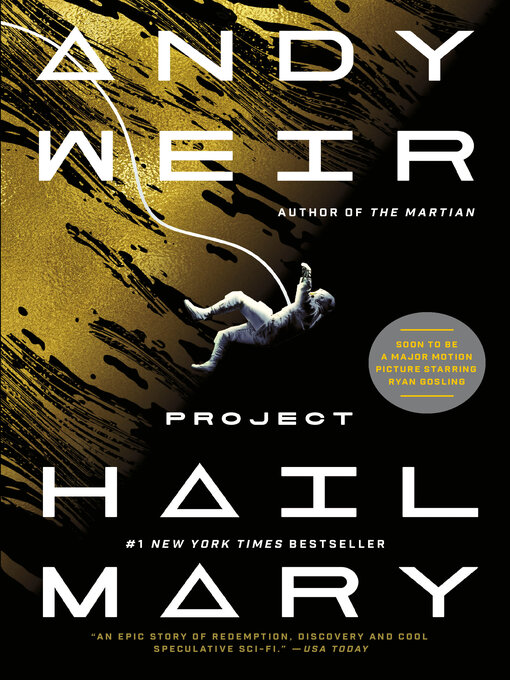 Project Hail Mary a novel
Format:

Kindle Book

2021

2021

Adobe EPUB ebook

OverDrive Read

Availability:

Unavailable

0 of 96 copies
502 people on waitlist
Summary
A lone astronaut must save the earth from disaster in this incredible new science-based thriller from the #1 New York Times bestselling author of The Martian . Ryland Grace is the sole survivor on a desperate, last-chance mission—and if he fails, humanity and the earth itself will perish. Except that right now, he doesn't know that. He can't even remember his own name, let alone the nature of his assignment or how to complete it. All he knows is that he's been asleep for a very, very long time. And he's just been awakened to find himself millions of miles from home, with nothing but two corpses for company. His crewmates dead, his memories fuzzily returning, Ryland realizes that an impossible task now confronts him. Hurtling through space on this tiny ship, it's up to him to puzzle out an impossible scientific mystery—and conquer an extinction-level threat to our species. And with the clock ticking down and the nearest human being light-years away, he's got to do it all alone. Or does he? An irresistible interstellar adventure as only Andy Weir could deliver, Project Hail Mary is a tale of discovery, speculation, and survival to rival The Martian—while taking us to places it never dreamed of going.

Published Reviews
Booklist Review:
"For those who found Artemis (2017) to be something of a letdown after his much-loved The Martian (2014), Weir returns with gusto. The sun is dying, abruptly and rapidly. Within decades, humanity is going to be wiped out. Survival of the species depends on a lone astronaut who is far from home, unsure of where he is or how to tackle the monumental task that lies before him. Weir's scientific and technical savvy lends the proceedings an air of authenticity, and his portrayal of an ordinary man full of fear and self-doubt thrust into the role of humanity's last hope strikes just the right note. In many ways, this is a thematic sequel to The Martian; both are stories of individuals battling for survival against extraordinary odds and dealing with loneliness and desperation. In Artemis, it seemed like Weir was trying too hard, but here his writing flows naturally, and his characters and dialogue crackle with energy. Weir is no longer the self-published wunderkind of The Martian; with this novel, he takes place as a genuine star in the mainstream sf world.HIGH-DEMAND BACKSTORY: Weir returns to the style and themes of his mega-hit debut, The Martian."
From Booklist, Copyright (c) American Library Association. Used with permission.
Publisher's Weekly Review:
"Bestseller Weir (The Martian) delivers a suspenseful portrait of human ingenuity and resilience in this powerful narrative of a desperate effort to save Earth. Ryland Grace awakens from a coma with no memories of his identity or how he came to be alone on a spaceship. Weir creates instant engagement by toggling between Grace's efforts to make sense of his present circumstances and flashbacks that gradually paint an unsettling picture of his life before. Grace worked as a microbiologist until the negative response to his theory that water may not be required to sustain alien life drove him from his research to a job teaching middle school science. That career is disrupted, however, after astronomers discover that the sun is losing heat, imperiling the future of humanity. The cause seems to be a microscopic life-form that feeds on the star's energy, and Grace is drafted into the international team of scientists working to combat the impending catastrophe. Weir cleverly doles out pieces of Grace's backstory and information about the mission that landed him in space, tossing in curveballs and judiciously using humor to break the tension as the story builds to an unexpectedly moving ending. This is a winner. Agent: David Fugate, LaunchBooks Literary. (May)"
(c) Copyright PWxyz, LLC. All rights reserved
Additional Information