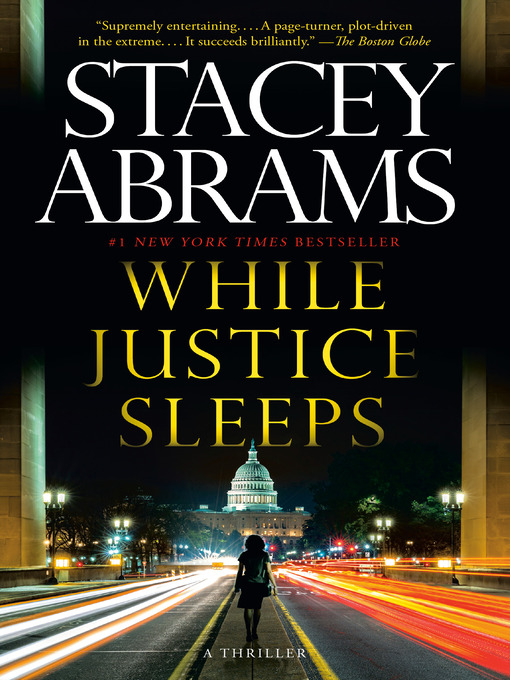 While justice sleeps a novel
Format:

Kindle Book

2021

2021

Adobe EPUB ebook

OverDrive Read

Availability:

Unavailable

0 of 46 copies
161 people on waitlist
Summary
"An inside-Washington thriller about an ambitious law clerk thrown into a life-or-death treasure hunt with major national implications when the Supreme Court justice she works for slips into a sudden coma"--

Published Reviews
Booklist Review:
"Known for her deft political organizing and passionate racial justice advocacy, Abrams is also the author of the nonfiction best-seller, Our Time Is Now (2020). She now displays her considerable talent for fiction in this gripping legal thriller. Justice Howard Wynn, an irascible lion of the Supreme Court, falls unexpectedly into a coma. His nurse fields a mysterious phone call, then disappears. Shadowy figures from Homeland Security, the FBI, and the international biotech industry confer urgently about a pending court decision with potentially earth-shattering consequences on which Justice Harris will be the swing vote. Coincidence? Not bloody likely. Yet who can untie this deadly knot of deception and global skulduggery? None other than Avery Keene, Justice Harris' brilliant and tenacious law clerk, who knows a thing or two about impossible odds. Assigned the unenviable task of serving as Justice Harris' legal guardian, Avery must also figure out who is plotting her boss' demise and why. With the help of her med school roommate, a young lawyer, and Wynn's hunky son, Avery tracks down fiendishly intricate clues leading to a horrifying secret that implicates powerful and dangerous people. Will Avery solve the final conundrum before it's too late? Will this delightful multiethnic Scooby-Doo gang prevail, or will they fall to the forces of ultimate evil? Will there be a sequel? Stay tuned, dear reader, stay tuned.HIGH-DEMAND BACKSTORY: The buzz is loud and wholly deserved for this shrewd and exciting legal thriller by prominent voter-rights activist and best-selling Abrams."
From Booklist, Copyright (c) American Library Association. Used with permission.
Publisher's Weekly Review:
"Democratic party rising star Abrams (Our Time Is Now: Power, Purpose, and the Fight for a Fair America) is more Brad Meltzer than Scott Turow in her debut legal thriller. Avery Keene, a law clerk to Supreme Court justice Howard Wynn, is stunned to learn that her boss is in a coma, and that he has named Avery his legal guardian. With Wynn the potential swing vote in a number of key cases, his medical condition has major implications, and Avery's status is contested by the judge's estranged second wife, who vows to turn off life support if Avery is granted this authority, which includes power of attorney. When Avery seeks out Wynn's nurse, who left a cryptic message on her voicemail in accord with the jurist's instructions, she finds the woman murdered. More deaths follow as Abrams pulls back the curtain gradually to reveal evil machinations in the highest corridors of power, and the action builds to an over-the-top denouement at the Supreme Court. Fans of the TV drama Scandal may feel at home, but Abrams's many political supporters may be disappointed that she didn't choose to ground her plot in real-life issues. Agent: Linda Loewenthal, Loewenthal Co. (May)"
(c) Copyright PWxyz, LLC. All rights reserved
Additional Information