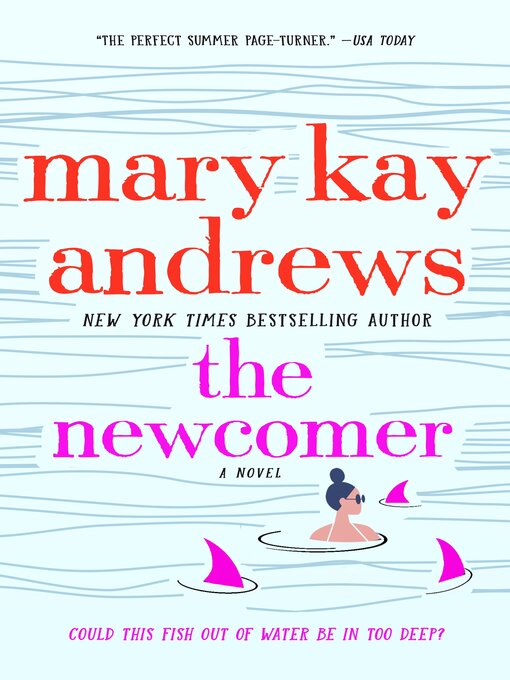 The newcomer
Format:

Kindle Book

2021

2021

Adobe EPUB ebook

OverDrive Read

Availability:

Unavailable

0 of 32 copies
164 people on waitlist
Summary
"The New York Times bestselling author and Queen of the Beach Reads, delivers her next page-turner for the summer in The Newcomer. IN TROUBLE AND ON THE RUN . . . After she discovers her sister Tanya dead on the floor of her fashionable New York City townhouse, Letty Carnahan is certain she knows who did it: Tanya's ex; sleazy real estate entrepreneur Evan Wingfield. Even in the grip of grief and panic Letty heeds her late sister's warnings: "If anything bad happens to me-it's Evan. Promise me you'll take Maya and run. Promise me." So Letty grabs her sister's Mercedes and hits the road . . . WITH A TRUNKFUL OF EMOTIONAL BAGGAGE . . . . . . and her wailing four-year-old niece Maya. Letty is determined to out-run Evan and the law, but run to where? Tanya, a woman with a past shrouded in secrets, left behind a "go-bag" of cash and a big honking diamond ring-but only one clue: a faded magazine story about a sleepy mom-and-pop motel in a Florida beach town with the improbable name of Treasure Island. She sheds her old life and checks into an uncertain future at The Murmuring Surf Motel. THE NO VACANCY SIGN IS FLASHING, & THE SHARKS ARE CIRCLING . . . And that's the good news. Because The Surf, as the regulars call it, is the winter home of a close-knit flock of retirees and snowbirds who regard this odd-duck newcomer with suspicion and down-right hostility. As Letty settles into the motel's former storage room, she tries to heal Maya's heartache and unravel the key to her sister's shady past, all while dodging the attention of the owner's dangerously attractive son Joe, who just happens to be a local police detective. Can Letty find romance as well as a room at the inn-or will Joe betray her secrets and put her behind bars? With danger closing in, it's a race to find the truth and and right the wrongs of the past"--

Published Reviews
Booklist Review:
"Andrews (Hello, Summer, 2020) takes a slightly darker turn in her latest beachy read. Letty Carnahan is on the run. Her sister, Tanya, had always said if anything happened to her, to take her four-year-old daughter Maya and get as far away from her ex as possible. Letty always assumed Tanya was just being dramatic, until the day she walked into her sister's New York townhouse to find Tanya dead and Maya sobbing and terrified. Now, with just a bag of cash and a page from a travel magazine that Tanya had left for her, Letty finds herself at a little Florida roadside motel. She's hoping to keep a low profile while unravelling the many mysteries that her sister left behind, but can't help becoming involved in the lives of the motel residents, along with a certain charming police detective who just happens to be the son of the owner. Andrews expertly builds the tension (and a sweet romance) while exhibiting her deft hand at developing quirky characters, strong southern women, and charming locations. HIGH-DEMAND BACKSTORY: A new book from Andrews means the start of beach reading season, so expect demand."
From Booklist, Copyright (c) American Library Association. Used with permission.
Publisher's Weekly Review:
"Murder, theft, and shady real estate dealings feature in the convoluted plot of Andrews's so-so latest (after Hello Summer). Letty Carnahan, 33, flees Manhattan with her four-year-old niece Maya after Letty's charming but troublemaking younger sister, Tanya, dies. Letty believes Tanya was killed by Tanya's abusive and unscrupulous husband, Evan Wingfield, who's under investigation by the FBI for running illegal Airbnb properties, because Tanya had recently confided her fear of Evan to Letty. Guided by a magazine clipping in Tanya's "go-bag," which also contained $19,000 in cash, Letty stops at the Murmuring Surf motel in Treasure Island, Fla., where owner Ava Decurtis offers her a job in exchange for a place to stay. Letty endears herself to the older guests and catches the eye of Ava's handsome cop son, Joe, while untangling Tanya's involvement with a pair of local criminals who swindled the motel's guests out of their jewelry. In one of many contrivances, one of the criminals might also be Maya's biological father. Meanwhile, an FBI agent sets up a sting to prove Evan wants Letty dead. Andrews is great at making the motel community come alive, but a host of one-note villains weakens the narrative, as does the overly complicated story and unconvincing romance with Joe. This one is a miss. (May)"
(c) Copyright PWxyz, LLC. All rights reserved
Additional Information