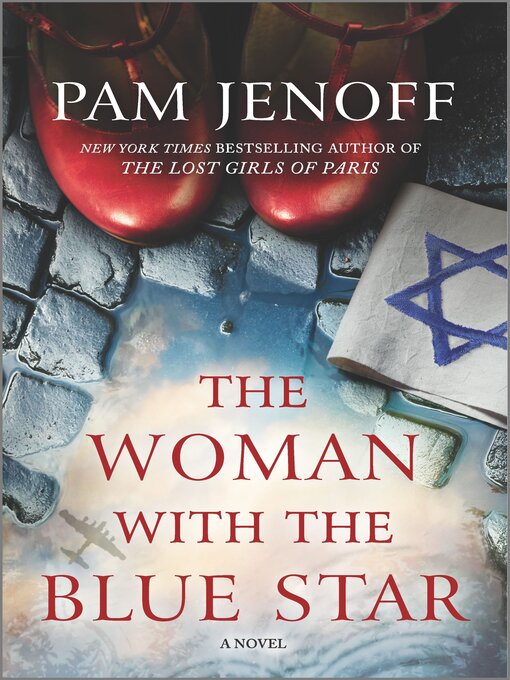 The woman with the blue star A Novel
Format:

Kindle Book

2021

2021

Adobe EPUB ebook

OverDrive Read

Availability:

Unavailable

0 of 23 copies
108 people on waitlist
Summary
From the New York Times bestselling author of The Lost Girls of Paris comes a riveting tale of unfathomable sacrifice and unlikely friendship during World War II. 1942. Sadie Gault is eighteen and living with her parents amid the horrors of the Krak—w Ghetto during World War II. When the Nazis liquidate the ghetto, Sadie and her pregnant mother are forced to seek refuge in the perilous sewers beneath the city. One day Sadie looks up through a grate and sees a girl about her own age buying flowers. Ella Stepanek is an affluent Polish girl living a life of relative ease with her stepmother, who has developed close alliances with the occupying Germans. Scorned by her friends and longing for her fiancé, who has gone off to war, Ella wanders Krak—w restlessly. While on an errand in the market, she catches a glimpse of something moving beneath a grate in the street. Upon closer inspection, she realizes it's a girl hiding. Ella begins to aid Sadie and the two become close, but as the dangers of the war worsen, their lives are set on a collision course that will test them in the face of overwhelming odds. Inspired by harrowing true stories, The Woman with the Blue Star is an emotional testament to the power of friendship and the extraordinary strength of the human will to survive.

Published Reviews
Booklist Review:
"Best-selling Jenoff's latest mesmerizing and meticulous WWII novel, following The Lost Girls of Paris (2019), charts the intersecting lives of two young women. In 1942 in Krakow, 18-year-old Sadie lives in the Jewish quarter, longing for a life beyond the walls of the ghetto. When the Germans arrive to round up the community, Sadie and her parents flee down into the sewers in a harrowing, ultimately devastating escape. Although this was meant to be a temporary hiding place, they are stranded there for weeks, a predicament further complicated by Sadie's mother's pregnancy. After losing her father, well-off Ella, 19, is living in Krakow with her conniving stepmother. One day Ella spies Sadie through a grate in the street, and the two form an unexpected friendship, offering respite from the escalating dangers. As days continue to pass, however, each is forced to make heartbreaking choices. Alternating between Sadie's and Ella's points of view, Jenoff creates a rich drama from her compelling characters' connection, growth, and perseverance despite unimaginable horrors."
From Booklist, Copyright (c) American Library Association. Used with permission.
Publisher's Weekly Review:
"Jenoff's spellbinding latest (after The Lost Girls of Paris) follows a Jewish family hiding from the Nazis in Kraków, Poland. Famished 18-year-old Sadie Gault's parents insist she hide in a crawl space of their ghetto apartment in 1942, to spare her from grueling forced labor. A year later, facing intensifying raids, the family escapes into the sewer system with help from a worker who explains the tunnels and brings them food. Sadie bonds over books with the 20-something son of another family hiding with them, and their friendship blossoms into romance. Meanwhile, in a parallel narrative, a young Catholic woman named Ella Stepanek dreams of marrying her boyfriend and yearns to flee from her cruel Nazi collaborator stepmother. While running an errand at the market, Ella happens to glance down at a sewer grate in the street and sees Sadie looking up at her. Thus begins a lifesaving friendship in which both young women discover great inner resources neither one knew she possessed. Jenoff drew on a true story for this harrowing narrative, and shapes it with precise details of the subterranean world and of the city's churches, markets, and cafes. This moving tale of young women's will to survive on their own terms will appeal to readers of all ages. Agent: Susan Ginsberg, Writers House. (May)"
(c) Copyright PWxyz, LLC. All rights reserved
Additional Information