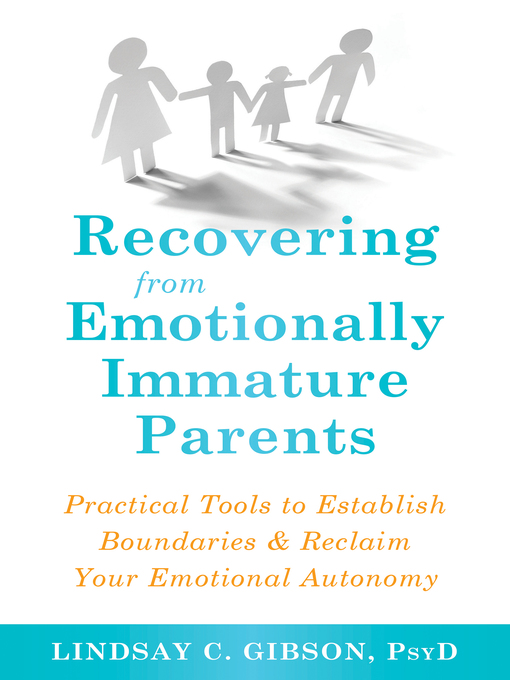 Recovering from emotionally immature parents practical tools to establish boundaries & reclaim your emotional autonomy
Format:

Kindle Book

2019

2019

Adobe EPUB ebook

OverDrive Read

Availability:

Unavailable

0 of 5 copies
29 people on waitlist
Summary
"Drawing on the success of her popular self-help book, Adult Children of Emotionally Immature Parents, author Lindsay Gibson offers yet another essential resource for adult children of emotionally immature parents. With this follow-up guide, readers will learn practical skills to recognize the signs of an emotionally immature parent, and powerful strategies for protecting themselves against emotional takeover. With this compassionate resource, readers will also discover how to reconnect with their own emotions and needs, and gain emotional autonomy in all their relationships"--

Contents
Intro
Introduction
Part I. What You've Been Up Against: Dealing with Emotional Immaturity
1. Your Emotionally Immature Parent: What It's Like to Be Involved with Them and How They Got to Be That Way
2. Understanding Emotionally Immature Parents: Their Personality Traits and Emotional Takeovers
3. Longing for a Relationship with Your EI Parent: Why You Keep Trying
4. How to Resist Emotional Takeovers: Recognize Others' Distortions and Don't Disconnect from Yourself
5. Skills to Manage Interactions and Evade Coercions: Actions That Empower You
6. EI Parents Are Hostile Toward Your Inner World: How to Defend Your Right to Your Innermost Experiences
Part II. Emotional Autonomy: Reclaiming the Freedom to Be Yourself
7. Nurturing Your Relationship with Yourself: How to Trust Your Inner World
8. The Art of Mental Clearing: Making Room for Your Own Mind
9. Updating Your Self-Concept: How to Correct Distortions and Enhance Self-Confidence
10. Now You Can Have the Relationship You've Always Wanted: Just Focus on One Interaction at a Time
Epilogue: Bill of Rights for Adult Children of Emotionally Immature Parents
Acknowledgments
References.
Additional Information