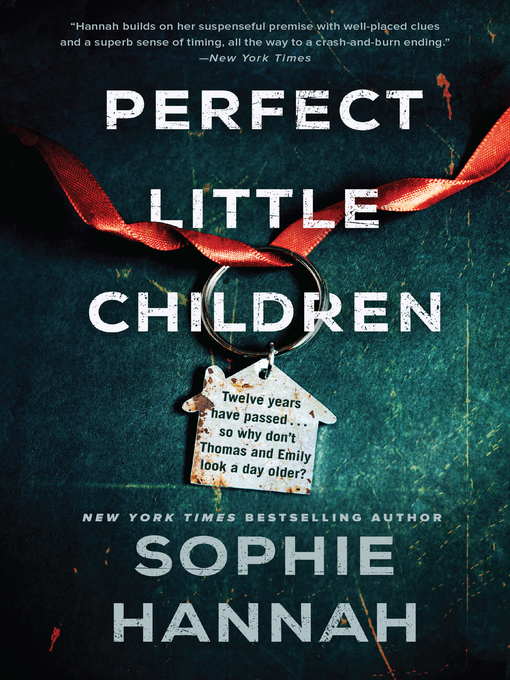 Perfect little children A novel
Format:

Kindle Book

2020

2020

Adobe EPUB ebook

OverDrive Read

Availability:

Unavailable

0 of 8 copies
11 people on waitlist
Summary
The New York Times bestselling author of The Monogram Murders and Woman with a Secret returns with a sharp, captivating, and expertly plotted tale of psychological suspense. All Beth has to do is drive her son to his soccer game, watch him play, and then return home. Just because she knows her ex-best friend lives near the field, that doesn't mean she has to drive past her house and try to catch a glimpse of her. Why would Beth do that and risk dredging up painful memories? She hasn't seen Flora for twelve years. She doesn't want to see her today or ever again. But she can't resist. She parks outside the open gates of Newnham House, watches from across the road as Flora arrives and calls to her children Thomas and Emily to get out of the car. Except . . . There's something terribly wrong. Flora looks the same, only older. Twelve years ago, Thomas and Emily were five and three years old. Today, they look precisely as they did then. They are Thomas and Emily without a doubt, but they haven't changed at all. They are no taller, no older. Why haven't they grown? How is it possible that they haven't grown up?

Published Reviews
Booklist Review:
"Hannah never fails to surprise and entertain, whether with her police procedurals, her Agatha Christie mysteries, or her stand-alones. This one falls into the latter category, with its quotidian setting in which something is terribly wrong. On a whim, Beth Leeson stops by the home of her former best friend, Flora Braid, whom she hasn't seen in 12 years. There she watches Flora letting her children, Thomas and Emily, out of the car. But the children seem to be the same ages they were 12 years ago, not the teenagers they should be now. Later, Beth runs into Flora in town, and Flora runs from her. Beth must confront the guilt she feels for the way their friendship ended, but she isn't about to let go of the Braid family mystery until she gets to the bottom of it, a quest that eventually involves her traveling to Florida and facing mortal danger. Long-buried family secrets corrode the closest of family relationships, and a man's desire for physical human perfection leads to his taking unimaginable actions. A tightly wound tale of love gone awry.--Michele Leber Copyright 2020 Booklist"
From Booklist, Copyright (c) American Library Association. Used with permission.
Publisher's Weekly Review:
"Chance takes Cambridge, England, massage therapist Beth Leeson, the narrator of this wildly off-target domestic thriller from bestseller Hannah (The Next to Die), to the posh community where Flora Braid, her former bestie, and family relocated 12 years earlier after the abrupt end of their friendship. When Beth gets a peek at the Braids' new place, she's unsettled, to say the least, to spot her onetime friend and two youngsters, Thomas and Emily, looking as if they had not aged since the last time she saw them 12 years ago. Beth really becomes alarmed when her husband tells her that, based on social media posts, the Braids appear to have been living in Florida for over a decade, after Flora's entertaining but erratic husband launched a successful tech company there. Determined to find out what happened to Flora and whether she and the children are all right, Beth travels to Florida, where she barrels down an ever-darker road to a jaw-dropping denouement--but given the flimsy characters and incredible plot, readers may have bailed well before then. Hopefully, Hannah will return to form next time. (Feb.)"
(c) Copyright PWxyz, LLC. All rights reserved
Additional Information