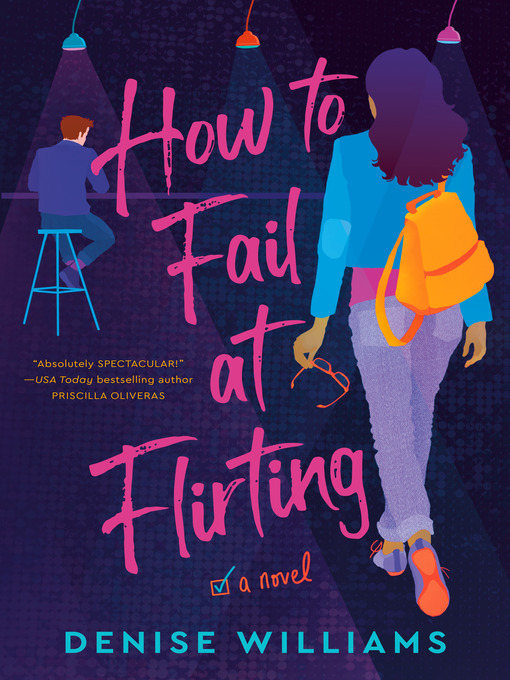 How to fail at flirting
Format:

Kindle Book

2020

2020

Adobe EPUB ebook

OverDrive Read

Availability:

Unavailable

0 of 18 copies
30 people on waitlist
Summary
"One daring to-do list and a crash course in flirtation turn a Type A overachiever's world upside down. When her flailing department lands on the university's chopping block, Professor Naya Turner's friends convince her to shed her frumpy cardigan for an evening on the town. For one night her focus will stray from her demanding job and she'll tackle a new kind of to-do list. When she meets a charming stranger in town on business, he presents the perfect opportunity to check off the items on her list. Let the guy buy her a drink. Check. Try something new. Check. A no-strings-attached hookup. Check...almost. Jake makes her laugh and challenges Naya to rebuild her confidence, which was left toppled by her abusive ex-boyfriend. Soon she's flirting with the chance at a more serious romantic relationship--except nothing can be that easy. The complicated strings around her dating Jake might destroy her career. Naya has two options. She can protect her professional reputation and return to her old life or she can flirt with the unknown and stay with the person who makes her feel like she's finally living again."--

Published Reviews
Booklist Review:
"Professor Naya Turner's friends convince her to live beyond her academic pursuits of teaching and research, providing her with a list of social things to do. Flirting and letting someone buy her a drink at a bar are included, and when her friends have to cancel a get-together, she ends up crossing both of those items and more off her to-do list when she meets Jake. Their one-night stand ends when Naya gets sick, but then they start dating in earnest as Williams' steamy and intelligent rom-com unspools. When it turns out that Jake is involved in cuts at the university, Naya isn't sure how things will work, especially since she's still dodging rumors about her last relationship with someone at the university who is still harassing her. Naya and Jake's relationship is both sexy and sweet as these two people, who love their work but are not skilled at socializing or romance, find their way forward. Academia is vividly portrayed, and readers will await the next book from Williams, a talented debut author and a PhD herself."
From Booklist, Copyright (c) American Library Association. Used with permission.
Publisher's Weekly Review:
"Williams debuts with a quirky, delightful rom-com. Since ending things with an abusive partner, Professor Naya Turner has poured all her energy into her job at Thurmond University, so it's a wake-up call when her position is placed on the chopping block. Realizing she needs to "get a life," she devises a to-do list with items including "stand up for myself, take risks, let someone else get me to orgasm" and "trust a man again." When Naya's friends bail on a night out at the last minute, she meets charming, pun-loving Jake Shaw and they share a night of spontaneous adventures that ends in Jake's hotel room--where Naya promptly throws up. Despite the vomit, one night is not enough for Jake, who reaches out for more, leading to a relationship that's equal parts sugar and spice. But with Naya's abusive ex back in town, Naya's lingering trauma puts a wedge in her relationship with Jake. Complicating things further, the dean of Thurmond University hires Jake's consulting firm to determine which departments to cut, putting Naya's career in his hands. Through the subsequent ups and downs, Jake remains an empathetic and swoon-worthy hero. Jam-packed with laugh-out-loud banter and heart-fluttering romance, this is a knockout. Agent: Sharon Pelletier, Dystel, Goderich & Bourret LLC. (Dec.)"
(c) Copyright PWxyz, LLC. All rights reserved
Additional Information