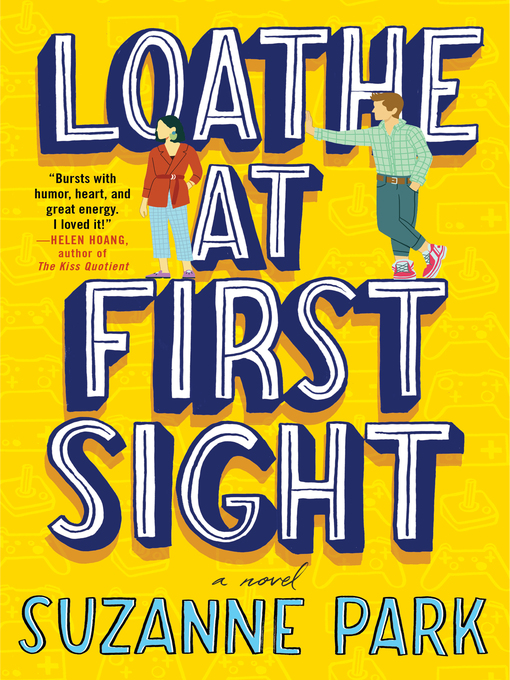 Loathe at first sight a novel
Format:

Kindle Book

2020

2020

Adobe EPUB ebook

OverDrive Read

Availability:

Available from OverDrive

11 of 14 copies
Summary
"Melody Joo is thrilled to land her dream job as a video game producer, but her new position comes with challenges: an insufferable CEO; sexist male coworkers; and an infuriating--yet distractingly handsome--intern, Nolan MacKenzie, aka "the guy who got hired because his uncle is the boss." Just when Melody thinks she's made the worst career move of her life, her luck changes. While joking with a friend, she creates a mobile game that has male strippers fighting for survival in a post-apocalyptic world. Suddenly Melody's "joke" is her studio's most high-profile project--and Melody's running the show. When Nolan is assigned to Melody's team, she's sure he'll be useless. But as they grow closer, she realizes he's smart and sexy, which makes Melody want to forget he's her intern. As their attraction deepens, she knows it's time to pump the brakes, even with her Korean parents breathing down her neck to hurry up and find a man. With her project about to launch, Melody suddenly faces a slew of complications, including a devastating trolling scandal. Could the man she's falling hard for help her play the game to win--in work and in love?"--

Published Reviews
Booklist Review:
"Melody Joo finally landed her first job as a producer in the male-dominated video game industry. She has to deal with sexist coworkers, including a particular intern who got hired because his family has connections to the head of the company. It doesn't help that he is handsome, and that her parents are hounding her to get married, making him doubly tempting. One day, she jokes with a friend about a new video game idea where protagonists are female, and the CEO overhears her, and assigns her to the project. Thus began her foray into a video game launch of epic proportions--and scandal. Park's first book for adults (after the YA The Perfect Escape, 2020) is a funny and feminist geek novel. Melody's Korean parents provide comic relief as well as the realistic pressure of parents wanting their adult child to settle down. Melody proves to be a strong character as she fights for her rights as a woman in the workplace. Readers into both gaming and women's fiction will scramble for this fast-paced charmer."
From Booklist, Copyright (c) American Library Association. Used with permission.
Publisher's Weekly Review:
"Enemies turn to lovers in YA author Park's punchy adult debut set in the world of video game design. Melody Joo, a newly hired production assistant at Seventeen Studios, is determined to fight the "unescapable bro culture" within the gaming industry. But this proves nearly impossible while surrounded by cardboard cutouts of the studios' scantily clad, anatomically impossible heroines. When her misogynistic boss, Ian MacKenzie, overhears her joking about a gender-swapped version of their popular games, which would follow male strippers fighting off the apocalypse, he tasks her with launching it as a mobile app to prove that the company is, in his words, "menstrual friendly." But it was never meant to be a serious idea and Ian only gives her six months to achieve the impossible. If Melody's going to prove herself, she can't have any distractions. But Nolan MacKenzie, the handsome, infuriating intern who also happens to be Ian's nephew, is a distraction too tempting to resist. Though they initially butt heads, Melody can't deny the butterflies that follow when he smiles at her. Park (The Perfect Escape) makes tough topics go down easy by couching them in wry humor and lighthearted romance, and her fierce, snarky heroine is irresistible. This smart rom-com is a winner. Agent: Brent Taylor, Triada US Literary Agency. (Aug.)"
(c) Copyright PWxyz, LLC. All rights reserved
Additional Information