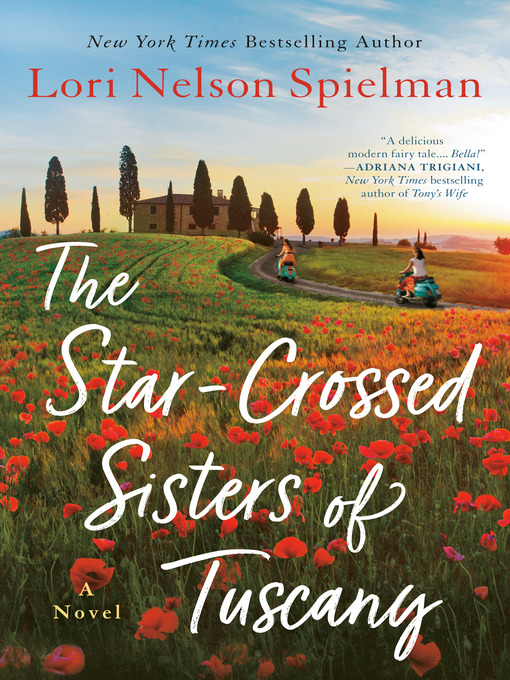 The star-crossed sisters of Tuscany
Format:

Kindle Book

2020

2020

Adobe EPUB ebook

OverDrive Read

Availability:

Unavailable

0 of 4 copies
8 people on waitlist
Summary
"The enduring bonds of sisterhood flourish in this heartwarming and dazzling Italian adventure, where a love that spans generations reveals the path to one woman's destiny, from the New York Times bestselling author of The Life List. When the fiercely independent and mysterious Paulina "Poppy" Fontana invites her great-nieces and fellow second-born daughters, Emilia and Lucy, to visit her birthplace of Italy, she makes a wild declaration. On her eightieth birthday, Poppy claims she'll meet the love of her life on the steps of the Ravello Cathedral and put an end to the Fontana Family Second-Daughter Curse once and for all. The Fontana Second-Daughter Curse is probably nothing but a coincidence, a self-fulfilling prophecy, an old-world myth. Even so, nobody can deny that for centuries, not a single second-born daughter in the Fontana family has married. But twenty-nine year-old Emilia actually appreciates the curse--some may even say she hides behind it. What might happen if the supposed curse is actually broken, and she's expected to find love? Reluctantly, the trio of second-born daughters embark on a journey to fulfill Poppy's last wish. Against a backdrop of lush Italian countryside and rich landmarks, Poppy shares family secrets and tales of forbidden love that threaten to upend every belief her young nieces have held to be true"--

Published Reviews
Booklist Review:
"Fontana family legend has it that second-born daughters are cursed never to find lasting love. Emilia Fontana, a second daughter, does not believe in the curse, but even if she did, she is fine with a life without love, preferring nights of Netflix to "Netflix and chill." One day, Emilia's estranged Aunt Poppy invites her on an all-expenses paid trip to Italy. At first, because of her loyalty to her grandmother, Emilia refuses the offer. But Aunt Poppy is persistent and tells Emilia and her cousin Lucy, another second-born daughter, that if they go with her the curse will be broken. Eventually, Emilia relents and goes off on the adventure of a lifetime. Spielman (Sweet Forgiveness, 2015) alternates points of view between Emilia in the present and Poppy in 1959, telling a pleasant story of three women breaking free of expectations to live their own lives to the fullest. Some light romance rounds out the robust descriptions of Italian food and scenery. Readers who enjoy dual narratives and women's fiction will enjoy this novel."
From Booklist, Copyright (c) American Library Association. Used with permission.
Publisher's Weekly Review:
"In Spielman's sparkling follow-up to Sweet Forgiveness, two second-born daughters hope to break a curse that has been in their family for generations. Twenty-nine-year-old Emelia Antonelli works in her grandmother's Brooklyn bakery and is happily single, or so she tells herself. After her great aunt Poppy, also a second-born daughter, invites Emelia and her cousin Lucy to join her on an eight-day, all expenses paid trip to Italy, Poppy claims that on her upcoming 80th birthday she will meet the love of her life, Rico, on the steps of the Ravello Cathedral, breaking the Fontana Second Daughter Curse, which dooms all second-born daughters to a life without love, once and for all. Emelia isn't sure she believes in the curse, but she's ready for adventure, and soon she and Lucy (also a second-born daughter) are off to Tuscany. Emelia's narrative intertwines with Poppy and Rico's achingly romantic story, and the vibrant Poppy inspires Emelia and Lucy to open their hearts to the possibilities of love and a life fully lived. Spielman brings Tuscany to vivid life and offers more than a few surprises along the way. Fans of An Affair to Remember, Under the Tuscan Sun, and the like will be enthralled. (Apr.)"
(c) Copyright PWxyz, LLC. All rights reserved
Additional Information