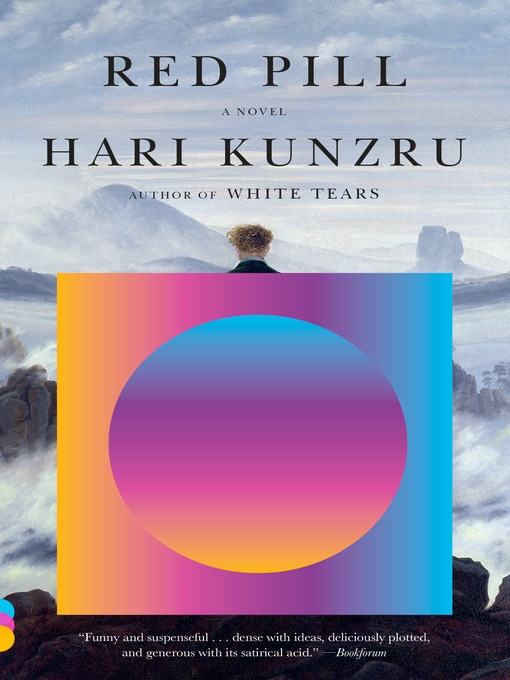 Red pill A novel
Format:

Kindle Book

2020

2020

Adobe EPUB ebook

OverDrive Read

Availability:

Available from OverDrive

2 of 3 copies
2 people on waitlist
Summary
"After receiving a prestigious writing fellowship in Germany, the narrator of Red Pill arrives in the Berlin suburb of Wannsee and struggles to accomplish anything at all. Instead of working on the book he has proposed to write, he takes long walks and binge-watches "Blue Lives"--a violent cop show that becomes weirdly compelling in its bleak, Darwinian view of life--and soon begins to wonder if his writing has any value at all. Wannsee is a place full of ghosts: across the lake the narrator can see the villa where the Nazis planned the Final Solution, and in his walks he passes the grave of the Romantic writer Heinrich von Kleist, who killed himself after deciding that "no happiness was possible here on earth." When some friends drag him to a party where he meets Anton, the creator of "Blue Lives," the narrator begins to believe that the two of them are involved in a cosmic battle, and that Anton is "red-pilling" his viewers--turning them towards an ugly, alt-rightish worldview--ultimately forcing the narrator to wonder if he is losing his mind"--

Published Reviews
Booklist Review:
"The mentally unstable narrator at the heart of Kunzru's (White Tears, 2017) dazzling novel can see the writing on the wall. Trump and Clinton are duking it out for the U.S. presidency, and this middling, Brooklyn-based author worries society has unraveled even before the 2016 results became known. So a literary residency at the fictional Deuter Center in Wannsee, a Berlin suburb, feels like a lifeline, one the narrator willingly grasps. Unfortunately the center's strict accountability rules only further straitjacket the narrator until he slowly begins to unravel. He binge-watches a cop show whose alt-right creator, the narrator is convinced, is playing mind games with him. The ghost of history looms large too. Kunzru sets his protagonist in the grim shadow of the Nazi final solution. Near the writer's center, the narrator comes across the grave of Heinrich von Kleist, the German poet, dramatist, and writer who committed a murder-suicide in Wannsee. As Kunzru's protagonist slowly loses his hold on reality, he questions if what he's seeing is just another whitewashed version of the truth. Kunzru has created a complex, challenging, and bold story about a world gone amok and a middle-aged man coming to terms with his one truth: his mediocrity."
From Booklist, Copyright (c) American Library Association. Used with permission.
Publisher's Weekly Review:
"Kunzru's powerful latest (after White Tears) follows an unnamed Brooklyn writer who lands in Berlin for a fellowship at the Deuter Center in 2016. What's supposed to be a writing retreat and a way to get past the creative block he was experiencing amid a midlife crisis, however, soon turns into an escalating disaster. The Center's strict policy that residents share workspace clashes with the writer's need for isolation, driving him to binge-watch Blue Lives, a cop show. Trouble begins when the narrator grows fascinated with the show's persuasive nihilistic worldview, thus triggering his anxiety that his own work is futile and irrelevant. The novel takes a bizarre turn when the paranoid narrator has a chance encounter with the Blue Lives creator, Anton, a smug, alt-right ideologue. Obsessed with confronting Anton about Blue Lives's pernicious message during the increasingly divisive U.S. presidential race, the narrator plows headlong down a self-destructive path. A subplot narrated by a cleaning woman who lives with memories of being controlled by the Stasi doesn't quite tie together with the rest of the goings-on, but Kunzru does an excellent job of layering the atmosphere with fear and disquietude at every turning point. This nightmarish allegory leaves the reader with much to chew on about literature's role in the battleground of ideas. Agent: Jonny Geller, Curtis Brown Group. (Sept.)"
(c) Copyright PWxyz, LLC. All rights reserved
Additional Information