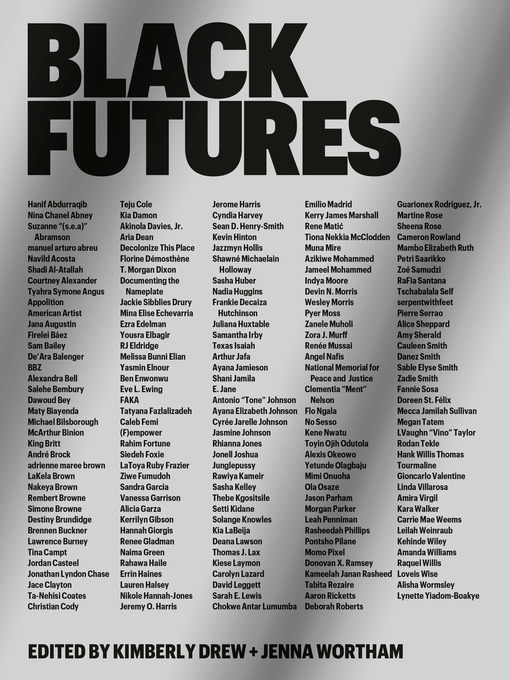 Black futures
Format:

Kindle Book

2020

2020

Adobe EPUB ebook

OverDrive Read

Availability:

Available from OverDrive

5 of 6 copies
2 people on waitlist
Summary
"Black Futures is a collection of work--art, photos, essays, memes, dialogues, recipes, tweets, poetry, and more--that tells the story of the radical, imaginative, bold, and beautiful world that black artists, high and low, are producing today. The book presents a succession of brilliant and provocative pieces--from both emerging and renowned creators of all kinds--that generates an entrancing rhythm: Readers will go from conversations with hackers and street artists to memes and Instagram posts, from powerful prose to dazzling paintings and insightful infographics. A generational document that captures this fast-moving generation in its own dynamic and exspansive language. While shaped in the tradition of other generational statements, from The New Negro to Black Fire to Toni Morrison's landmark The Black Book, Black Futures does not have a retrospective air. It showcases the present, but points to the future. We live at a time when black culture--whether it's created by Ava DuVernay or Donald Glover, Kendrick Lamar or Cardi B, meme-makers or YouTubers--is opening our imaginations and offering new paths forward, a multi-voiced, utopian alternative to a world of walls and white nationalism. Black Futures captures this expansive vision and energy and makes it available to any reader, of any color, who wants to explore this exciting cultural moment and see the next one coming"--

Contents
Black futures
Power
Black lives matter
Joy
Justice
Ownership
Grief
Outlook
Black is (still) beautiful
Legacy/Family.
Published Reviews
Booklist Review:
"Loosely arranged into categories like Power, Joy, and Ownership and designed like an art-exhibition catalog, Black Futures is an intriguing and beautiful book meant to inspire. Art curator Drew and New York Times Magazine culture writer Wortham sought to answer the question, "What does it mean to be Black and alive right now?". To this end, they have curated conversations, art, poetry, and essays by an incredible array of creative people. Some contributors will be familiar to many--Hanif Abdurraqib, Ta-Nehisi Coates, Eve L. Ewing, Samantha Irby--but readers will also likely discover new-to-them voices, covering topics as wide-ranging as poet June Jordan, artist Kerry James Marshall, the viral meme "Muslamic ray guns," and even a fantastic ode to shea butter. Punctuated throughout with photography and other artwork and using vibrant colors smartly, the book is as interesting visually as intellectually. In their introduction, the editors state that one of their intentions with this book "is to encourage readers to follow their interests into a deep warren of rabbit holes and discoveries." They succeed; every reader will engage with this work differently, and will be able to come back to it again and again for inspiration."
From Booklist, Copyright (c) American Library Association. Used with permission.
Publisher's Weekly Review:
"Curator Drew and New York Times Magazine writer Wortham probe the meaning of Black identity and offer a "series of guideposts" to the future of the Black experience in this multifaceted and visually arresting anthology of essays, poems, and art. Political activist De'Ara Balenger energetically details the fight against voter suppression and the rise of current Black progressives including Georgia gubernatorial candidate Stacey Abrams, while photographer LaToya Ruby Frazier combines text and image in her devastating portrait of the ongoing water crisis in Flint, Mich. Other pieces highlight LGBTQ and Afro-Indigenous subcultures in the Black community, explore how agricultural knowledge passed down by enslaved Africans has provided sustenance and empowerment to Black Americans, incisively analyze the White House portraits of Barack and Michelle Obama, showcase Black avatars from the video game The Sims, and ask, "what does it mean to teach history if Whiteness is not centralized in the classroom?" Bold graphics, vibrant artwork in a plethora of styles and media, and contributions from activists, scholars, and journalists across a wide range of experiences and perspectives showcase the multidimensionality of Black voices in America. This unique and imaginative work issues a powerful call for justice, equality, and inclusion. Agent: Daniel Greenberg, Levine Greenberg Rostan Literary. (Nov.)"
(c) Copyright PWxyz, LLC. All rights reserved
Additional Information