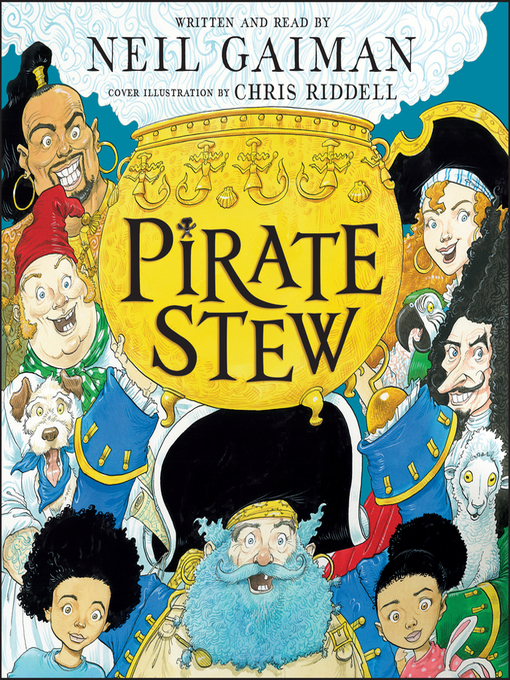 Pirate stew
Format:

OverDrive MP3 Audiobook

2020

2020

OverDrive Listen

Availability:

Unavailable

0 of 1 copy
Summary
Meet LONG JOHN McRON, SHIP'S COOK . . . and the most unusual babysitter you've ever seen. Long John has a whole crew of wild pirates in tow, and—for one boy and his sister—he's about to transform a perfectly ordinary evening into a riotous adventure beneath a pirate moon. It's time to make some PIRATE STEW. Marvelously silly and gloriously entertaining, this tale of pirates, flying ships, doughnut feasts and some rather magical stew is perfect for all pirates, both young and old.With a deliciously rhyming text from master storyteller Neil Gaiman and a spellbinding cover illustration by the supremely talented Chris Riddell, this is the picture book of the year! Pirate Stew! Pirate Stew!Pirate Stew for me and you!Pirate Stew, Pirate StewEat it and you won't be blueYou can be a pirate too!

Published Reviews
Booklist Review:
"Mum and Dad are heading out for a night on the town, which can mean only one thing: a babysitter is due at any moment. The kids aren't particularly pleased, but then the caretaker bursts in, and--it's a pirate! Long John McRon, to be specific, and it's not long before an entire pack of pirates joins him at the front door. The motley crew may be scurvy scalawags, but they are responsible scalawags, and they quickly realize that they must provide dinner for their young charges. Scrambled eggs? Too complicated. Spaghetti? Too wormlike. A good, old-fashioned pot of Pirate Stew? That's the ticket! The story is slight but highly enjoyable, with Gaiman's silly, singsong verses the perfect ingredient for a raucous read-aloud. Riddell's predictably fabulous illustrations are ablaze with color and detail, but while he's compiled a diverse cast, the pirates are pure caricature, and some figures pulled from pirate lore--most notably an Asian man--fall into the realm of racial stereotype."
From Booklist, Copyright (c) American Library Association. Used with permission.
Publisher's Weekly Review:
"Babysitting two skeptical siblings, Long John McRon, Ship's Cook, and his pirate crew concoct a buccaneer-pleasing repast: "Pirate Stew, Pirate Stew,/ eat it and you won't be blue./ You can be a pirate too!" What could possibly go awry? With consummately inventive Newbery Medalist Gaiman at the helm, nothing short of boatloads. In rollicking verse, the rowdy chefs, elaborately costumed and coiffed in Riddell's freewheeling illustrations, initially toss relatively tame ingredients into their golden cooking pot--"Start with onions, start with carrots./ Add the seeds that feeds the parrots./ Pulverized with heavy pestles, leeks are good (except in vessels)"--but the recipe becomes comically slapdash with the addition of gold doubloons, cannonballs, "a slice of plank for walking,/ and some extra Arrs for talking." The whimsy takes further flight when Long John McRon pilots a post-supper journey to a doughnut shop after the children's house morphs into an airborne pirate ship, and the longtime collaborators top off this delightful yarn with a wry parental twist. Ages 4--8. (Dec.)"
(c) Copyright PWxyz, LLC. All rights reserved
Additional Information