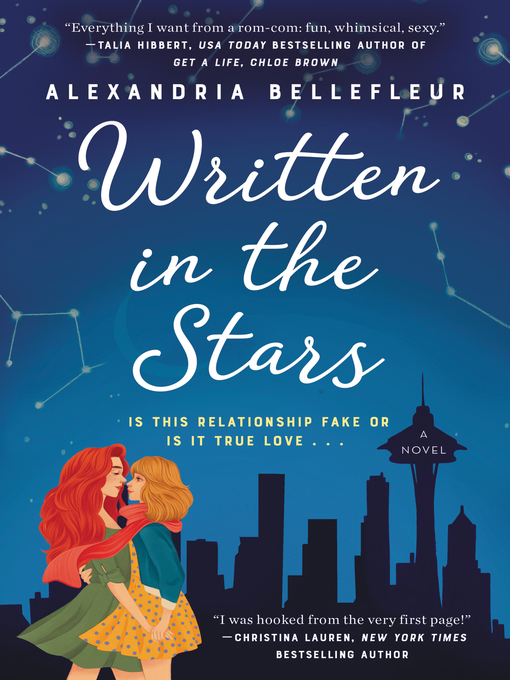 Written in the stars A Novel
Format:

Kindle Book

2020

2020

Adobe EPUB ebook

OverDrive Read

Availability:

Unavailable

0 of 8 copies
20 people on waitlist
Summary
"I was hooked from the very first page!" – Christina Lauren, New York Times bestselling author of In a Holidaze"This book is a delight." – New York Times Book ReviewA National Bestseller! Featured on Shondaland, Oprah Mag, Bustle, The New York Times Book Review, Buzzfeed, POPSUGAR, Entertainment Weekly, Washington Post, NPR, Culturess, Vulture, and more. Named one of the Best Romances of 2020 by Washington Post, Bustle, and Buzzfeed!With nods to Bridget Jones and Pride & Prejudice, this debut is a delightful #ownvoices queer rom-com about a free-spirited social media astrologer who agrees to fake a relationship with an uptight actuary until New Year's Eve—with results not even the stars could predict!After a disastrous blind date, Darcy Lowell is desperate to stop her well-meaning brother from playing matchmaker ever again. Love—and the inevitable heartbreak—is the last thing she wants. So she fibs and says her latest set up was a success. Darcy doesn't expect her lie to bite her in the ass. Elle Jones, one of the astrologers behind the popular Twitter account Oh My Stars, dreams of finding her soul mate. But she knows it is most assuredly not Darcy... a no-nonsense stick-in-the-mud, who is way too analytical, punctual, and skeptical for someone as free-spirited as Elle. When Darcy's brother—and Elle's new business partner—expresses how happy he is that they hit it off, Elle is baffled. Was Darcy on the same date? Because... awkward. Darcy begs Elle to play along and she agrees to pretend they're dating. But with a few conditions: Darcy must help Elle navigate her own overbearing family during the holidays and their arrangement expires on New Year's Eve. The last thing they expect is to develop real feelings during a faux relationship. But maybe opposites can attract when true love is written in the stars?"Everything I want from a rom-com: fun, whimsical, sexy." – Talia Hibbert, USA Today bestselling author of Get a Life, Chloe Brown

Published Reviews
Booklist Review:
"Shortly after their blind date begins, Elle Jones and Darcy Lowell know they're not meant to be. Elle is messy and laid back, Darcy is punctual and uptight. Elle is one of the astrology experts behind the successful Oh My Stars brand, Darcy is an actuary who doesn't believe in horoscopes. Then Darcy tries to prevent her matchmaking brother Brendon (also Elle's business partner) from sending her on yet another blind date by telling him that she and Elle hit it off. Darcy begs Elle to play along, and they agree to fake-date until New Year's Eve to help each other navigate the holiday season. Bellefleur's debut sprinkles amusing listicles ("What Rom-Com Are You Based on Your Zodiac Sign?") throughout the text as Elle and Darcy cautiously move from uneasy allies to friends to something more. Well-developed leads, relatable conflicts, a strong supporting cast, and opposites-attract chemistry make for an engaging read. Fans of Alexis Hall's Boyfriend Material (2020) and Talia Hibbert's Take a Hint, Dani Brown (2020) will enjoy this Seattle-set love story that reads like a romantic holiday movie."
From Booklist, Copyright (c) American Library Association. Used with permission.
Publisher's Weekly Review:
"A disastrous blind date kicks off Bellefleur's excellent rom-com debut. Elle Jones, an eternally optimistic astrologist, and Darcy Lowell, a tightly buttoned actuary who's given up on love after a past betrayal, realize almost immediately that, though their physical chemistry is electric, their personalities mix like oil and water. Still, when Darcy's brother, Brendon, who set them up, asks Darcy how it went, she says it was great to get him to stop worrying about her love life. Elle resents being pulled into the lie--but agrees to play along to get her own family off her back. As the women spend more time together, ironing out the details of their fake relationship and going on double dates with Brendon, they begin to see each other's differences as turn-ons rather than turn-offs, and the line between reality and pretend blurs. Readers will be rapt by the sensuous love scenes once Darcy and Elle throw pretense aside--but Darcy's inability to admit her feelings might still keep the couple from their happy ending. A moving subplot about Elle's fight for her family's acceptance rounds out the story, while astrology memes ("What brunch food are you based on your zodiac?") and nods to Pride and Prejudice scattered throughout add texture. This is a delight. Agent: Sarah Younger, Nancy Yost Literary Agency. (Nov.)"
(c) Copyright PWxyz, LLC. All rights reserved
Additional Information