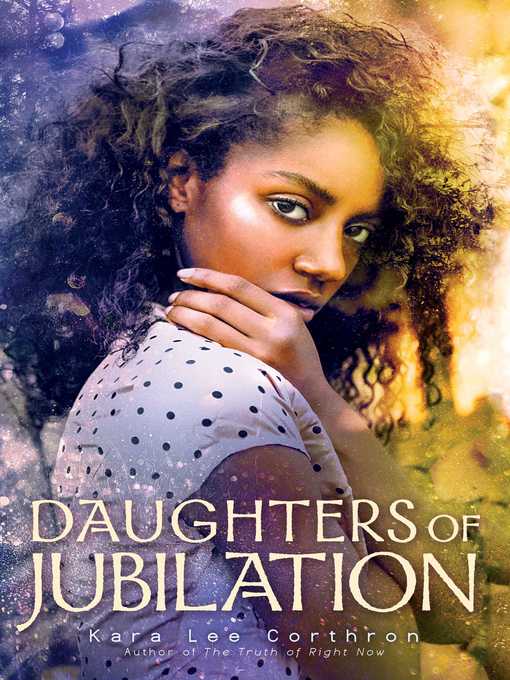 Daughters of jubilation
Format:

Kindle Book

2020

2020

Adobe EPUB ebook

OverDrive Read

Availability:

Available from OverDrive

1 of 1 copy
Summary
"A compelling story of first love and battling racism with a magical twist." — Kirkus Reviews (starred review) "Well-told, fast-paced." — School Library Journal (starred review) From the award-winning author of The Truth of Right Now comes a stunning, grounded fantasy in the vein of Dread Nation that follows a black teen as she finds her place among a family of women gifted with magical abilities. In the Jim Crow South, white supremacy reigns and tensions are high. But Evalene Deschamps has other things to worry about. She has two little sisters to look after, an overworked single mother, and a longtime crush who is finally making a move. On top of all that, Evvie's magic abilities are growing stronger by the day. Her family calls it jubilation—a gift passed down from generations of black women since the time of slavery. And as Evvie's talents waken, something dark comes loose and threatens to resurface... And when the demons of Evvie's past finally shake free, she must embrace her mighty lineage, and summon the power that lies within her.

Published Reviews
Booklist Review:
"Corthron brings her writing talent to the realm of YA with a powerful story about a magic-wielding Black teen in the Jim Crow South. Evaline Deschamps possesses the gift of jubilation, ancestral magic for protection passed down from one Black woman to another. In the time of Jim Crow, Evaline and her family realize they need their powers to survive as much as their ancestors did during slavery. As Evie's powers grow stronger and she struggles to master them, a darkness awakens that threatens to eviscerate Evie. Against a backdrop of rampant white supremacy inflicting great suffering and injustices upon Black families, Evie must conquer the evil of her past if she hopes to fully harness her power and protect herself and her family. Corthron inventively explores America's heinous racist history while telling the story of a Black teen grappling with a hostile culture on top of ordinary teenage growing pains, like a first crush. Readers swept up by Justina Ireland's Dread Nation series will gravitate to this historical fantasy, almost as if by magic."
From Booklist, Copyright (c) American Library Association. Used with permission.
Publisher's Weekly Review:
"Corthron (The Truth of Right Now) brings ancestral magic to Jim Crow South Carolina in this historical YA fantasy. Sixteen-year-old Evalene "Evvie" Deschamps has always known that she, like the generations of Black women in her family, possess magical abilities they call "Jubilation." Following puberty, it becomes more difficult for Evvie to control her magic, which begins with a bad headache and causes accidents when her temper flares. Nervous about hurting her loved ones, Evvie trains with her formerly estranged grandmother while managing her responsibilities as an older sister, her job as a babysitter for a white family, and a new relationship with her childhood crush. The purpose of her training shifts from general control to protection when she is stalked by a strange and sinister white man who claims to know everything about her, including her Jubilation. While the first-person narrative, told in a 1960s Southern dialect, aids in characterization and setting, the novel's harrowing plot is in places disturbing. Emotional, magical worldbuilding, however, redeems the distressing narrative by weaving it with grounding bonds of familial love and protection. Ages 14--up. Agent: Laurie Liss, Sterling Lord Literistic. (Oct.)"
(c) Copyright PWxyz, LLC. All rights reserved
Additional Information