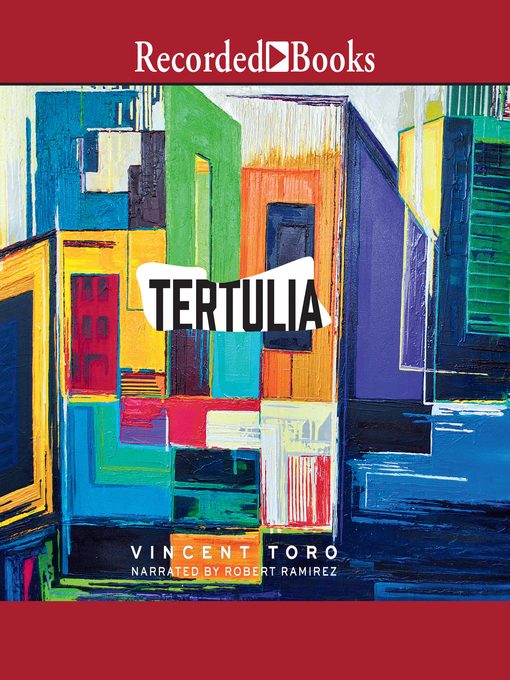 Tertulia
Format:

OverDrive MP3 Audiobook

2020

2020

OverDrive Listen

Availability:

Available from OverDrive

1 of 1 copy
Summary
"Puerto Rican poet Vincent Toro's collection takes the Latin American idea of an artistic social gathering (the "tertulia") and revises it for the Latinx context in the United States. In verses dense with juxtaposition, the collection examines immigration, economics, colonialism, and race via the sublime imagery of music, visual art, and history"--

Contents
Act 1
Act 2
Act 3
Act 4
Act 5.
Published Reviews
Booklist Review:
"In his percussive second collection, Puerto Rican poet Toro convenes a raucous tertulia, a kind of artistic social gathering popular in Latin America. Toro's delightfully erudite poems converse with film theory, pop and classical music, core curriculum, colonial and imperial legacies, and native Caribbean histories. Whether dissecting notions of privilege or interpreting American horror movies as thinly veiled anti-Latinx propaganda, Toro wields language like a new technology ("Discarnate appendages uprooting // cassava via livestream"), and his lyrics burst with earthy energy. Toro addresses the exploitation by financiers of his island home ("Cataclysm / as plum with financial prospects"), but also celebrates his heritage with a number of areytos, a Taíno word originally used to refer to a communal song and dance. Not without a sense of humor, Toro ridicules an infamous Fox News chyron that referred to "three Mexican countries" and delivers an "NSFW Poem for Dirty Minds" about household chores and everyday errands. A poetic phenom, Toro should be read alongside Urayoán Noel, Edwin Torres, and Daniel Borzutzky."
From Booklist, Copyright (c) American Library Association. Used with permission.
Publisher's Weekly Review:
"The rhythmic latest from Toro (Stereo.Island.Mosaic) is steeped in spoken word beats as it addresses such contemporary issues as immigration, gun violence, and income inequality. The book is divided into five "acts," its poems often reading as short and evocative scenes with cinematic imagery. In the opening "On Battling (Baltimore Strut)," descriptions of dancers in a nightclub are juxtaposed with the language of war: "a single shirtless/ seraph unfurls himself/ upon the tarmac. Flexing/ faux leather, he gyrates, feather-/ glides, thunderclaps, then jukes/ toward the 16,000-pound/ armored personnel carrier." In "Core Curriculum Standards: P.S. 137," the poet tours a public school: "chip wrappers wet/ newspapers rusty nails/ gym shoe musk/ ambling through unkempt/ hallways fissure fresco/ of soda stains." The standout poem is the moving elegy "Puerto Rico Is Burning Its Dead," presumably written in the aftermath of 2017's Hurricane Maria. The title phrase is woven throughout as a haunting refrain, while the speaker narrates a litany of atrocities: "Oxygen is put on the black market. Bones are used/ to hold up infected roofs. Unidentified remains/ get poured like concrete into jilted lungs." While non sequiturs occasionally dilute the poems' impact, this is an energetic effort by a supremely original voice. (June)"
(c) Copyright PWxyz, LLC. All rights reserved
Additional Information
Subjects
Immigrants United States Poetry
Poetry
Fiction
Poetry.
Audiobooks.

Publisher

[Place of publication not identified] :Recorded Books, Inc.2020




2020



Contributors
OverDrive, Inc.

Participants/Performers

Robert Ramirez.



Language

English



System Details

Mode of access: World Wide Web.




Format: OverDrive Listen




Format: OverDrive MP3 Audiobook




Requires OverDrive app 3.0 (Windows) / 1.0 (Mac) / 1.0 (Windows Mobile)



Description

1 audio file : digital



ISBN
9781980089674
1980089671

Other
Classic View