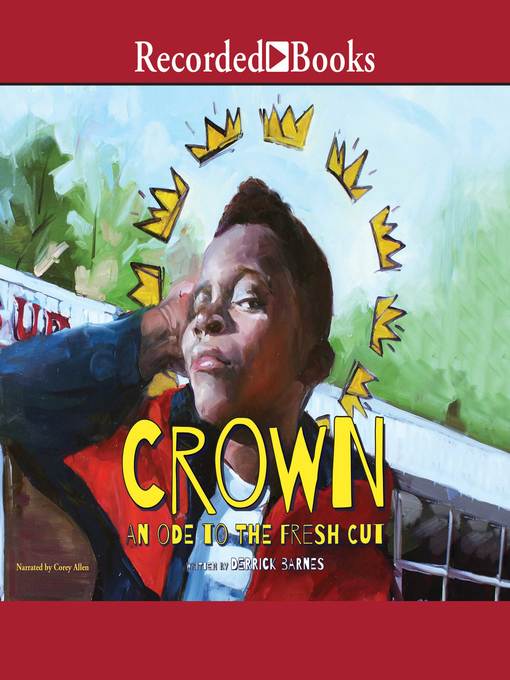 Crown an ode to the fresh cut
Format:

OverDrive MP3 Audiobook

2018

2019

OverDrive Listen

Availability:

Available from OverDrive

101 of 101 copies
Summary
The barbershop is where the magic happens. Boys go in as lumps of clay and, with princely robes draped around their shoulders, a dab of cool shaving cream on their foreheads, and a slow, steady cut, they become royalty. That crisp yet subtle line makes boys sharper, more visible, more aware of every great thing that could happen to them when they look good: lesser grades turn into As; girls take notice; even a mother's hug gets a little tighter. Everyone notices. A fresh cut makes boys fly. This rhythmic, read-aloud title is an unbridled celebration of the self-esteem, confidence, and swagger boys feel when they leave the barber's chair-a tradition that places on their heads a figurative crown, beaming with jewels, that confirms their brilliance and worth and helps them not only love and accept themselves but also take a giant step toward caring how they present themselves to the world. The fresh cuts. That's where it all begins. Crown: An Ode to the Fresh Cut is a high-spirited, engaging salute to the beautiful, raw, assured humanity of black boys and how they see themselves when they approve of their reflections in the mirror.

Published Reviews
Booklist Review:
"Barnes (Ruby and the Booker Boys, 2008) playfully tells the story of a black boy getting a haircut at a barbershop. The boy comes in as a blank canvas, but as the haircut starts, Barnes leads the reader into all the things that might happen because of the cut, from passing a geography test, to becoming a star, and even impressing a girl. The other men in the barbershop look important and full of swagger because of their hair, and the barber knows what he's doing and doles out shape-ups and a faux hawk with skill. Colorful images illustrate all of the patrons, including a woman. Barnes mixes fresh and sharp lines with an integral part of the African American experience: maintaining one's hair. Illustrator James deftly uses bright colors including teal and fuchsia, and a colorful galaxy complements Barnes' words well. The strong voice will resonate with readers, soothe any young child scared of their first cut, and give a boost of confidence to the seasoned pros.--Gilfillian, Courtney Copyright 2017 Booklist"
From Booklist, Copyright (c) American Library Association. Used with permission.
Publisher's Weekly Review:
"How good can a haircut make a person feel? "Magnificent. Flawless. Like royalty." In a powerfully moving tribute to barbershop culture, Barnes (We Could Be Brothers) addresses readers directly-and it's safe to say his audience is primarily boys of color-using hyperbole to boost their confidence and help them recognize their own value. "You came in as a lump of clay," he writes, "a blank canvas, a slab of marble./ But when my man is done with you,/ they'll want to post you up in a museum." Created with thick, forceful daubs of paint, James's luminous portraits reinforce the idea that, when a person looks this good, not even the sky is the limit. Of a man admiring the curving designs newly shaved into his head, the narrator remarks, "Maybe there's a river named after him on Mars. He looks that important." Pride, confidence, and joy radiate from the pages, both in the black and brown faces of men, women, boys, and girls featured in Barnes's majestic paintings, and in writing that celebrates human worth with every syllable. Barbers included: "Tip that man! Tip that man!" Ages 3-8. (Oct.) © Copyright PWxyz, LLC. All rights reserved."
(c) Copyright PWxyz, LLC. All rights reserved
Additional Information