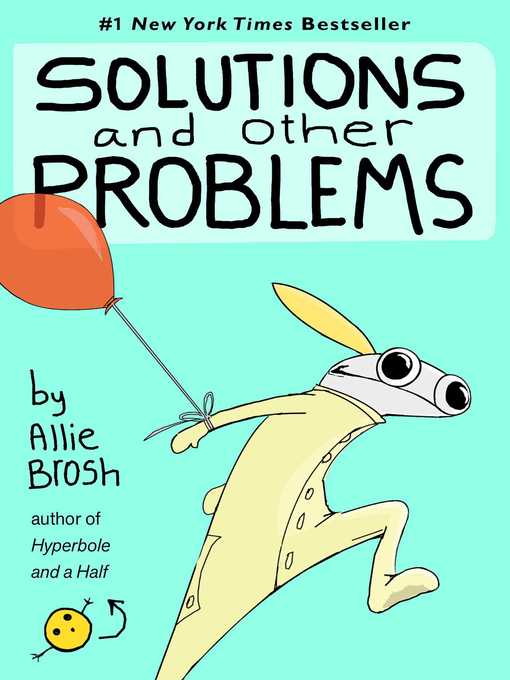 Solutions and other problems
Format:

Kindle Book

2020

2020

Adobe EPUB ebook

OverDrive Read

Availability:

Available from OverDrive

13 of 15 copies
Summary
"Solutions and Other Problems includes humorous stories from Allie Brosh{u2019}s childhood; the adventures of her very bad animals; merciless dissection of her own character flaws; incisive essays on grief, loneliness, and powerlessness; as well as reflections on the absurdity of modern life." --publisher's website

Contents
Introduction: balloon
Bucket
Richard
Neighbor kid
Poop mystery
The kangaroo pig gets drunk
Daydreams
Dandelions
Bananas
Losing
The pile dog 1
The pile dog 2
World's greatest cup
Fairness
Plans
The ultimate plan
Loving-kindness exercise
Cat
Fish video
The Ugly Duckling 2
Throw-and-find
Sister
A nonspecific story about an animal
Friendship spell
Friend.
Published Reviews
Booklist Review:
"About a third of the way into Brosh's second collection of autobiographical comics accompanied by typed text, she introduces "the serious part (it is more serious than the other parts)": around the release of her first book, Hyperbole and a Half (2013), a terrifying illness caused Brosh to confront her mortality; shortly after, her younger sister died suddenly. Illustrated in Brosh's wobbly, bright, extra-simplified digital drawings, these stories define the book's significant emotional core and lend perspective to the lighter and varied fare that surrounds them. Reckoning with her sister's death leads to pages filled with frames of the two of them as kids, abruptly interrupted by Brosh's realization that she must figure out how to move forward. While it's not without its own grief, the next story is a pet tale--another of Brosh's specialties--introducing a dog so deformed by illness its species became unclear. Like this, Brosh alternates sorrow with levity--funny childhood stories, more animal tales, and general musings on life and its lack of meaning or fairness--with grace that feels true to life."
From Booklist, Copyright (c) American Library Association. Used with permission.
Publisher's Weekly Review:
"Brosh follows up bestseller Hyperbole and a Half with a gut-busting volume of autobio comics. Her wobbly, wall-eyed avatar regards the world with bafflement as she hurls herself into one bizarre situation after another. As a toddler, Brosh gets trapped in a bucket, invades her neighbor's home through a cat door, and later becomes a suspect in the mystery of how horse poop keeps materializing in the house. As an adult, she tries to build character by getting deliberately lost while on drugs ("I'm like 99% sure we aren't inside the moon right now"), and unveils more complex stories of medical, psychological, and family ordeals. Like a millennial James Thurber, Brosh has a knack for seeding a small, choice detail that snowballs into existential chaos, such as when a bird's mating dance leads her to question reality itself. Brosh's spidery and demented digital portraits, a visual expression of fun-house mirror anxiety, fits her material perfectly. In piecing together the many turns of her life, she reflects, "Sometimes all you can really do is keep moving and hope you end up somewhere that makes sense." This achingly accurate and consistently hilarious comic memoir finds Brosh moving forward and becoming a stronger, braver storyteller page by page. Agent: Monika Verma, Levine Greenberg Rostan. (Sept.)"
(c) Copyright PWxyz, LLC. All rights reserved
Additional Information