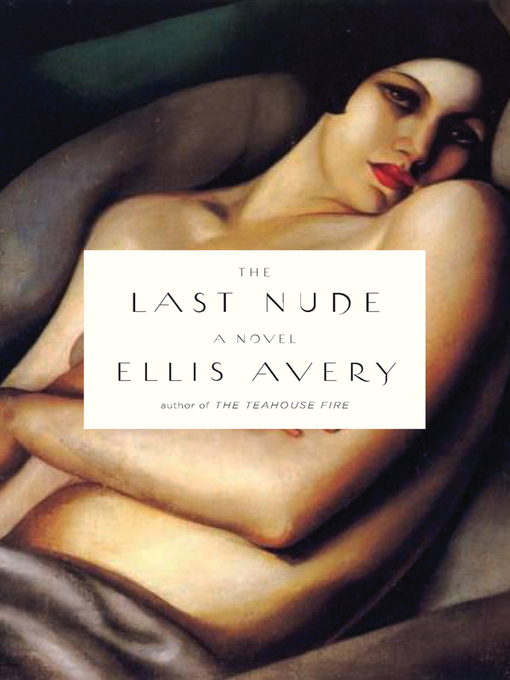 Last Nude
Format:

Kindle Book

2012

2012

Adobe EPUB ebook

OverDrive Read

Availability:

Available from OverDrive

1 of 1 copy
Summary
"A stunning story of love, sexual obsession, treachery, and tragedy, about an artist and her most famous muse in Paris between the world wars. Paris, 1927. In the heady years before the crash, financiers drape their mistresses in Chanel, while expatriates flock to the avant-garde bookshop Shakespeare and Company. One day in July, a young American named Rafaela Fano gets into the car of a coolly dazzling stranger, the Art Deco painter Tamara de Lempicka. Struggling to halt a downward slide toward prostitution, Rafaela agrees to model for the artist, a dispossessed Saint Petersburg aristocrat with a murky past. The two become lovers, and Rafaela inspires Tamara's most iconic Jazz Age images, among them her most accomplished-and coveted-works of art. A season as the painter's muse teaches Rafaela some hard lessons: Tamara is a cocktail of raw hunger and glittering artifice. And all the while, their romantic idyll is threatened by history's darkening tide. Inspired by real events in de Lempicka's history, The Last Nude is a tour de force of historical imagination. Ellis Avery gives the reader a tantalizing window into a lost Paris, an age already vanishing as the inexorable forces of history close in on two tangled lives. Spellbinding and provocative, this is a novel about genius and craft, love and desire, regret and, most of all, hope that can transcend time and circumstance. "--

Published Reviews
Booklist Review:
"*Starred Review* Those eyes! Those lips! That hair! Tamara de Lempicka's iconic Jazz Age paintings that immortalize Rafaela Fano in her nude glory (especially The Dream and La Belle Rafaela) now see glittering, luminescent life in Avery's novel, a riveting lesbian love story of heart-stopping passion, rapture, and stunning duplicity. In 1920s Paris, Tamara, her world lost to WWI, is painting for anyone who'd lost a world, too . . . making our heaven myself, stroke by stroke. Avery (The Teahouse Fire, 2007) places lovers Tamara and Rafaela within a richly portrayed circle of cultural touchstones, including Romaine Brooks and Natalie Barney, Jean Cocteau, Picasso, Gertrude Stein, and Sylvia Beach, the American expat who published James Joyce's Ulysses and founded Shakespeare & Co., a bookstore-haven for artistic souls. Against that brightly pigmented background, this artist-model lovers' tale is as subtle and seductive as the silk Rafaela listens to with her hands as she designs a slip for her beloved, as stirring as Rafaela (whose survival depends on her beauty), radiant after her first sex for pleasure, seeing Paris, a rose-windowed city, and thinking, This always. Just this. Avery's breathtaking shimmer of first love and its aftermath will turn heads.--Scott, Whitney Copyright 2010 Booklist"
From Booklist, Copyright (c) American Library Association. Used with permission.
Publisher's Weekly Review:
"In Avery's second novel (after The Teahouse Fire), poor young Rafaela meets Polish painter Tamara de Lempicka in 1920s Paris. Rafaela is no stranger to the currency of sex ("I had traded sex for a train ticket, for an apartment, for a coat and hat and shoes, and most recently... for money"). Before meeting de Lempicka, however, Rafaela had never gone to bed because she wanted to, and the artist awakens the young woman's desire. Centered around de Lempicka's provocative nudes of Rafaela, the novel chronicles the shifting boundaries between artist and muse over the course of a heated affair. The relationship is tested when the prestigious Salon d'Automne jury accepts two of de Lempicka's Rafaela paintings, The Dream and La Bella Rafaela. De Lempicka receives an offer for the latter work before the exhibit even opens, and Rafaela's portrait becomes a sensation, leaving her uncertain of what to expect in the wake of success, especially from her lover. Though at times contrived, the strength of Avery's novel lies in her depiction of a driven and accomplished artist and an impressionable waif who finds that her beauty no longer belongs to her. (Jan.) (c) Copyright PWxyz, LLC. All rights reserved."
(c) Copyright PWxyz, LLC. All rights reserved
Additional Information