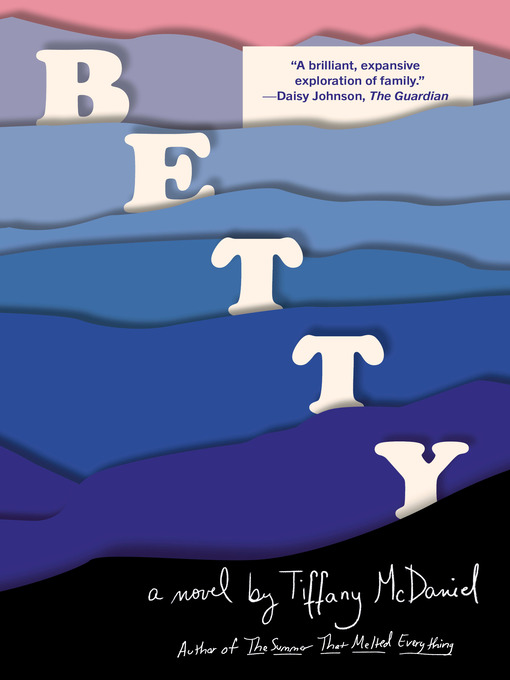 Betty
Format:

Kindle Book

2020

2020

Adobe EPUB ebook

OverDrive Read

Availability:

Unavailable

0 of 7 copies
28 people on waitlist
Summary
"A stunning, lyrical coming-of-age novel set in the rolling foothills of the Appalachians in which a young girl, with only the compass of her father's imagination, must navigate racism, sexism, and the dark secrets that will haunt her for the rest of her life. "A girl comes of age against the knife." So begins the story of Betty Carpenter. Born in a bathtub in Arkansas in 1954 to a Cherokee father and white mother, Betty is the sixth of eight siblings. The world they inhabit is one of poverty, racism, abuse, and violence--both from outside the family, and also, devastatingly, from within. After years on the road, searching in vain for a better life, the Carpenters return to their hometown of Breathed, Ohio, in northern Appalachia. There, they move into a sprawling wreck of a farmhouse that local legend says is cursed. The townsfolk decide the Carpenters are cursed, too: "My mother gave birth to eight of us," Betty tells us in her frank, wry voice. "More than one would die for no good reason in the prizewinning years of their youth. Some blamed God for taking too few. Others accused the Devil of leaving too many." But Betty is resilient. Her father's inventive stories are kindling for the fire of her own imagination and even in the face of tragedy and death, her creativity is irrepressible. Against overwhelming odds, she may be the first member of her family to break the cycle of abuse and trauma--and escape"--

Published Reviews
Booklist Review:
"McDaniel (The Summer That Melted Everything, 2016) returns to the Ohio of her ancestral roots for this epic, lyrical coming-of-age tale. Inspired by the life of McDaniel's own mother, the story follows Betty Carpenter, one of the youngest of her parents' many children. Born to their Cherokee father and white mother, Betty is the only sibling with Indigenous lineage evident in her face. She endures unthinkable discrimination as early as kindergarten, where it becomes evident that finishing her education will be the fight of her life. She also witnesses great violence against her mother and sisters, leading Betty to question why womanhood is so endlessly bloody. To soothe a lifetime's worth of hardship experienced before adolescence, Betty picks up a pen. She writes to understand the unthinkable, even when she does not share her words with the world, even when she buries them deep into the ground. Even as a young child, Betty is wise and empathetic to the pain all around her: her town's, her family's, and her own. McDaniel's sophomore work is a sweeping and heart-wrenching exploration of how we understand our parents' lives and how our children will one day understand our own.Women in Focus: The 19th in 2020"
From Booklist, Copyright (c) American Library Association. Used with permission.
Publisher's Weekly Review:
"McDaniel bases her raw if overwrought bildungsroman (after The Summer That Melted Everything) on the life of her mother. Born in 1954, narrator Betty is one of eight siblings whose cherished father, Landon Carpenter, a Cherokee, tells wondrous tales, and whose mother, Alka Lark, shares cruel truths ("God hates us," she says, referring to women). Betty recounts poverty, puberty, and the tragic loss of one sibling after the other. Betty looks like Landon and is abused at school by the prejudiced children and teachers of Breathed, Ohio. The episodic narrative revolves around Betty's struggles over whether to divulge a family secret involving incest and rape at the story's rotten core. Along the way, Landon, a finely rendered character, dispenses most of the wisdom ("Some people are as beautiful and soft as peonies, others as hard as a mountain"), but McDaniel gives Betty exceedingly precocious insights (at nine: "William Shakespeare wrote my father a Romeo heart and a Hamlet mind at the same time Henry David Thoreau composed him to have sympathy toward nature and a longing for paradise to be regained"). Still, she brilliantly describes Betty's self-image based on her father's stories of their ancestors. McDaniel is an ambitious and sincere writer, and occasionally her work transcends. (Aug.)"
(c) Copyright PWxyz, LLC. All rights reserved
Additional Information