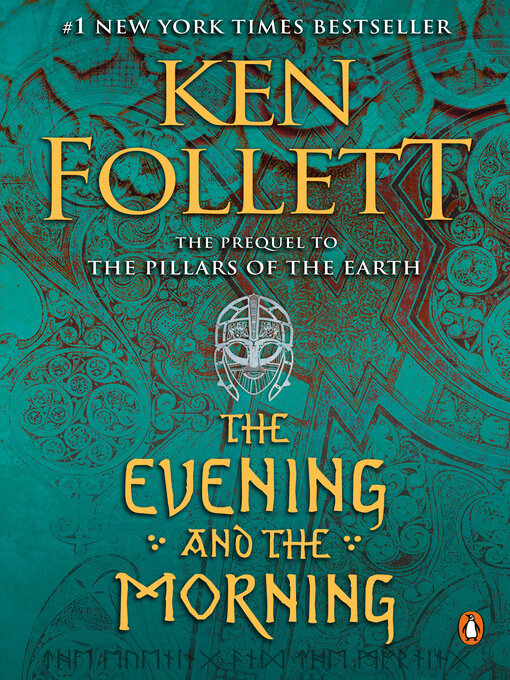 The evening and the morning
Format:

Kindle Book

2020

2020

Adobe EPUB ebook

OverDrive Read

Availability:

Unavailable

0 of 50 copies
248 people on waitlist
Summary
"It is 997 CE, the end of the Dark Ages. England is facing attacks from the Welsh in the west and the Vikings in the east. Those in power bend justice according to their will, regardless of ordinary people and often in conflict with the king. Without a clear rule of law, chaos reigns. In these turbulent times, three characters find their lives intertwined: A young boatbuilder's life is turned upside down when the only home he's ever known is raided by Vikings, forcing him and his family to move and start their lives anew in a small hamlet where he does not fit in. . . . A Norman noblewoman marries for love, following her husband across the sea to a new land. But the customs of her husband's homeland are shockingly different, and as she begins to realize that everyone around her is engaged in a constant, brutal battle for power, it becomes clear that a single misstep could be catastrophic. . . . A monk dreams of transforming his humble abbey into a center of learning that will be admired throughout Europe. And each in turn comes into dangerous conflict with a clever and ruthless bishop who will do anything to increase his wealth and power. Thirty years ago, Ken Follett published his most popular novel, The Pillars of the Earth. Now, Follett's masterful new prequel The Evening and the Morning takes us on an epic journey into a historical past rich with ambition and rivalry, death and birth, love and hate, that will end where The Pillars of the Earth begins"--

Published Reviews
Booklist Review:
"Three decades after Follett launched his best-selling Kingsbridge series with The Pillars of the Earth, he presents a sequel tracing the fictional city's origins as the bedraggled settlement of Dreng's Ferry. Dispossessed by Viking raiders of both his home and the woman he loves, Edgar ends up working for the despicable Dreng as a ferryman. Edgar is a builder, with a mind and skills that soon set him apart. Meanwhile, Ragna, a young Norman noblewoman, falls for ealdorman (a shire's chief officer) Wilwulf, member of a powerful Anglo-Saxon family that holds Dreng's Ferry as part of its domains. Thanks to Wilwulf's amoral half-brother, Bishop Wynstan, life in England is not what Ragna anticipated, and neither hers nor Edgar's lives take the paths they had envisioned. Follett's choice of language and explication accommodate an audience unfamiliar with the period, painting a large canvas with broad Dark Ages strokes. Violence, rape, slavery, romance, power plays, and human striving all combine into Follett's absorbing and lengthy saga of life in a chaotic and unstable England on the cusp of the Middle Ages.HIGH-DEMAND BACKSTORY: Fans of Follett's ever-popular Kingsbridge series, bolstered by an Oprah Book Club pick and a TV series, will flock to this well-publicized prequel, while intrigued newcomers can start here. Refresh holdings of the three earlier titles."
From Booklist, Copyright (c) American Library Association. Used with permission.
Publisher's Weekly Review:
"Follett delivers a lackluster prequel to his Kingsbridge series. The structure will feel familiar to series devotees; it centers on the intertwined stories of three people: a man who is good with his hands, an attractive noblewoman, and a cleric. This time, the action spans 997--1007 CE, and the leads are Edgar, Ragna, and Aldred, whose lives intersect multiple times despite their disparate backgrounds. Edgar, the teenage son of a boatbuilder, is planning to run off with a married woman until a Viking attack on his village in the west of England leaves her dead; that tragedy leads to his family's move to Dreng's Ferry, the future Kingsbridge, and to his developing career as a builder. At Dreng's Ferry, he reunites with Ragna, a Norman woman he'd met years earlier, who has married Wilf, the royal official overseeing the area. Ragna, smart, independent, and beautiful, is trapped in an unfulfilling marriage. The "miraculously handsome" Brother Aldred, a scholar, finds himself confronted with corruption in the church, personified in Wilf's cartoonishly evil brother, Wynstan, a bishop. The prose is often stilted and overwrought ("This was the funeral of his hopes"), and the plot elements are derivative of Follett's past work, adding up to an epic full of romance tropes rather than a reimagined time and place. This is only for series completists. (Sept.)"
(c) Copyright PWxyz, LLC. All rights reserved
Additional Information