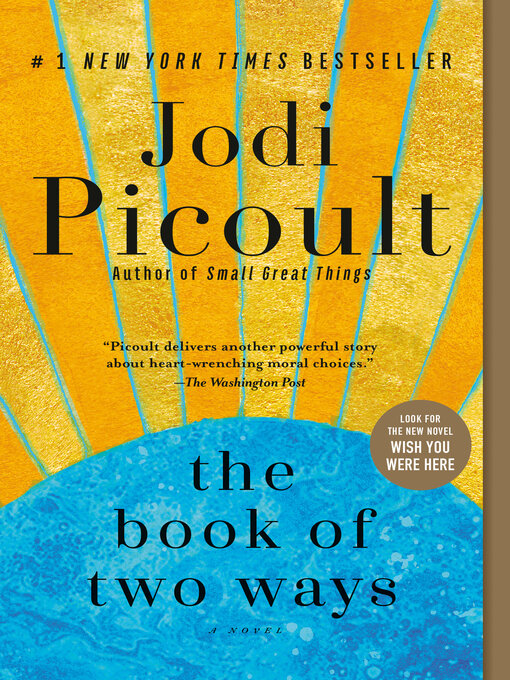 The book of two ways a novel
Format:

Kindle Book

2020

2020

Adobe EPUB ebook

OverDrive Read

Availability:

Unavailable

0 of 70 copies
410 people on waitlist
Summary
"After my son Kyle Ferriera van Leer declared his major in Egyptology at Yale in 2010, he mentioned the Book of Two Ways in passing. Without knowing a thing about it, I said, "That's a great title for a novel." It was only after he began to explain what it actually was that I realized what I needed to write about - the construct of time, and love, and life, and death"--

Published Reviews
Booklist Review:
"Fifteen years after her mother's death led Dawn Edelstein to veer away from the career she was pursuing as an Egyptologist, she's forced to face the past she left behind. Mostly happily married to Brian, a theoretical physicist who ponders the existence of parallel lives, and the mother of self-conscious teen Meret, Dawn has been working as a death doula to help dying clients make the transition as smoothly as possible. But then she suddenly finds herself forced to confront her still powerful feelings for her first love, Wyatt Armstrong, a dashing English Egyptologist who went from being her rival to her lover during an excavation. Dawn's what-if crisis prompts her to a soul-searching journey halfway across the world to discover whether the career and the man she left behind are truly her past. As she did in the superior A Spark of Light (2018), Picoult plays with the novel's narrative structure in a way that risks leaving readers feeling perplexed or even tricked. Nonetheless, they will find heady themes to consider.HIGH-DEMAND BACKSTORY: The best-selling Picoult's fans will be more than ready for this puzzle of a novel."
From Booklist, Copyright (c) American Library Association. Used with permission.
Publisher's Weekly Review:
"Picoult (A Spark of Life) explores age-old questions about a possible parallel universe in this shrewd tale. The life of narrator Dawn McDowell, a specialist in the ancient Egyptian coffin text the Book of Two Ways, has taken two paths, indicated by alternating chapter titles. In "Water/Boston," Dawn is a death doula facing an impasse in her marriage to quantum mechanics professor Brian Edelstein, after he missed his daughter's birthday to spend time with an adoring student. The "Land/Egypt" path begins with Dawn's life before Brian, when she was on a PhD track as an Egyptologist, worked at a Yale-sponsored dig, and developed a connection with fellow student Wyatt Armstrong. In the present, Dawn returns to Egypt to see if she can pick up the life with Wyatt she left behind, and the trip is described in two ways that mirror one another with a few key differences. Along the way, Picoult unloads a great deal of info on quantum mechanics, parallel worlds, Egyptian history, religion and hieroglyphics, the machinations of archeological digs, and the process of dying. The dual-life construct can be confusing, and readers may find it not sufficiently explained, but Dawn's story offers keen insight on the limits of love. Picoult's fans will appreciate this multifaceted, high-concept work. (Sept.)"
(c) Copyright PWxyz, LLC. All rights reserved
Additional Information