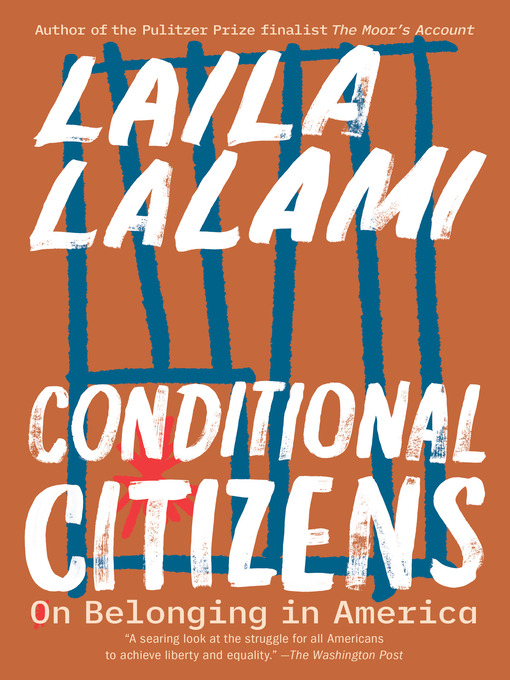 Conditional citizens on belonging in America
Format:

Kindle Book

2020

2020

Adobe EPUB ebook

OverDrive Read

Availability:

Available from OverDrive

4 of 9 copies
14 people on waitlist
Summary
"The acclaimed, award-winning novelist--author of The Moor's Account and The Other Americans--now gives us a bracingly personal work of nonfiction that is concerned with the experiences of "conditional citizens." What does it mean to be American? In this starkly illuminating and impassioned book, Pulitzer Prize Finalist Laila Lalami recounts her unlikely journey from Moroccan immigrant to U.S. citizen, using it as a starting point for her exploration of the rights, liberties, and protections that are traditionally associated with American citizenship. Tapping into history, politics, and literature, she elucidates how accidents of birth--such as national origin, race, or gender--that once determined the boundaries of Americanness still cast their shadows today. Throughout the book, she poignantly illustrates how white supremacy survives through adaptation and legislation, with the result that a caste system is maintained, keeping the modern equivalent of white male landowners at the top of the social hierarchy. Conditional citizens, she argues, are all the people whom America embraces with one arm, and pushes away with the other. Brilliantly argued and deeply personal, Conditional Citizens weaves together the author's own experiences with explorations of the place of nonwhites in the broader American culture"--

Published Reviews
Booklist Review:
"In the opening pages of this propulsive, fascinating, and infuriating account of citizenship in the U.S., acclaimed Moroccan American novelist Lalami (The Other Americans, 2019) explains how her relationship with her adopted nation and its bureaucratic apparatus is "affected in all sorts of ways by . . . being an immigrant, a woman, an Arab, and a Muslim." Lalami employs highly charged personal anecdotes (on two different occasions, U.S. Customs officers asked her husband how much livestock he traded for her) to launch an eye-opening, uncomfortable examination of the many ways U.S. citizens find themselves differentiated based on race, ethnicity, national origin, religion, and language. These "conditional citizens" are "people whose rights the state finds expendable in the pursuit of white supremacy." Beginning with negative media depictions of Arabs in the early 2000s, such as in the Fox TV series 24, Lalami broadens her scope to address the plights of Latinx, Black, Asian, and Native American groups that have faced immigration restrictions, racist profiling, forced migration, and genocide. Though certainly timely for the current political moment, Lalami historicizes these trends, which turn out to be as American as apple pie. Lalami treats this complex, incendiary topic with nuanced consideration and blistering insight."
From Booklist, Copyright (c) American Library Association. Used with permission.
Publisher's Weekly Review:
"In this eloquent and troubling account, novelist and National Book Award--finalist Lalami (The Other Americans) draws on her personal history as "an immigrant, a woman, an Arab, and a Muslim" to argue that becoming a U.S. citizen does not necessarily mean becoming "an equal member of the American family." Recalling that the first time a U.S. customs agent examined her American passport, he wanted to know how many camels her husband had to trade in for her, Lalami critically assesses political rhetoric from 9/11 through President Trump's border wall; skillfully unpacks charged words such as "allegiance" and "assimilation"; reflects on Christine Blasey Ford's testimony against Supreme Court nominee Brett Kavanaugh through the lens of her own experience calling out workplace sexual harassment; and examines the erasure of Muslims from American history. "Conditional citizenship," she writes, "is characterized by the burden of having to educate white Americans about all the ways in which one is different from them." Lalami offers essential insights into how racism and sexism function in American society, and makes a persuasive case for preserving the "gray zones" between religious, ethnic, and national identities as a way to push back against tribalism and sectarianism. This profound inquiry into the American immigrant experience deserves to be widely read. (May)"
(c) Copyright PWxyz, LLC. All rights reserved
Additional Information