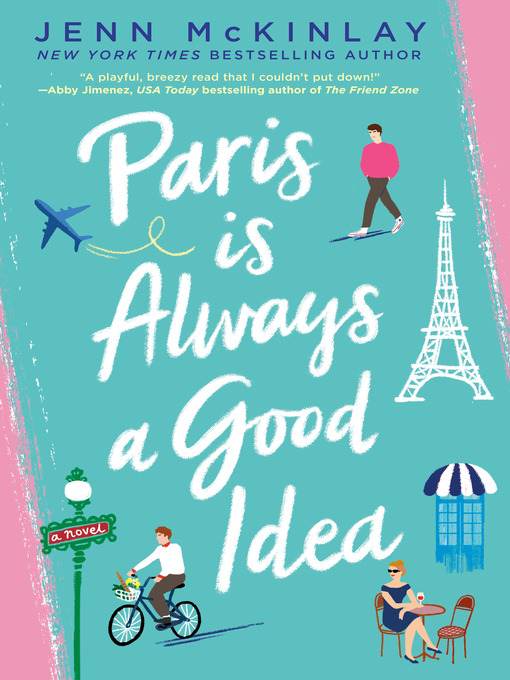 Paris is always a good idea
Format:

Kindle Book

2020

2020

Adobe EPUB ebook

OverDrive Read

Availability:

Unavailable

0 of 7 copies
39 people on waitlist
Summary
"A thirty-year-old woman retraces her gap year through Ireland, France, and Italy to find love-and herself-in this hilarious and heartfelt novel. It's been seven years since Chelsea Martin embarked on her yearlong post-college European adventure. Since then, she's lost her mother to cancer and watched her sister marry twice, while Chelsea's thrown herself into work, becoming one of the most talented fundraisers for the American Cancer Coalition, and with the exception of one annoyingly competent coworker, Jason Knightley, her status as most talented fundraiser is unquestioned. When her introverted mathematician father announces he's getting remarried, Chelsea is forced to acknowledge that her life stopped after her mother died and that the last time she can remember being happy, in love, or enjoying her life was on her year abroad. Inspired to retrace her steps-to find Colin in Ireland, Jean Claude in France, and Marcelino in Italy-Chelsea hopes that one of these three men who stole her heart so many years ago, can help her find it again. From the start of her journey nothing goes as planned, but as Chelsea reconnects with her old self, she also finds love in the very last place she expected"--

Published Reviews
Booklist Review:
"Chelsea Martin can't remember the last time she truly was happy. For the last seven years, she has been emotionally sleepwalking through life, devoting all her time and pouring all her energy into her job as a corporate fundraiser for the American Cancer Coalition. Now, after hearing that her widowed father plans on marrying a woman he has known for only two weeks, Chelsea realizes that not only is she unhappy with her own life, she can't even fake being happy for her father. In a desperate attempt to remember what joy feels like, she takes a sabbatical from her job and heads to Europe to revisit the three places--Ireland, France, and Italy--where she was last truly happy and maybe even in love. Cozy-mystery maven and contemporary romance star McKinlay proves she is also a master at romantic women's fiction with this dazzling novel that delivers everything McKinlay's fans expect--deliciously acerbic wit, delightfully relatable characters, and deeply funny dialogue--all deftly poured into a plot that also thoughtfully examines what true happiness really means."
From Booklist, Copyright (c) American Library Association. Used with permission.
Publisher's Weekly Review:
"Love takes a trip over the Atlantic Ocean and finds its way back home again in this vibrant romance from McKinlay (The Good Ones). When Chelsea Martin's mother died seven years ago, her life changed completely. No longer the free spirit she once was, the now 30-year-old Chelsea is addicted to structure and afraid of new experiences. She hasn't even been on a date since a series of flings on a trip abroad before her mother's death. She's snapped out of her funk by her father's announcement that he is engaged to a woman he's only known for two weeks. In an effort to remember that kind of wild, reckless love, Chelsea decides to retake her European trip and revisit the men she dated in Ireland, France, and Italy. But while she's overseas, Jason Knightley, her work rival, needs her help on the largest project of either of their careers, and she agrees to give him some of her time. She never could have anticipated that their video calls would lead to romance. Chelsea's European adventure leads to some uproarious mishaps and, though they're worlds away from each other, readers will have no trouble investing in Chelsea and Jason's enemies-to-lovers romance. Their witty banter and complimentary personalities make them an easy couple to root for. This flawless rom-com is sure to delight. Agent: Christina Hogrebe, Jane Rotrosen Agency. (July)"
(c) Copyright PWxyz, LLC. All rights reserved
Additional Information