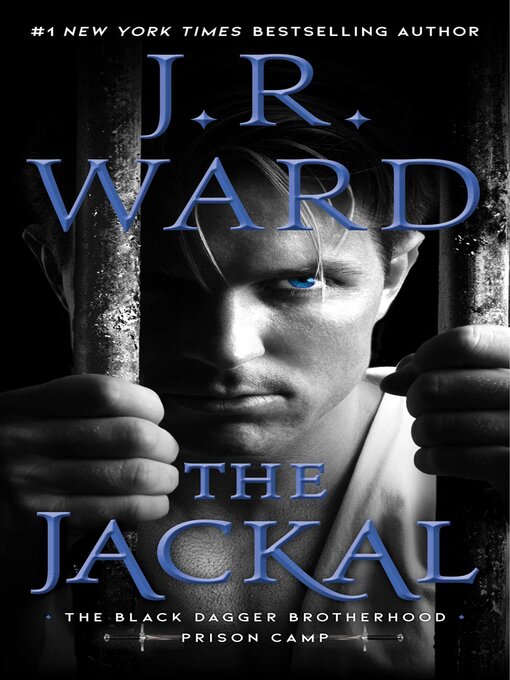 The Jackal Black dagger brotherhood legacy series, book 5.
Format:

Kindle Book

2020

2020

Adobe EPUB ebook

OverDrive Read

Availability:

Unavailable

0 of 7 copies
28 people on waitlist
Summary
The location of the glymera's notorious prison camp was lost after the raids. When a freak accident provides Nyx clues to where her sister may still be doing time, she becomes determined to find the secret subterranean labyrinth. Embarking on a journey under the earth, she learns a terrible truth -- and meets a male who changes everything forever. The Jackal has been in the camp for so long he cannot recall anything of the freedom he once knew. Trapped by circumstances out of his control, he helps Nyx because he cannot help himself. After she discovers what happened to her sister, getting her back out becomes a deadly mission for them both. United by a passion they can't deny, they work together on an escape plan for Nyx--even though their destiny is to be forever apart. And as the Black Dagger Brotherhood is called upon for help, and Rhage discovers he has a half-brother who's falsely imprisoned, a devious warden plots the deaths of them all...even the Brothers.

Published Reviews
Booklist Review:
"Ward's latest is the first in the Black Dagger Brotherhood: Prison Camp series, a spin-off of her wild and wildly popular vampire warrior novels. Nyx accidentally hits a young vampire with her car who, before he passes out, mentions something about escape. While her sister Posie nurses him back to health, Nyx gears up to find what he was running from: the legendary, top-secret vampire prison where their sister Janelle has been held for 50 years for a crime she didn't commit. The Jackal has been imprisoned for twice that long, so he notices right away when something is off. He can't believe Nyx broke into the prison, and he can't deny the pull he feels toward her. Nyx feels it, too, but she's determined to learn Janelle's fate before she can get lost in his bright blue eyes. Everything Ward brings here is big--the danger, the plot twists, the feelings, the secret prison hot springs--so the over-the-top, happily-ever-after ending fits right in. Plus, the involvement of one of the Brothers will thrill series fans, who will clamor for more."
From Booklist, Copyright (c) American Library Association. Used with permission.
Publisher's Weekly Review:
"Ward spins off her long-running Black Dagger universe in this first Black Dagger Brotherhood: Prison Camp paranormal romance, a sultry dive into the depths of the glymera's prison system. Fifty years ago, the glymera, vampire aristocracy, condemned Nyx's sister Janelle to a top-secret, underground prison for a crime she did not commit, leaving Nyx determined to free her. After she finds the entrance to the prison camp, she quickly gets in over her head while trying to navigate its labyrinthine halls and avoid its brutal guards--until she meets the Jackal, a handsome fighter who's been imprisoned for over a century. Against his better judgment, the Jackal's drawn to the quarrelsome, alluring Nyx and agrees to help her. When their plan to find Janelle goes horribly awry, Nyx is trapped underground and forced to fight for her freedom--and freedom for the man she's grown to love. Though newcomers to the universe may find it difficult to keep up with its many supernatural rules, an extensive glossary helps make sense of things, and the fiery repartee between the couple keeps the pages turning. This spicy new chapter is sure to delight Ward's longtime fans. Agent: Meg Ruley, Jane Rotrosen Agency. (Aug.)"
(c) Copyright PWxyz, LLC. All rights reserved
Additional Information