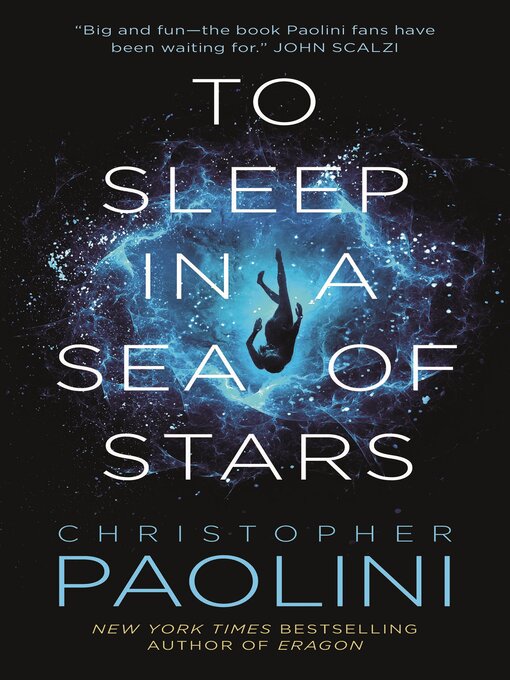 To sleep in a sea of stars
Format:

Kindle Book

2020

2020

Adobe EPUB ebook

OverDrive Read

Availability:

Unavailable

0 of 15 copies
66 people on waitlist
Summary
To Sleep in a Sea of Stars is a brand new epic novel from New York Times bestselling author Christopher Paolini. Kira Navárez dreamed of life on new worlds. Now she's awakened a nightmare. During a routine survey mission on an uncolonized planet, Kira finds an alien relic. At first she's delighted, but elation turns to terror when the ancient dust around her begins to move . As war erupts among the stars, Kira is launched into a galaxy-spanning odyssey of discovery and transformation. First contact isn't at all what she imagined, and events push her to the very limits of what it means to be human. While Kira faces her own horrors, Earth and its colonies stand upon the brink of annihilation. Now, Kira might be humanity's greatest and final hope . . . At the Publisher's request, this title is being sold without Digital Rights Management Software (DRM) applied.

Published Reviews
Booklist Review:
"Paolini's first foray into adult science fiction doesn't do anything by halves. This is a massive work of space opera with a deep history and complex mythology, epic in scope and packed with action. Kira Navárez, a xenobiologist exploring a new planet, stumbles upon a piece of alien technology that upends human-settled space and sends her on a quest across the galaxy in the company of a scrappy group of traders and a possibly insane superintelligence, all in the middle of an interstellar war. Humanity's first contact with aliens could spell extinction: the stakes don't get any higher than this. The concepts in this book aren't all that original, but the book is not derivative: this is Paolini's love letter to the genre. The skills honed in his YA fantasy series, Inheritance (Eragon, 2003), are on full display here in his vibrant world building, especially in the mythology of the alien tech. Paolini populates this universe with a large cast of interesting and relatable characters, and mostly avoids reductive good guy/bad guy dynamics, lending the story a sincere emotional depth. Highly recommended for fans of James A. Corey's The Expanse series and for fantasy fans willing to try space opera.HIGH-DEMAND BACKSTORY: Paolini's first novel since 2011 is a major departure, and those who grew up on his Inheritance series will be eager to see what he does in a novel sans dragons."
From Booklist, Copyright (c) American Library Association. Used with permission.
Publisher's Weekly Review:
"Bestselling YA author Paolini (Eragon) ventures into the realm of space opera with a satisfying, far-future epic that questions what it means to be human. Upon discovering evidence of alien life during a survey mission, xenobiologist Kira Navarez expects her career to skyrocket--but a single mistake has disastrous repercussions as an alien organism bonds to her body, forming a second skin. Political frustrations between Earth and its colonies across the galaxy brew in the background as Kira and the alien organism, which calls itself the Soft Blade, enter biocontainment aboard a United Military Command ship. As unfeeling doctors conduct invasive tests, a new species of aliens, dubbed Jellies, attack the ship, drawn by the Soft Blade. The quick-moving plot becomes somewhat formulaic as Kira is rescued by the Earth spaceship Wallfish and slowly finds her place among its misfit crew. Together, they follow clues from the dreams Kira shares with the Soft Blade to find a way to broker peace between humans and Jellies. Kira's tedious inclination to wallow in guilt gives way to some satisfying character development as Paolini builds to a thrilling finale that more than makes up for the predictable midsection. The high-stakes quest and developing bonds of found family make for a fun epic grounded in an earnest exploration of human consciousness. (Sept.)"
(c) Copyright PWxyz, LLC. All rights reserved
Additional Information