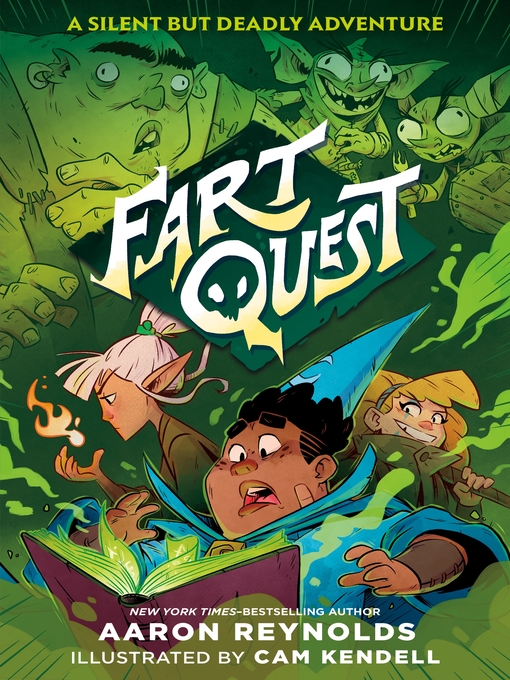 Fart quest
Format:

Kindle Book

2020

2020

Adobe EPUB ebook

OverDrive Read

Availability:

Available from OverDrive

1 of 1 copy
Summary
After their masters are vaporized in a goblin battle gone badly, Fart, Pan, and Moxie, three lowly apprentices, decide to impersonate their mentors and pick up the mantle as heroes of the realm. But they need more than a fancy robe, magic staff, and book of magical beasts to be real heroes. They need a quest! So when The Great and Powerful Kevin puts out a call for help, seeking the coveted Golden Llama and its magical golden fart, young Fart and his friends jump at the chance and embark on a journey they were destined for.

Published Reviews
Booklist Review:
"Three young students at Krakentop Academy for Heroes set out to have adventures, collect Experience Points, and level up in this game-inflected kickoff. Adventures definitely find them, from a battle with harpies and a two-headed giant named Tim and Steve to the rescue of a swaggering set of professional Heroes self-dubbed the "Man-Bun Brotherhood." Taking over narrative, if not leadership, duties is Level 1 apprentice mage Bartok, involuntarily saddled with the titular nickname after choosing as his first spell "Gas Attack," which turns any opponent into a noxious cloud. Actually, Gas Attack, along with other seemingly less-than-potent spells like Feather Friend and Puppy Power, turn out to be surprisingly useful, as Fart and his companions, apprentice martial "monk" Pan Silversnow (elf) and warrior-in-training Moxie Battleborne (dwarf), bear the ominously named Bean Burrito of Destiny into the eerie Caves of Catastrophe at the behest of wizard Kevin in order to fetch bottled gas from what they are told is a golden llama, but is actually a far more dangerous snake-tailed creature out of myth (with a similar name). "Crud on a cracker!" as Fart is wont to exclaim. Kendall adds stylish character card--style portraits with labeled traits and gear to a generous array of melodramatic action scenes. By the end, Fart has decided to own his mocking moniker, and has achieved Level 2 to boot. Stay tuned for further gassy exploits."
From Booklist, Copyright (c) American Library Association. Used with permission.
Additional Information