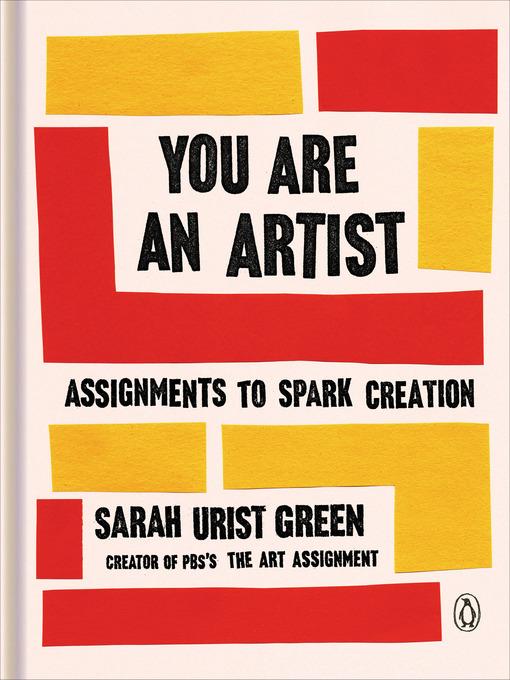 You are an artist assignments to spark creation
Format:

Kindle Book

2020

2020

Adobe EPUB ebook

OverDrive Read

Availability:

Unavailable

0 of 1 copy
3 people on waitlist
Summary
"More than 50 assignments, ideas, and prompts to expand your world and help you make outstanding new things to put into it Curator Sarah Urist Green left her office in the basement of an art museum to travel and visit a diverse range of artists, asking them to share prompts that relate to their own ways of working. The result is You Are an Artist, a journey of creation through which you'll invent imaginary friends, sort books, declare a cause, construct a landscape, find your band, and become someone else (or at least try). Your challenge is to filter these assignments through the lens of your own experience and make art that reflects the world as you see it. You don't have to know how to draw well, stretch a canvas, or mix a paint color that perfectly matches that of a mountain stream. This book is for anyone who wants to make art, regardless of experience level. The only materials you'll need are what you already have on hand or can source for free. Full of insights, techniques, and inspiration from art history, this book opens up the processes and practices of artists and proves that you, too, have what it takes to call yourself one. You Are an Artist brings together more than 50 assignments gathered from some of the most innovative creators working today, including Sonya Clark, Michelle Grabner, The Guerrilla Girls, Fritz Haeg, Pablo Helguera, Nina Katchadourian, Toyin Ojih Odutola, J. Morgan Puett, Dread Scott, Alec Soth, Gillian Wearing, and many others"--

Contents
Introduction
Surface test / Kim Beck
Become someone else / T. J. Dedeaux-Norris
Imprint / Sopheap Pich
Drawing what you know rather than what you see / Kim Dingle
Never seen, never will / David Brooks
Quietest place / Jace Clayton
Caption contest / David Rathman
Make a rug / Fritz Haeg
Customize it / Brian McCutcheon
Exquisite corpse / Hugo Crosthwaite
Sympathetic object in context / Genesis Belanger
Self shape / Tschabalala Self
The muster / Allison Smith
Blow up / Assaf Evron
Whitescapes / Odili Donald Odita
Paper weaving / Michelle Grabner
Vehicular palette / Jesse Sugarmann
Virtual seescape / Gina Beavers
Copy a copy a copy / Molly Springfield
Combinatory play / Pablo Helguera
News photographer / Alec Soth
The art of complaining / The Guerrilla Girls
Walk on it / Kate Gilmore
Proposals / Peter Liversidge
Sorted books / Nina Katchadourian
Meet in the middle / Douglas Paulson and Christopher Robbins
Find your band / Bang on a Can
Constructed landscape / Paula McCartney
Native land / Wendy Red Star
Body in place / Maria Gaspar
Statement / Dread Scott
Measuring histories / Sonya Clark
Psychological landscape / Robyn O'Neil
Question the museum / Güler Ates
Emotional furniture / Christoph Niemann
Lost childhood object / Lenka Clayton
Simultaneity / Beatriz Cortez
Intimate, indispensable GIF / Toyin Ojih Odutola
Expanded moment / Jan Tichy
Writing as drawing as writing / Kenturah Davis
Boundaries / Zarouhie Abdalian
Off / Lauren Zoll
Thoughts, opinions, hopes, fears, etc. / Gillian Wearing
Embarrassing object / Geof Oppenheimer
Stakeout! / Deb Sokolow
Imaginary friend / JooYoung Choi
Fake flyer / Nathaniel Russell
Become a sci-fi character / Desirée Holman
Graphic score / Stuart Hyatt
Scramble scrabble dinner / J. Morgan Puett
Paper plate / Julie Green
Conjure a studio / Hope Ginsburg
Shadow portrait / Lonnie Holley
Parting note
Acknowledgments
Categories.
Additional Information