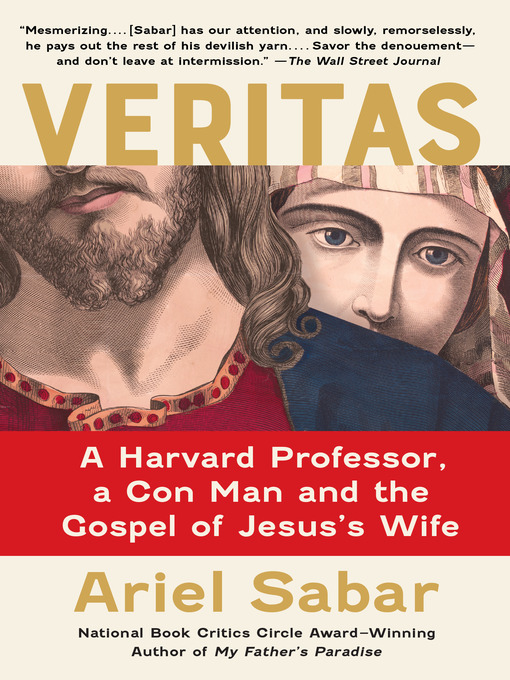 Veritas a Harvard professor, a con man, and the Gospel of Jesus's Wife
Format:

Kindle Book

2020

2020

Adobe EPUB ebook

OverDrive Read

Availability:

Available from OverDrive

3 of 3 copies
1 person on waitlist
Summary
"In 2012, Dr. Karen King, a star professor at the Harvard Divinity School, announced a blockbuster discovery at a scholarly conference just steps from the Vatican: She had found an ancient fragment of papyrus in which Jesus calls Mary Magdalene "my wife." The discovery made front-page news around the world - if early Christians believed that Jesus was married, it would threaten not just the celibate, all-male priesthood, but the entire the 2,000-year history of the faith. Biblical scholars were in an uproar, but King had impeccable credentials as a world-renowned authority on female figures in the Gnostic gospels. The "Gospel of Jesus's Wife," as she titled her discovery, was both a crowning career achievement and powerful proof for her arguments that there were alternative, and much more inclusive, versions of Christianity from its beginnings. Assigned to write a story about King's find, award-winning journalist Ariel Sabar began to unearth disquieting questions about the papyrus. His globe-spanning investigation would lead to a rural hamlet in inland Florida, where he discovered a college dropout with a prophetess wife, a curious past in Germany, and a tortured relationship with the Catholic Church. The deeper Sabar dug into the mysteries of the "Gospel of Jesus's Wife," the more surreal the story became. VERITAS is at once a surprising detective story, a fascinating journey through the rarefied worlds of Biblical Studies and Egyptology, a piercing psychological portrait of a many-faced con artist, and a tragedy about a brilliant scholar handed a piece of ancient paper that appealed to her greatest hopes for Christianity--but forced a reckoning with fundamental questions about the line between reason and faith"--

Contents
Prologue: Rome
Discovery
Doubt
Proofs
The stranger
The downturned book of revelations.
Published Reviews
Booklist Review:
"In 2012, a papyrus fragment in which Jesus calls Mary Magdalene his wife made headlines worldwide. Karen King, a Harvard expert on Gnosticism, introduced and championed the piece as an alternative look into Christianity's beginnings, but she didn't practice proper due diligence as to its provenance. There was pushback at the time, and, after several years of examination, even King acknowledged that the so-called Gospel of Jesus's Wife was probably fake. Sabar, an award-winning journalist, was there at the beginning; unable to let the story go, he's produced an exhaustive examination of the whole affair in a work of exemplary narrative nonfiction. Fitting neatly into the truth-is-stranger-than-fiction category, the story hops from Berlin to Rome to Nowheresville, Florida, and finally to Harvard Yard, introducing in the process con-man Walter Fritz, both an internet pornographer and a forger of ancient texts. Sabar details his time with Fritz, trying to cut through the man's many obfuscations, but the real focus is on King. Sabar makes the case that King's determination to validate women's role in early Christianity led her to cut corners while pushing her Gospel. But Sabar also seems to have an agenda, often going out of his way to throw shade at King. (A note reveals she wouldn't speak to him for this book.) Provocative and probing, this will entice readers interested in the history of early Christianity."
From Booklist, Copyright (c) American Library Association. Used with permission.
Publisher's Weekly Review:
"In this entertaining outing, journalist Sabar (My Father's Paradise) tells the story of a mysterious scrap of papyrus and the scholar who staked her professional reputation on it. As a writer for Smithsonian magazine, Sabar investigated the story of Harvard professor Karen King and her so-called Gospel of Jesus' Wife, supposedly discovered in 2012, which quoted Jesus as calling Mary Magdalene "my wife." If it was in fact an authentic document, it would have unsettled conversations about Jesus's life, ministry, and relationships. King's fall comes after carbon dating established the papyrus to be of medieval origin and an article of Sabar's forced King to retract her claims of authenticity for the "gospel." In the second half of the book, Sabar allows himself to emerge as a character in his own right--the hero who ferrets out fraudster Walter Fritz, who fabricated documents of authenticity for the papyrus fragment and had fooled some of the brightest minds in biblical studies. Sabar's narrative can be challenging to follow at times, in part because of the large cast that spans centuries, and also due to a frustrating aimlessness about exactly what mystery Sabar sees as central to his narrative: how the fraud happened, or the reasons--political, financial, and psychological--people were carried away by it. Still, this meticulous account is packed with enough intrigue to keep readers piqued. (Aug.)"
(c) Copyright PWxyz, LLC. All rights reserved
Additional Information