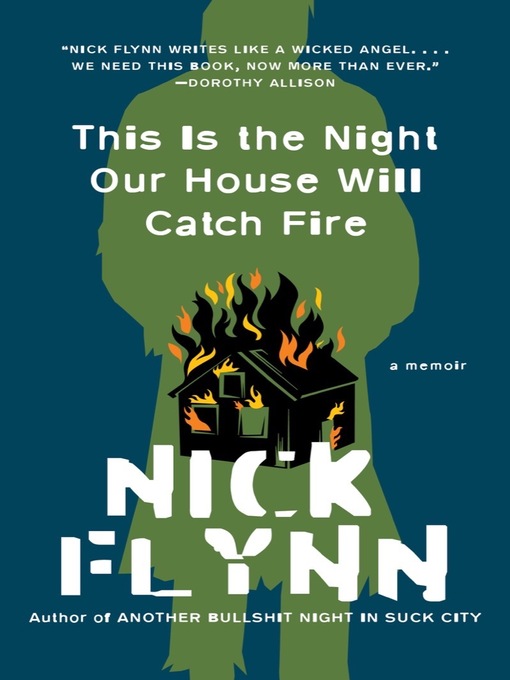 This is the night our house will catch fire a memoir
Format:

Kindle Book

2020

2020

Adobe EPUB ebook

OverDrive Read

Availability:

Available from OverDrive

1 of 1 copy
Summary
"A searing memoir from critically acclaimed author Nick Flynn, on how childhood spills into parenthood. When Nick Flynn was a child, his mother set fire to their home. With the spare lyricism and dark irony of his classic, Another Bullshit Night in Suck City, Flynn excavates the terrain of his traumatic upbringing and his mother's suicide. Now a parent himself, he discovers that he too may be burning his house down. He returns with his young daughter to the landscape of his youth, reflecting on how his "feral childhood" has him still in its reins. This Is the Night Our House Will Catch Fire confronts Flynn's struggle and his failings-including a five- year affair, begun when his daughter was a toddler-with fierce candor. His marriage in crisis, Flynn seeks answers from his therapist, who tells him: "You have the ethics of a drowning man." Alternating literary analysis and philosophy with intimate memoir and the bedtime stories he tells his daughter, Flynn probes his deepest ethical dilemmas"--

Published Reviews
Booklist Review:
""Fire taught me everything," writes poet Flynn in his fourth searing memoir as he rakes the hot coals of his past in search of the sources of his family's dark afflictions. His rarely seen father has been his primary focus, most recently in The Reenactments (2013); here Flynn casts light on his "feral' childhood with his young, beautiful, depressed mother in a coastal Massachusetts town where she worked two jobs and became entangled with untrustworthy men. One night she set their house on fire while Flynn slept, igniting a conflagration that rages within him still. Flynn's psychologically intricate recollections of boyhood mischief, including spying on a mysterious neighbor; and his mother's travails and suicide cast a fairy-tale spell. The past flares and smokes as Flynn struggles to save his imperiled marriage and to be a good father to his daughter as she reaches seven, the age he was when his house went up in flames. With evocative allusions to science, myth, literature, and film; hallucinatory descriptions, and walking-on-broken-glass intensity, this is a blazing work of confession, grief, wonder, and hope."
From Booklist, Copyright (c) American Library Association. Used with permission.
Publisher's Weekly Review:
"In this outstanding work, poet and playwright Flynn bookends his first memoir, 2004's Another Bullshit Night in Suck City, with this unsparing look at his early childhood and his mother, who died by suicide when Flynn was 22 years old. He makes a series of visits to his hometown of Scituate, Mass., with his young daughter and describes his solitary childhood spent living with his mother in a small, "ugly" house that she bought after she left Flynn's father. When Flynn was seven years old, his mother set fire to the house, an event he is still trying to understand: "Maybe my mother set our house on fire not merely to collect the insurance money, but simply to see what it was that she was losing." His return trips are not only a chance to tell his daughter "where your father came from" but also to deal with his own unhappiness that led him to cheat on his wife. He comes to a realization that "we are so lost inside ourselves sometimes that it is impossible to think of other people, even those we love." Readers will devour this powerful memoir of letting go. (Aug.)"
(c) Copyright PWxyz, LLC. All rights reserved
Additional Information