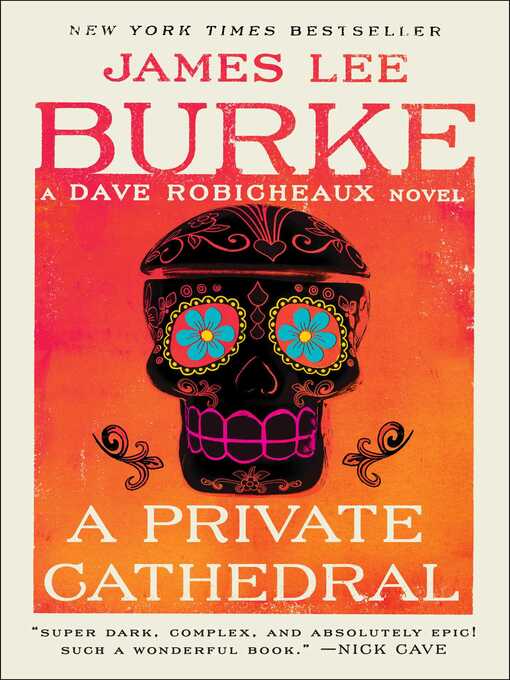 A private cathedral
Format:

Kindle Book

2020

2020

Adobe EPUB ebook

OverDrive Read

Availability:

Unavailable

0 of 8 copies
36 people on waitlist
Summary
"On his way to visit an inmate at a Texas prison who has promised him information, Detective Dave Robicheaux stops off at an amusement park to watch a teenaged Elvis-like rock-and-roller from his hometown of New Iberia named Johnny Shondell playing to a crowd of swooming young girls. One of them is another New Iberia teenager named Isolde Balangie. The Shondell and Balangie families are longtime rivals in the New Iberia criminal underworld. Yet Johnny and Isolde are in love. And like Romeo and Juliet, Johnny and Isolde are being kept apart by their families. In fact, Isolde tells Robicheaux, her parents have given her to the Shondell patriarch to be used as a sex slave. Seeking to uncover why, Robicheaux gets too close to both Isolde's mother and her father's mistress. As retribution, the elder Balangie orders a mysterious assassin to go after Robicheaux and his longtime partner, Clete Purcell. Yet this is unlike any hitman Robicheaux has ever faced: he has the ability induce hallucinations and might be a time-traveling reptilian. A Private Cathedral is both vintage James Lee Burke and one of his most inventive works to date--mixing romance, violence, mythology and science-fiction to produce a thrilling story about the all-consuming, all-conquering power of love"--

Published Reviews
Booklist Review:
"With this all-enveloping mix of horror and crime, Burke concludes a trilogy that also includes The New Iberia Blues (2019) and Robicheaux (2018). All three books find Cajun detective Dave Robicheaux tackling powerful men with evil visions of racist grandeur. The supernatural has never been far from Robicheaux's world, but here it's front and center, mainly in the form of a time-traveling entity from the sixteenth century, Gideon Richetti, a self-proclaimed "revelator" capable of unimaginable carnage but also looking for atonement, like a demon trying to follow the 12-step program. Richetti is connected to Mark Shondell, a more flesh-and-blood incarnation of evil and the man with a plan to make America great again as a bastion of hatred. It starts for Robicheaux with a vision of "wine-dark waves" that seem right out of Homer, and soon he and running mate Clete Purcel are thrashing about in those waves, seemingly going in and out of time as they try to save Shondell's son, Johnny, and his lover, Isolde Balangie, from the clutches of Johnny's father. The supernatural elements may be difficult for those new to the series, but for longtime Burke readers, they feel just right. Meditations on time and the power of the past have always been at the heart of Burke's vision, and here they reach a new level of poetic rhapsody.HIGH-DEMAND BACKSTORY: Burke's fortieth book and twenty-third Robicheaux novel mark a landmark event in the celebrated career of the 83-year-old crime-fiction master."
From Booklist, Copyright (c) American Library Association. Used with permission.
Publisher's Weekly Review:
"A centuries-long feud between two warring criminal families might be coming to an end in MWA Grand Master Burke's superb 23rd novel featuring New Iberia, La., cop Dave Robicheaux (after 2019's New Iberia Blues), set loosely sometime before 9/11. Those who want to forge a union between the two clans, the Shondells and the Balangies, are pressuring teenage rock 'n' roller Johnny Shondell to deliver Isolde Balangie, his teenage girlfriend and fellow singer, to his powerful, corrupt, and much older uncle, Mark Shondell, for what amounts to an arranged marriage. Johnny and Isolde decide to go on the run instead. Robicheaux's efforts on behalf of the young couple lead to his developing a close relationship with Isolde's mother, which causes a conflict of interest. Meanwhile, the lawman must contend with Gideon Richetti, a time-traveling golem. Gideon, whom Burke presents unabashedly as a supernatural being, appears to have pure malevolence on his mind, but he turns out to be a far more complicated creation. Along the way to the wild and bloody climax, alcoholic Vietnam vet Robicheaux contends with his various personal demons and gets some much needed help from PI pal Clete Purcell. An imaginative blend of crime and other genres, Burke's existential drama is both exquisitely executed and profoundly moving. Agent: Philip Spitzer, Philip G. Spitzer Literary. (May)"
(c) Copyright PWxyz, LLC. All rights reserved
Additional Information