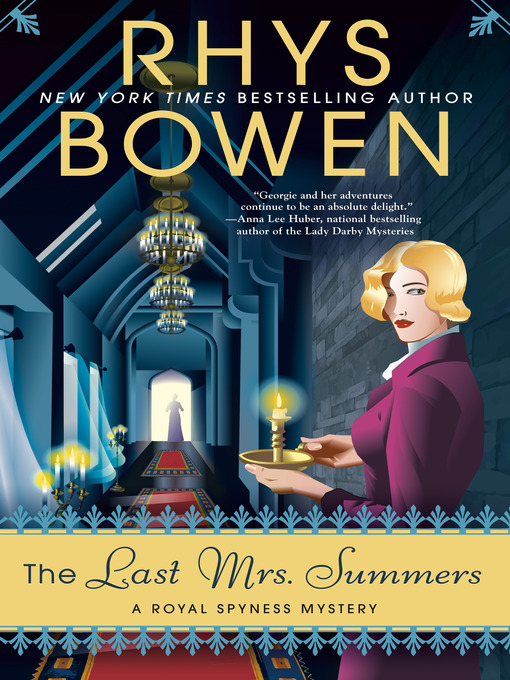 The last Mrs. Summers
Format:

Kindle Book

2020

2020

Adobe EPUB ebook

OverDrive Read

Availability:

Unavailable

0 of 8 copies
42 people on waitlist
Summary
"Lady Georgiana Rannoch is just back from her honeymoon with dashing Darcy O'Mara when a friend in need pulls her into a twisted Gothic tale of betrayal, deception and, most definitely, murder. . . . I am a bit at loose ends at the moment. My cook, Queenie, is making my new role as mistress of Eynsleigh something akin to constant torture as Darcy is off on another one of his top secret jaunts. And Grandad is busy helping wayward youths avoid lives of crime. So when my dearest friend, Belinda, inherits an old cottage in Cornwall and begs me to go with her to inspect the property, I jump at the chance. After a heart-stopping journey in Belinda's beast of a motorcar, we arrive at the creaky old cottage called White Sails and quickly realize that it is completely uninhabitable. Just when I'm starting to wonder if I would have been better off trying to get Queenie to cook a roast that hasn't been burnt beyond all recognition, we meet Rose Summers, a woman Belinda knew as a child when she spent time in Cornwall. Rose invites us to stay at Trewoma Hall, the lovely estate now owned by her husband, Tony. Belinda confesses that she never liked Rose and had a fling with Tony years ago, so staying with them is far from ideal but beggars can't be choosers as they say. Trewoma is not the idyllic house Belinda remembers. There's something claustrophobic and foreboding about the place. Matters aren't helped by the oppressively efficient housekeeper Mrs. Mannering or by the fact that Tony seems to want to rekindle whatever he and Belinda once had right under his wife's nose. Our increasingly awkward visit soon turns deadly when a member of the household is found murdered and all clues point to Belinda as the prime suspect. I soon learn that some long buried secrets have come back to haunt those in residence at Trewoma Hall and I'll need to sift through the ruins of their past so Belinda doesn't lose her chance at freedom in the present. . . "--

Published Reviews
Booklist Review:
"In this fourteenth Royal Spyness mystery, which Bowen acknowledges is her tribute to du Maurier's Rebecca, Lady Georgiana Rannoch is just back from her honeymoon. With her husband, Darcy, away on one of his top-secret missions, Georgie heads off to Cornwall with her friend Belinda, who has inherited a cottage there. When it turns out to be barely habitable, they take refuge at Trewoma, a lovely old estate that, much like Manderley, has a foreboding air, an uncomfortable second wife, and an obsessed housekeeper. Belinda spent her summers in Cornwall as a child in the company of the owners and has accumulated some baggage with them over the years. She ends up in jail when a member of the household is murdered, and it falls to Georgie to sift through the lies and secrets of Trewoma's troubled past. Bowen's style has been described as Agatha Christie meets P. G. Wodehouse; that assessment remains apt, but by throwing in a generous helping of du Maurier this time, the author has delivered another sure winner for series fans."
From Booklist, Copyright (c) American Library Association. Used with permission.
Publisher's Weekly Review:
"Agatha-winner Bowen's 14th Royal Spyness mystery (after 2019's Love and Death Among the Cheetahs) falls short of her usual high standard. In 1935, the once impoverished and recently married Georgiana O'Mara, née Rannoch, having inherited a fortune, is now adjusting to a new role as lady of a Sussex manor. With her husband off doing something secret for the British government, Georgiana leaps at an invitation from an old friend, Belinda Warburton-Stoke, to travel to Cornwall, where the pair end up the guests of Tony Summers, an old flame of Belinda's, at his palatial, ghost-haunted home. Tony has recently remarried after his first wife died in an accidental fall from a cliff. The second Mrs. Summers suspects that Tony killed the first one and is plotting to kill her, too. This explicit homage to Daphne du Maurier's Rebecca unfolds along predictable lines, and Bowen's continued neglect of Georgie's delightfully inept servant, Queenie, eliminates the comic relief that was a memorable aspect of earlier series entries. Fans can only hope for a return to form. Agent: Meg Ruley, Jane Rotrosen Agency. (Aug.)"
(c) Copyright PWxyz, LLC. All rights reserved
Additional Information