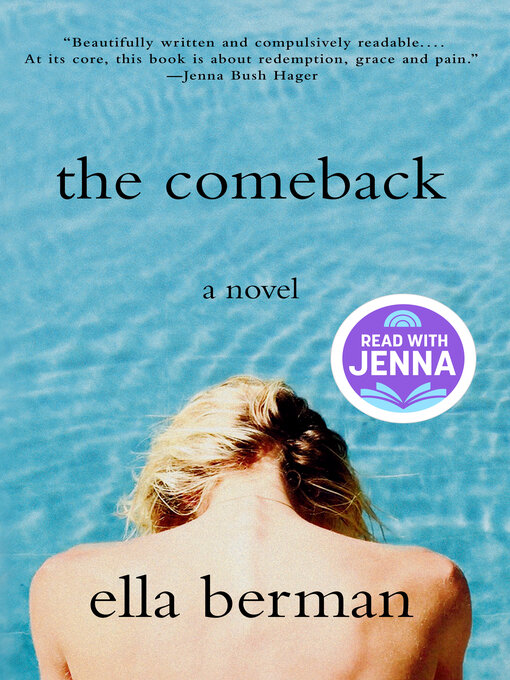 The comeback
Format:

Kindle Book

2020

2020

Adobe EPUB ebook

OverDrive Read

Availability:

Unavailable

0 of 9 copies
43 people on waitlist
Summary
"A deep dive into the psyche of a young actress raised in the spotlight under the influence of a charming, manipulative film director and the moment when she decides his time for winning is over. At the height of her career and on the eve of her first Golden Globe nomination, teen star Grace Turner disappeared. Now, tentatively sober and surprisingly numb, Grace is back in Los Angeles after her year of self-imposed exile. She knows the new private life she wants isn't going to be easy as she tries to be a better person and reconnect with the people she left behind. But when Grace is asked to present a lifetime achievement award to director Able Yorke--the man who controlled her every move for eight years--she realizes that she can't run from the secret behind her spectacular crash and burn for much longer. And she's the only one with nothing left to lose. Alternating between past and present, The Comeback tackles power dynamics and the uncertainty of young adulthood, the types of secrets that become part of our sense of self, and the moments when we learn that though there are many ways to get hurt, we can still choose to fight back"--

Published Reviews
Booklist Review:
"Grace Hyde was plucked from her London school to star in a series of kid-spy movies; renamed Grace Turner, she became the muse of director Able Yorke. Ten years later, she is living, numb, in her parents' stifling house in Anaheim. When her good-girl sister is suspended from boarding school and returns home, Grace rents a tiny bungalow in Malibu and reconnects with her best friend and her management team, but she is hardly poised for a comeback, since she lacks the life skills she should have learned while she was making movies. Grace is selfish and self-destructive, and her narrative voice reflects her inability to process her trauma, the details of which are not necessarily surprising in light of the #MeToo movement. But Berman reveals the gaslighting, emotional abuse, and sexual assault Grace endured with terrifying, heartbreaking clarity, free of gratuitous details. Grace's frustrating inability to pull herself together is exactly what makes this debut so compelling; it is an ultimately hopeful exploration of dealing with trauma that will have readers looking at celebrity gossip differently."
From Booklist, Copyright (c) American Library Association. Used with permission.
Publisher's Weekly Review:
"In Berman's debut, a young actor struggles to break free from a famous Hollywood director. Grace Turner, 23, has been living in her parents' house in Anaheim, Calif., in the year since she disappeared on the eve of the Golden Globes. Grace is newly sober and out of the spotlight that has followed her since she was a 15-year-old British schoolgirl handpicked by director Able Yorke for the starring role in a trilogy. Able, widely respected in the industry and by the public, changes Grace's life at the cost of years of emotional manipulation and, eventually, sexual abuse. When Grace finds out that her younger sister, with whom she's long had a rocky relationship, is moving back home, she decides to return to Los Angeles and find a way to move forward with her life. But going back also means confronting all she left behind, including her estranged, still beloved husband Dylan; the paparazzi, always hungry to document her slip-ups; and, of course, Able, who still casts a long shadow over her life. While a slow first half wears on the reader, the late scenes of confrontation are electrifying. Berman's searing psychological portrait shows how Grace's girlhood is corrupted by Able's rampant ego and the industry's unencumbered patriarchy. Agent: David Forrer, Inkwell Management. (Aug.)"
(c) Copyright PWxyz, LLC. All rights reserved
Additional Information