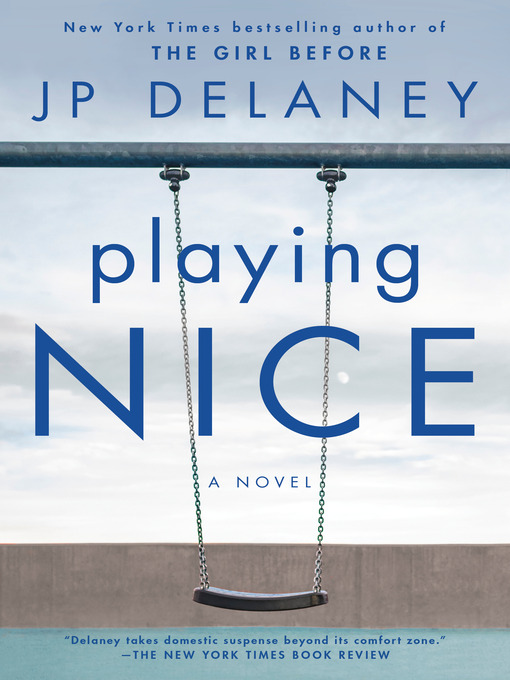 Playing nice A novel.
Format:

Kindle Book

2020

2020

Adobe EPUB ebook

OverDrive Read

Availability:

Unavailable

0 of 9 copies
48 people on waitlist
Summary
What if you found out that your family isn't yours at all? How far would you go to protect them? A gripping new psychological thriller from the bestselling author of The Girl Before . . . . Pete Riley answers the door one morning and lets in a parent's worst nightmare. On his doorstep is Miles Lambert, a stranger who breaks the devastating news that Pete's son, Theo, isn't actually his son he is the Lamberts', switched at birth by an understaffed hospital while their real son was sent home with Miles and his wife, Lucy. For Pete, his partner Maddie, and the little boy they've been raising for the past two years, life will never be the same again. The two families, reeling from the shock, take comfort in shared good intentions, eagerly entwining their very different lives in the hope of becoming one unconventional modern family. But a plan to sue the hospital triggers an official investigation that unearths some disturbing questions about the night their children were switched. How much can they trust the other parents or even each other? What secrets are hidden behind the Lamberts' glossy front door? Stretched to the breaking point, Pete and Maddie discover they will each stop at nothing to keep their family safe. They are done playing nice.

Published Reviews
Booklist Review:
"Stay-at-home dad Peter Riley's world is turned upside down when he learns that Theo, the two-year-old boy he thought was his son, was switched at birth with his real son. Peter and his partner, Madelyn Wilson, meet the other parents, Miles and Lucy Lambert, who initially seem to feel the same way they do about not switching the children back. While Miles is more comfortably off than Peter's family, the boy he and Lucy are raising, David, has special needs due to brain damage he incurred at his premature birth. Theo, although also a preemie, is healthy except for some behavioral problems that Peter attributes to his age. As the families share time together, this psychological thriller develops into a drama involving a battle between the couples for custody of Theo. Readers will be surprised at the twists the story takes and by an ending they won't see coming. Recommended for psychological-thriller fans who enjoy family dramas."
From Booklist, Copyright (c) American Library Association. Used with permission.
Publisher's Weekly Review:
"A nightmarish scenario drives this gripping psychological thriller from bestseller Delaney (The Perfect Wife). Freelance journalist Pete Riley, a stay-at-home dad, and his partner, Maddie Wilson, who works in advertising, live in Willesden Green, a middle-class London neighborhood, with their two-year-old son, Theo. One afternoon, Miles Lambert arrives at Pete's door and tells him, "Theo isn't your son. He's mine." Miles goes on to explain that their children were switched soon after birth, and the Lamberts are suing the hospital. Pete and Maddie agree to attempt an amicable solution and meet with Miles and his wife at their posh home in Highgate. But cruel, obsessive Miles files for custody of both children, and he's out to win at all costs. Everyone has secrets, and everyone has made mistakes that can be magnified in a courtroom battle. Then people connected with the case begin to die. Delaney skillfully gets inside his lead characters in alternating chapters narrated by Pete and by Maddie. Some genuinely surprising twists reveal just how far a parent will go for the sake of a child. This is domestic suspense at its most unsettling. Agent: Caradoc King, United Artists (U.K.). (July)"
(c) Copyright PWxyz, LLC. All rights reserved
Additional Information