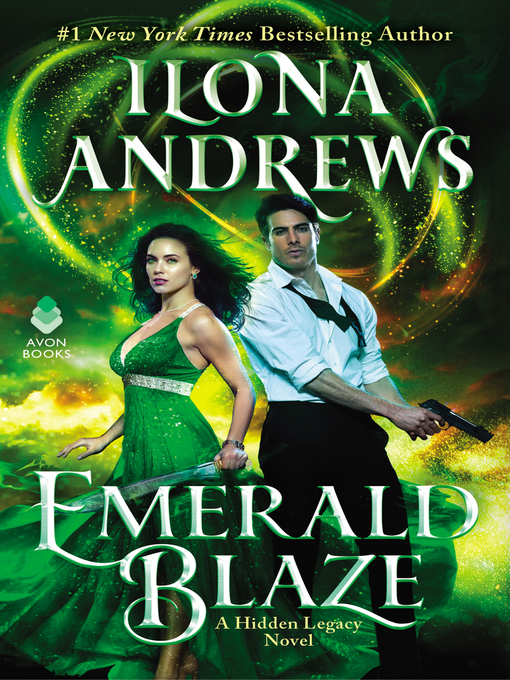 Emerald blaze Hidden legacy series, book 5.
Format:

Kindle Book

2020

2020

Adobe EPUB ebook

OverDrive Read

Availability:

Unavailable

0 of 11 copies
31 people on waitlist
Summary
Ilona Andrews, #1 New York Times bestselling author, continues her spellbinding series set in the Hidden Legacy world where magic controls everything...except the hearts of those who wield it.As Prime magic users, Catalina Baylor and her sisters have extraordinary powers—powers their ruthless grandmother would love to control. Catalina can earn her family some protection working as deputy to the Warden of Texas, overseeing breaches of magic law in the state, but that has risks as well. When House Baylor is under attack and monsters haunt her every step, Catalina is forced to rely on handsome, dangerous Alessandro Sagredo, the Prime who crushed her heart. The nightmare that Alessandro has fought since childhood has come roaring back to life, but now Catalina is under threat. Not even his lifelong quest for revenge will stop him from keeping her safe, even if every battle could be his last. Because Catalina won't rest until she stops the use of the illicit, power-granting serum that's tearing their world apart.

Published Reviews
Booklist Review:
"This husband-and-wife writing duo have created some of the most exciting and memorable stories in urban fantasy, and the fifth book in the Hidden Legacy series (starting with Burn for Me, 2014) solidifies their reputation. The previous book in the series, Sapphire Flames (2019) started the Catalina Baylor arc, which continues here as Catalina starts to come into her own as a powerful Prime and Head of House Baylor. Her new position as the Deputy to the Warden of Texas gets her involved in an investigation with Alessandro, the man who broke her heart. There is plenty of action and mystery, but what really drives the story is Catalina's character development. While she must now be a tough leader, she's still a vulnerable introvert who has to balance her natural tendencies with the need to protect her family from their grandmother. Andrews weaves the two sides of Catalina's personality together brilliantly while keeping the story going full steam ahead. Readers new to the series will want to start at the beginning, but regular fans will enjoy this latest installment."
From Booklist, Copyright (c) American Library Association. Used with permission.
Publisher's Weekly Review:
"Andrew's whirlwind fifth Hidden Legacy romance (after Sapphire Flames) opens with a bang and maintains a breakneck pace, dealing in magic that rouses and entertains. After Felix Morton, the heir to House Morton, one of several dynastic magical families, is found dead, prime mage Catalina Baylor takes the case. The Head of House Baylor, Catalina recently (and reluctantly) became Deputy to the Warden of Texas and hopes this position within magical law enforcement will protect her and her sisters from their scheming grandmother. Catalina suspects Felix's murderer to be one of four representatives of the other magical Houses that Felix was working with on a reclamation project, but before she can question them, her investigation is derailed by prime mage Alessandro Sagredo, the man who broke her heart. The alluring Alessandro just happens to be working the same case and the pair must find a way to work together to catch the murderer while fending off attacks from magically powered mechanical monsters. Andrew's worldbuilding is world-class, and the banter between Catalina and Alessandro sings. New readers will have no trouble jumping in with this installment and series fans will not be disappointed. Agent: Nancy Yost, Nancy Yost Literary. (Aug.)"
(c) Copyright PWxyz, LLC. All rights reserved
Additional Information