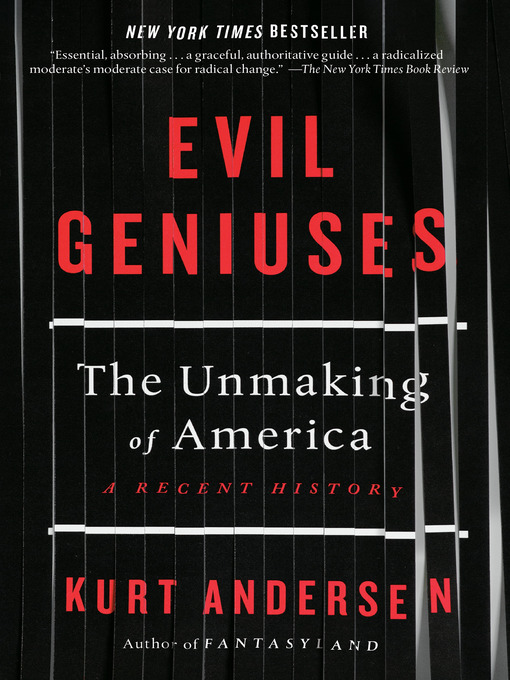 Evil geniuses the unmaking of America : a recent history
Format:

Kindle Book

2020

2020

Adobe EPUB ebook

OverDrive Read

Availability:

Unavailable

0 of 5 copies
27 people on waitlist
Summary
"Americans have disabled the government's ability to solve even basic problems, making us vulnerable to the most dangerous demagogue ever to pretend to the White House. Kurt Andersen shows how the masterminds of the economic right rode an unprecedented wave of nostalgia by dressing up their harsh new rich-get-richer system in patriotic old-time drag, making it their mission to take over the government for their purposes alone and convincing the country that the mid-century consensus about the function of the American government was all wrong. Only a writer with Andersen's crackling energy, deep intelligence, and ability to see complex systems with clarity could make such a vital book both intellectually formidable and completely entertaining. In his diagnosis of what happened and what it means for us today, Andersen spares no one, committing to a pinpointing of his own boomer generation as accessories to the great dismantling of the American experiment"--

Contents
Land of the New: America from 1600 to 1865
Land of the new: an economic history from the 1770s to the 1970s
Approaching peak new: the 1960s
The 1970s: an equal and opposite reaction
The 1970s: liberalism peaks and the counterrevolution begins
The 1970s: building the counter-establishment
The 1970s: from a bicentennial pageant to a presidency
The 1970s: neoliberal useful idiots
The Reagan revolution
Raw deal: what happened in the 1980s didn't stay in the 1980s
The rule of law
The deregulation generation
The culture of greed is good
How Wall Street at America
Workers of the new world, you lose
Insecurity is a feature, not a bug
Socially liberal, fiscally conservative, generally complacent
Ther permanent Reagan revolution
The 1990s: restrained and reckless
Rewind, pause, stop: the end of the new
The politics of nostalgia and stagnation since the 1990s
Ruthless beats reasonable
Winners and losers in the class war
American exceptionalism
Winners and losers (so far) in the digital revolution
How the future will work
The strategic inflection point
What is to be done?
The plague year and beyond.
Published Reviews
Publisher's Weekly Review:
"In this sweeping jeremiad, journalist Andersen (coauthor, You Can't Spell America Without Me) traces the origins of today's economic inequality and political dysfunction to "the quite deliberate reengineering of our economy and society since the 1960s by a highly rational confederacy of the rich, the right, and big business." This reengineering, Andersen contends, was aided and abetted by a more spontaneous cultural trend: "a wholesale national plunge into nostalgia" in TV (Happy Days), movies (Grease), music (Bruce Springsteen), and design (New Urbanism). Right-wing politicians and economists exploited this "nostalgia boom," Andersen writes, by pitching regulatory rollbacks, tax cuts, and small government as a return to a more "rugged" and "frontiersy" America. Andersen also blames the Clinton administration's deregulation of financial markets and the Supreme Court's gutting of campaign finance laws for contributing to today's "extreme insecurity and inequality," and holds out tentative hope that the coronavirus pandemic and protests against racial injustice will shock the country out of its economic, political, and cultural stasis. Much of Andersen's material will be familiar to newshounds, but he arranges it into a cohesive argument backed by hard data and stinging prose. Readers will get a clearer picture of how the U.S. got to where it is today. (Aug.)"
(c) Copyright PWxyz, LLC. All rights reserved
Additional Information