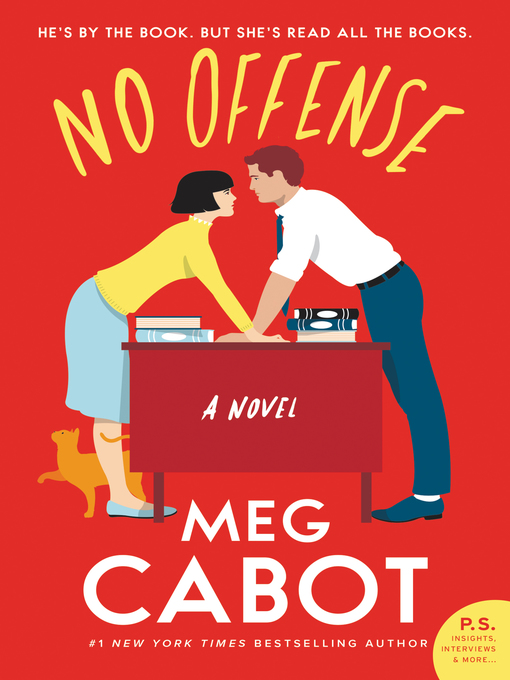 No offense Little Bridge Island series, book 2.
Format:

Kindle Book

2020

2020

Adobe EPUB ebook

OverDrive Read

Availability:

Unavailable

0 of 8 copies
46 people on waitlist
Summary
New York Times -bestselling author Meg Cabot's returns with a charming romance between a children's librarian and the town sheriff in the second book in the Little Bridge Island series. Welcome to Little Bridge, one of the smallest, most beautiful islands in the Florida Keys, home to sandy white beaches, salt-rimmed margaritas, and stunning sunsets—a place where nothing goes under the radar and love has a way of sneaking up when least expected... A broken engagement only gave Molly Montgomery additional incentive to follow her dream job from the Colorado Rockies to the Florida Keys. Now, as Little Bridge Island Public Library's head of children's services, Molly hopes the messiest thing in her life will be her sticky-note covered desk. But fate—in the form of a newborn left in the restroom—has other ideas. So does the sheriff who comes to investigate the "abandonment". When John Hartwell folds all six-feet-three of himself into a tiny chair and insists that whoever left the baby is a criminal, Molly begs to differ and asks what he's doing about the Island's real crime wave (if thefts of items from homes that have been left unlocked could be called that). Not the best of starts, but the man's arrogance is almost as distracting as his blue eyes. Almost... John would be pretty irritated if one of his deputies had a desk as disorderly as Molly's. Good thing she doesn't work for him, considering how attracted he is to her. Molly's lilting librarian voice makes even the saltiest remarks go down sweeter, which is bad as long as she's a witness but might be good once the case is solved—provided he hasn't gotten on her last nerve by then. Recently divorced, John has been having trouble adjusting to single life as well as single parenthood. But something in Molly's beautiful smile gives John hope that his old life on Little Bridge might suddenly hold new promise—if only they can get over their differences. Clever, hilarious, and fun, No Offense will tug at readers' heartstrings and make them fall in love with Little Bridge Island and its unique characters once again.

Published Reviews
Booklist Review:
"No sooner has Molly settled into her job as Little Bridge Island, Florida's children's services librarian than her world turns upside down. Someone leaves a newborn in her library's bathroom. While Molly is immediately concerned about the baby's mother, Sheriff John Hartwell is quick to declare the abandonment a criminal act. Though Molly thinks John should be focusing on a series of thefts and acts of vandalism around town, a sore spot for the new sheriff, it's not long before sparks, instead of barbs, are flying between them. As John, struggling with single parenthood, attempts to overcome his personal barriers and connect with newly un-engaged Molly, Molly finds herself unable to stay out of the interconnected mysteries unfolding in Little Bridge. Longtime fans of Cabot may find this second Little Bridge Island book (No Judgment, 2019) less engrossing than her Heather Wells mysteries and the romance less alluring than those in her Boy books. But for readers in the market for a quick, fun read--and especially for librarians who will appreciate the in-jokes--Cabot, reliably, delivers."
From Booklist, Copyright (c) American Library Association. Used with permission.
Publisher's Weekly Review:
"Though Cabot's prose is characteristically lively in her second Little Bridge Island novel (after No Judgements), the cookie-cutter characters and anticlimactic mystery make this a rare stumble. Molly Montgomery is all too aware that she's been "turning into a cliché of a spinster librarian" ever since her move to the idyllic town of Little Bridge. But her mundane life takes a sharp turn when she discovers an infant abandoned in a library bathroom stall. Sheriff John Hartwell is called to the scene--and is instantly smitten with Molly. When the library is vandalized, the distinct graffiti style leads John to believe the case may be connected to Dylan Dakota, an elusive criminal who is notorious for breaking and entering. Though Molly is determined give her input on the mystery, she and John can't see eye to eye on any aspect of the investigation--but their debates on the case only fuel the fire growing between them. Cabot's characters are winsome but predictable, and the hasty plot leaves little room for either satisfying mystery or romantic depth. Still, the charming small-town setting and cheerful tone will please Cabot's die-hard fans. Agent: Laura Langlie, Laura Langlie Literary. (Aug.)"
(c) Copyright PWxyz, LLC. All rights reserved
Additional Information