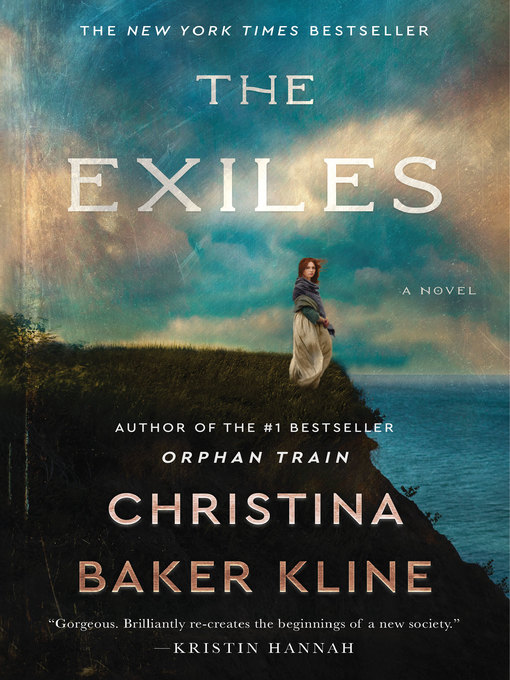 The exiles
Format:

Kindle Book

2020

2020

Adobe EPUB ebook

OverDrive Read

Availability:

Unavailable

0 of 19 copies
90 people on waitlist
Summary
Sent to a Tasmanian penal colony after conceiving her employer's grandchild, a young governess befriends a talented midwife and an orphaned Aboriginal chief's daughter while confronting the harsh realities of British colonialism and oppression in 19th-century Australia.

Published Reviews
Booklist Review:
"In 1840, Mathinna, the orphaned daughter of an Aboriginal chief, is adopted by the governor's wife in Hobart City in what is now Tasmania. Though the story revisits Mathinna, the focus shifts to England, where Evangeline Stokes has been wrongfully accused of theft and sentenced to transport. Her long, harsh trip is complicated by her pregnancy, though it is lightened somewhat by friendship with brash, also-pregnant Olive; Hazel, who has midwifery skills; and the sympathetic ship's surgeon. Then tragedy strikes, and by the time they arrive at the prison, Hazel is posing as the mother of Ruby, Evangeline's daughter. As in Orphan Train (2013), Kline deftly balances tragedy and pathos, making happy endings hard-earned and satisfying. Mathinna does not fare so well here, nor did her real-life counterpart, but the fact that even her sad, untimely ending does not receive the imaginative treatment of the other characters' stories makes her inclusion confusing, if not cruel. Still, book groups will find much to discuss, such as the uses of education, both formal and informal, in this moving work of historical women's fiction."
From Booklist, Copyright (c) American Library Association. Used with permission.
Publisher's Weekly Review:
"In the gripping latest from Kline (Orphan Train), three women try to carve out lives in mid-19th-century colonial Australia. Aborigine Matthina is eight years old when she's seen by the wife of the governor of an English settlement on a visit to her home island, Wybalenna. After learning Matthina can speak English, the woman decides to take her back to Flinders in southern Australia as a curiosity and an experiment in forced civilization. Meanwhile, in London, Evangeline is the orphaned daughter of a vicar working as a governess to the children of a wealthy family. But after Evangeline is seduced by the family's eldest son and her secret pregnancy is discovered, she is arrested, held in Newgate prison, and sentenced to transport to the penal colonies of Australia. She shares the voyage to her new life with Hazel, the hardscrabble daughter of a midwife who turns her knowledge of medicine into an asset aboard the ship. The narratives converge when their ship docks in Van Diemen's Land (modern-day Tasmania), where Matthina, who has been adopted by the island's governor, now lives. The women, all brought to their new lives against their wills, become a lens through which to see the development of colonial Australia. Filled with surprising twists, empathetic prose, and revealing historical details, Kline's resonant, powerful story will please any historical fiction fan. (Sept.)"
(c) Copyright PWxyz, LLC. All rights reserved
Additional Information