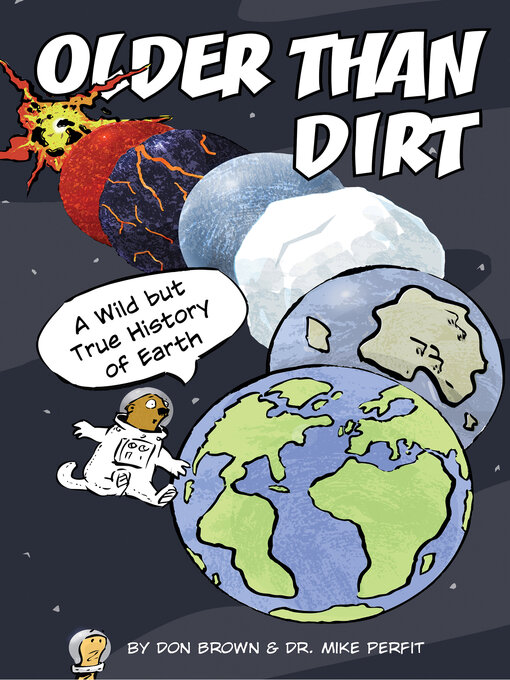 Older than dirt a wild but true history of Earth
Format:

Kindle Book

2017

2017

Adobe PDF eBook

OverDrive Read

Availability:

Available from OverDrive

1 of 1 copy
Summary
Conveys the history of the Earth in humorous graphic novel format, from the big bang through continent formation, discussing how weather events and climate change continue to shape the landscape.

Contents
Front Cover
Front Flap
Endpapers
Front Matter
Title
Introduction
Big Bang!
Deep Time Comix
Deep Time Comix
Deep Time Comix
Back Matter
Geologic Eras
24-Hour Earth Clock
Earth's Tectonic Plates
Source Notes
Bibliography
Is Climate Change a Real Thing?
Dedication
Copyright
Endpapers
Back Flap
Back Cover
Spine.
Published Reviews
Booklist Review:
"*Starred Review* In 100 fact-crammed but surprisingly zippy pages, nonfiction graphic novelist extraordinaire Brown covers 14 billion years of Earth's development. From the big bang to our planet's origin to landmass formation to the appearance of life, Brown and scientific consultant Perfit provide an astonishingly comprehensive overview and manage to humanize it with witty asides from the woodchuck and worm who serve as surrogate teacher and student, as well as quick visits with important historical scientists. Brown's art loose, easy lines but clear, vivid representations also strikes a necessary balance between friendly accessibility and accurate portrayal. Comics are not a form naturally inclined to delivery of hard facts, and the speed with which information is conveyed here doesn't make it ideal for, say, supporting a long-range science curriculum. But comics have always held a strong suit in high accessibility for young readers, and this could serve as a good beginning research source and will be a nifty opportunity for burgeoning geologists or anyone looking for a deeper way to explore the real world. A word of warning, though, that between climate change, gradual landmass upheavals, and the eventual cooking of the planet by the sun, things don't wrap up on a particularly hopeful note. Appended with three helpful illustrated diagrams and extensive source notes.--Karp, Jesse Copyright 2017 Booklist"
From Booklist, Copyright (c) American Library Association. Used with permission.
Publisher's Weekly Review:
"In the tradition of Larry Gonick's The Cartoon History of the Universe, Brown (Drowned City) and geologist Perfit craft a simultaneously irreverent and informative comic that examines how Earth came to be. This grand tour of the planet is hosted by an affable and well-informed groundhog who introduces significant moments, key theories, and scientists, accompanied by an earthworm, who lobs easy questions and provides comic relief. "Radiation from the sun! Where's my umbrella?" gasps the worm. "You already have one," replies the groundhog. "It's called the ozone layer." Brown strips down unnecessary backgrounds and eliminates extraneous details to focus on exactly what needs to be depicted; one three-panel sequence, for example, follows India's collision with Asia that created the Himalayas. Brown and Perfit recount Earth's history mostly through dialogue, except during mini-biographies that explore the discoveries of specific scientists, such as Alfred Wegener, who first proposed the theory of continental drift. The groundhog and worm's repartee results in a witty history of the planet that packs a remarkable amount of information into an engaging format. Ages 10-12. Agent: Jennifer Laughran, Andrea Brown Literary. (Sept.) © Copyright PWxyz, LLC. All rights reserved."
(c) Copyright PWxyz, LLC. All rights reserved
Additional Information