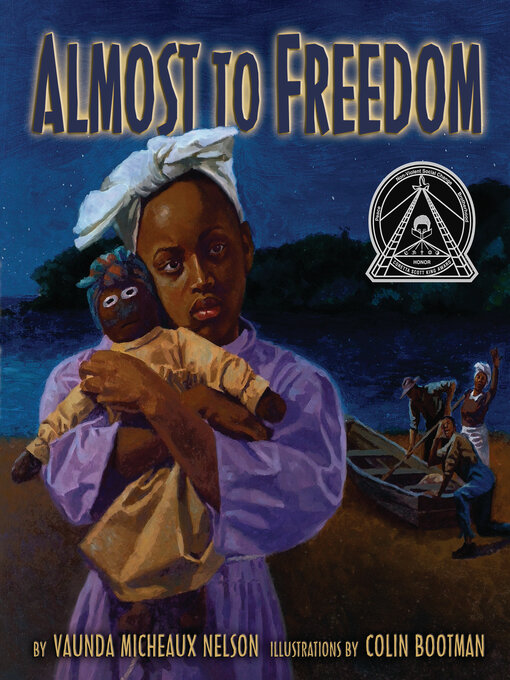 Almost to freedom
Format:

Kindle Book

2014

2014

Adobe PDF eBook

OverDrive Read

Availability:

Available from OverDrive

Always Available
Summary
Tells the story of a young girl's dramatic escape from slavery via the Underground Railroad, from the perspective of her beloved rag doll.

Published Reviews
Booklist Review:
"Gr. 1-3. Lindy's beloved rag doll, Sally, tells how Lindy's family escapes on the Underground Railroad to find freedom in a place called North. The doll's narrative and Bootman's dark, dramatic paintings bring close the child's daily experience: the cruel separation and physical punishment, and then the adventure of running away and hiding. At times it's hard to distinguish Sally from Lindy--why not just let the child tell the story herself? But then there's an anguished twist in the plot: the child and her doll are separated. Lindy gets away, but in the turmoil she leaves her doll behind. When another escaping child finds Sally and hugs her to herself, the story comes full circle. That's a powerful way to express the sorrow of loving families torn apart, and Bootman's stirring portraits, many of them set at night, in rich shades of purple and brown, show that the small rag doll bears witness to historical events of cruelty and courage. --Hazel Rochman Copyright 2003 Booklist"
From Booklist, Copyright (c) American Library Association. Used with permission.
Publisher's Weekly Review:
"As she explains in an author's note, Nelson (Mayfield Crossing) was inspired to write this story by a folk art museum's exhibit of black rag dolls, a few of which were discovered in Underground Railroad hideouts. Narrating this touching tale is a doll named Sally, who begins, "I started out no more'n a bunch of rags on a Virginia plantation." Miz Rachel stitches Sally together for her daughter, Lindy, who hugs the doll and tells her, "We gonna be best friends." Through Sally's perceptive eyes, readers catch a hard-hitting glimpse of slave life: as mother and daughter pick cotton under the gaze of an overseer, Sally hears him holler at them "like he's talkin' to a couple of horses." And after "Massa" whips Lindy when she asks his son how to spell her name, the tearful girl vows to her doll that someday "we be goin' to Freedom." A captivating account of escape via the Underground Railroad includes many suspenseful moments, among them a hasty departure from a safehouse that results in Lindy's inadvertently leaving Sally behind. Readers will be saddened by this turn of events-until another escaping slave child makes the doll her own. Nelson's writing is immediate and often lyrical. Yet it is Bootman's (The Music in Derrick's Heart) realistic paintings, distinctive for their skillful use of light and darkness, that best convey the story's pathos and urgency. Ages 6-10. (Sept.) (c) Copyright PWxyz, LLC. All rights reserved"
(c) Copyright PWxyz, LLC. All rights reserved
Additional Information