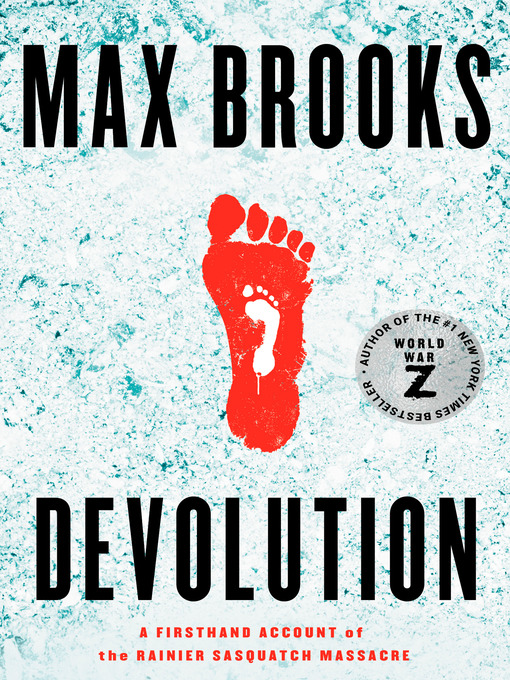 Devolution a firsthand account of the Rainier Sasquatch massacre
Format:

Kindle Book

2020

2020

Adobe EPUB ebook

OverDrive Read

Availability:

Available from OverDrive

1 of 6 copies
Summary
As the ash and chaos from Mount Rainier's eruption swirled and finally settled, the story of the Greenloop massacre has passed unnoticed, unexamined, until now. But the journals of resident Kate Holland, recovered from the town's bloody wreckage, capture a tale too harrowing and too earth-shattering in its implications, to be forgotten. Because if what Kate Holland saw in those days is real, then we must accept the impossible. We must accept that the creature known as Bigfoot walks among us, and that it is a beast of terrible strength and ferocity.

Published Reviews
Booklist Review:
"Imagine being stranded, and rescue attempts have been cut off. Imagine using technology so frequently that it is taken for granted, until there is no access to it. Imagine an unforeseen natural disaster unleashing a ravenous host of powerful predators on unsuspecting and unarmed neighborhoods. In Brooks' latest, reminiscent of his popular best-seller, World War Z (2006), he documents a terrifyingly realistic survival encounter using first-person interviews interspersed with journal entries recorded by a woman as she experiences events. The introduction, accompanied by a hand-drawn map of an isolated, high-tech ecocommunity in Washington, sets the stage for a bloody confrontation between a small group of humans and creatures previously believed to exist only in folklore. The escalating alarm of naive people preparing to face a curiously intelligent terror from the woods is related straightforwardly even as the beasts come howling in through the front door. The footnoted text and references to historical incidents of catastrophic failure, some fairly recent, give insight into weaknesses humanity blithely ignores every day. The story is told in such a compelling manner that horror fans will want to believe and, perhaps, take the warning to heart."
From Booklist, Copyright (c) American Library Association. Used with permission.
Publisher's Weekly Review:
"Brooks (World War Z) spins a substantial and suspenseful case for the existence of Bigfoot in this thriller, told via diary entries, news transcripts, and Brooks's own research. Kate Holland hopes to boost her failing marriage by moving to the small, sustainable community of Greenloop deep in the middle of nowhere, Washington State. When nearby Mount Rainier erupts, the disaster cuts off Greenloop from the rest of civilization. The community's hopes of survival hinge on Mostar, a mysterious resident with impressive survival skills. Trapped with the people are incredibly strong, primordial Sasquatches. The hungry creatures know how to use the land to their advantage and have no intention of sharing with the humans. Brooks creates vivid landscapes and has a gift for shifting focus in an instant, turning lovely nature scenes suddenly menacing. Brooks packs his plot with action, information, and atmosphere, and captures both the foibles and the heroism of his characters. This slow-burning page-turner will appeal to Brooks's devoted fans and speculative fiction readers who enjoy tales of monsters. (May)"
(c) Copyright PWxyz, LLC. All rights reserved
Additional Information