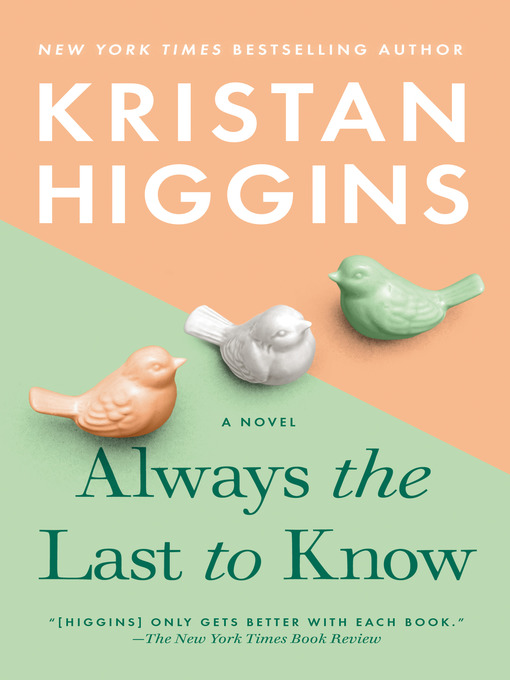 Always the last to know
Format:

Kindle Book

2020

2020

Adobe EPUB ebook

OverDrive Read

Availability:

Available from OverDrive

8 of 11 copies
1 person on waitlist
Summary
"Sometimes you have to break a family to fix it. From the New York Times bestselling author of Life and Other Inconveniences comes a new novel of heartbreaking truths and hilarious honesty about what family really means. Barb and John Frost are testy and bored with each other after fifty years of marriage. At least they have their daughters- Barb's favorite, Juliet; and John's darling, Sadie. The girls themselves couldn't be more different, but at least they got along, more or less. Until the day John has a stroke, and their house of cards came tumbling down. Now Sadie has to come home to care for her beloved dad-and face the love of her old life. Now Juliet has to wonder if people will notice that despite her perfect life, she's spending an increasing amount of time in the closet having panic attacks. And now Barb and John will finally have to face what's been going on in their marriage all along"--

Published Reviews
Booklist Review:
"The Frosts, successful lawyer John and selectman Barb, are thriving and proud of their two grown daughters, Juliet, the elder, a successful architect, mother, and wife, and Sadie, who works as an art teacher in New York City. John and Barb are days away from celebrating their fiftieth wedding anniversary when John suffers a stroke while riding his bike. The resulting brain damage renders John a shadow of the man he once was. Heartbroken, Barb stumbles on some unexpected news while scrolling through his phone that causes her life to unravel at an alarming rate as she rethinks the past 50 years. Higgins' (Life and Other Inconveniences, 2019) latest is another amazing exploration of the meaning of family, this one focusing on how love changes within the confines of a marriage. Told from alternating points of view by each of the four Frosts, the novel shows readers every stage of each relationship, from loving to loathing; post-stroke, nonverbal John's perspective is exquisitely done. Readers will cherish this one to the very end."
From Booklist, Copyright (c) American Library Association. Used with permission.
Publisher's Weekly Review:
"Higgins (Good Luck with That) serves up a punchy, angst-ridden multigenerational women's contemporary. After 50 years of marriage, Barb Frost--selectman of Stonington, a small Connecticut town--is preparing to divorce her husband, John, with whom she's grown apart. John then suffers a catastrophic stroke, and Barb learns he's had a mistress. Barb and John's daughters are going through pain of their own: Sadie, a struggling artist in New York City (and John's favorite), has a dead-end job and a philandering boyfriend; Juliet, a successful architect (and Barb's favorite), is unnerved by stiff competition from a young upstart and former mentee at her firm, and suffers crippling panic attacks. After John's stroke, Sadie moves back home to help care for him and comes face to face with her first love, Noah, who had followed her to New York before their relationship fell apart. Meanwhile, Juliet worries about work and whether she's been a failure to her husband and two daughters. The plot, told in shifting perspectives from the three women, expertly intertwines each of their dilemmas and moves along briskly thanks to the charming, snappy prose. Most importantly, Higgins excels at creating multidimensional, sympathetic characters, an ability that is on full display throughout. This sparkling story is perfect summer reading fare. (June)"
(c) Copyright PWxyz, LLC. All rights reserved
Additional Information