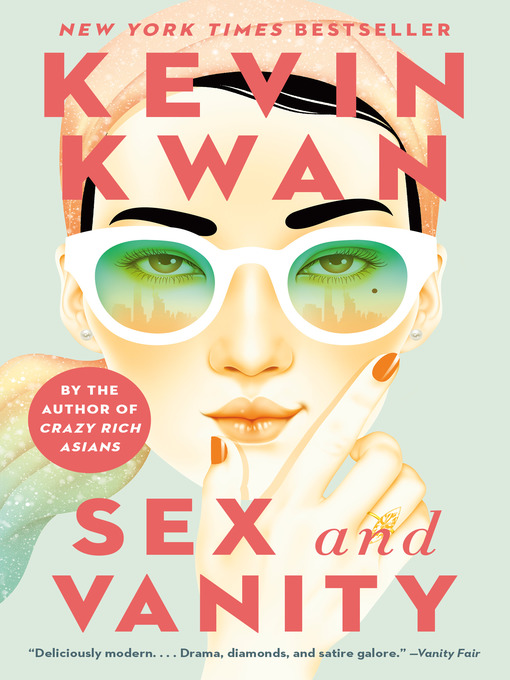 Sex and vanity a novel
Format:

Kindle Book

2020

2020

Adobe EPUB ebook

OverDrive Read

Availability:

Unavailable

0 of 31 copies
176 people on waitlist
Summary
"The iconic author of the bestselling phenomenon Crazy Rich Asians returns with a glittering tale of love and longing as a young woman finds herself torn between two worlds--the WASP establishment of her father's family and George Zao, a man she is desperately trying to avoid falling in love with"--

Published Reviews
Booklist Review:
"Lucie Tang Churchill is a stylish but naive biracial 19-year-old, accompanied to an extravagantly fabulous wedding on Capri by her middle-aged cousin, Charlotte, who is obsessed with ensuring that the nouveau riche display the proper reverence for the from-the-Mayflower side of the family. They encounter the bombastically generous Rosemary Zao and her handsome, intense son, George, whom Lucie immediately dislikes--until she doesn't--but then a potential scandal tears them apart. Five years later, Lucie is an in-demand art dealer, engaged to the billennial (billionaire millennial) Cecil Pike, and very happy, until George (and his mother) reenters her social circle. The plot is perhaps not the most important element for Kwan's (Crazy Rich Asians, 2013) fans, who most love his over-the-top characters, ridiculously lavish details, and catty, fourth-wall-breaking narration, all of which are gloriously represented here; there are jewels galore, and a West Village apartment with an indoor canal and gondoliers on retainer. Lucie's story also touches on racism, both external (and familial) and internalized, as she fights her attraction to George. The resolution adds another satisfying layer to this frothy, escapist delight. HIGH DEMAND BACKSTORY: Kwan's first outing since the Crazy Rich Asians series, which begat a huge movie in 2018, arrives just in time for summer reading."
From Booklist, Copyright (c) American Library Association. Used with permission.
Publisher's Weekly Review:
"Kwan follows up his Crazy Rich Asians trilogy with an intoxicating, breezy update of E.M. Forster's A Room with a View. Lucie Tang Churchill, 19, a privileged "hapa" (she is half Chinese, half WASP) attends her richer friend Isabel's wedding in Capri. After Lucie meets Isabel's cousin George Zao, a rich, handsome, Chinese-Australian surfer, she becomes a "bundle of conflicting emotions," repulsed by her attraction to the "brooding weirdo took himself much too seriously." Still, they hook up, at risk of jeopardizing Lucie's reputation as an eligible bride. Four years later, Lucie and George's paths cross in New York, only now Lucie is engaged to Cecil Pike. However, Lucy can't get George out of her mind, and she is flummoxed by his kindness. When Lucy, George, and Cecil attend a film screening featuring a sex scene that reminds her of what she did with George in Capri, Lucie doubles down on suppressing her true desires. Kwan exploits the Forster frame for clever references--including Merchant and Ivory--and provides amusing footnotes. Kwan also relishes describing lavish meals and haute couture clothing, as well as Isabel's decadent wedding and Cecil's imaginative, over-the-top proposal. There are moments both catty and witty, but this delectable comedy of manners--the literary equivalent of white truffle and caviar pizza--is still pizza. (July)"
(c) Copyright PWxyz, LLC. All rights reserved
Additional Information