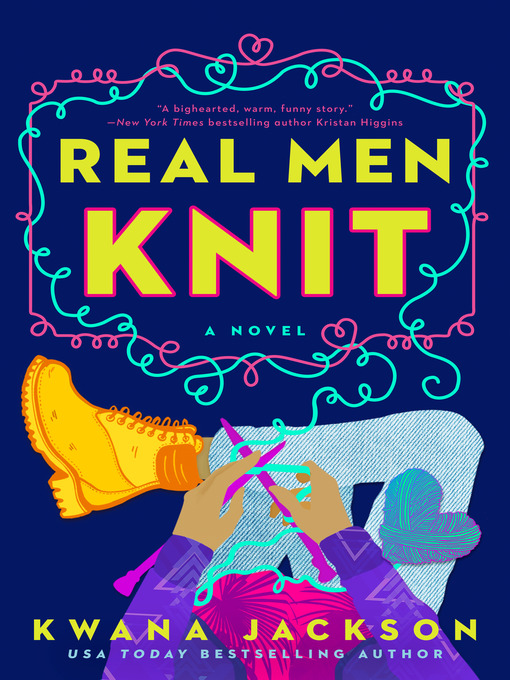 Real men knit
Format:

Kindle Book

2020

2020

Adobe EPUB ebook

OverDrive Read

Availability:

Unavailable

0 of 6 copies
6 people on waitlist
Summary
"When their foster-turned-adoptive mother suddenly dies, four brothers struggle to keep open the doors of her beloved Harlem knitting shop. Jesse Strong is known for two things: his devotion to his adoptive mom, Mama Joy, and his reputation for breaking hearts. When Mama Joy unexpectedly passes away, he and his brothers have different plans on what to do with Strong Knits, their neighborhood knitting store. Jesse wants to keep the store open. His brothers want to tie off loose ends and close shop... Part-time shop employee, Kerry Fuller has kept her crush on Jesse a secret. When she overhears his impassioned plea to his brothers to keep the knitting shop open, she volunteers to help. Unlike Jesse, Kerry knows the knitty-gritty of the business and together they make plans to reinvent Strong Knits for a new generation. But the more time they spend together, the stronger the chemistry builds between them. Kerry, knowing Jesse's history, doesn't believe their relationship can last longer than one can knit one, purl two. But Jesse is determined to prove to her that he can be the man for her forever and always-after all, real men knit"--

Published Reviews
Booklist Review:
"Jesse Strong is determined to keep his adoptive mother's Harlem knitting store from closing after her sudden passing. His three older brothers are only convinced to let him try after the shop's quiet and bespectacled part-time assistant offers to help him learn the business. Kerry Fuller has been a semi-invisible fixture at Strong Knits for such a long time that she's treated like family, and she assumes that Jesse, her forever crush, sees her only as an employee at best, nothing like the sexpots who flit in and out of his lackadaisical life. Jesse knows he's been a scoundrel at times, but now he wants to be taken seriously by his skeptical brothers, and he wants to prove to Kerry, whom he's always fantasized about, that he's worth investing her heart in. Jackson crafts a cute friends-to-lovers romance with a diverse cast of characters that emphasizes the importance of community and found family. Jackson presents a promising start to a sweet, multicultural contemporary series that will draw in cozy romance readers and crafters alike"
From Booklist, Copyright (c) American Library Association. Used with permission.
Publisher's Weekly Review:
"Longtime friends partner in first business then pleasure in this light, refreshing romance from Jackson (the Sugar Lake series, written as K.M. Jackson). Jesse Strong, one of four adopted sons of "Mama Joy" Strong, has lived a fun-filled, irresponsible life, but he's forced to finally grow up following Mama Joy's death. Deciding not to sell his mother's beloved Harlem knitting store, Strong Knits, which doubles as the Strong family home, Jesse turns to family friend and Strong Knits employee Kerry Fuller to teach him the business side of things. Kerry has crushed on Jesse since they were kids, but she hides her feelings, believing that playboy Jesse views her as just a friend. But as they band together to run the shop, a maintenance mishap in Kerry's apartment leaves her temporarily living with Jesse. Working and living in such close quarters, their chemistry only grows. Jackson eschews manufactured drama and miscommunication, giving her couple a relatively painless path to love. Jesse's delightful brothers bring an extra helping of light and laughter to the story, and their distinct personalities will have readers excited for them each to find love of their own in future installments. This smooth romance goes down easy. Agent: Evan Marshall, The Evan Marshall Agency. (May)"
(c) Copyright PWxyz, LLC. All rights reserved
Additional Information